Rights and Reconstruction: A Year After the Big Quake, Nepal's Struggles Continue
A year after Nepal was devastated by an earthquake, reconstruction and recovery are far from over.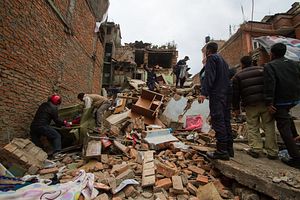 We were in Kathmandu's famous Patan Durbar Square when the ground beneath us began to shake. Nearby, two temples collapsed in on themselves. All around us, the sounds of buildings crumbling were accompanied by the screams of people being trapped under them. Dust swirled into the air as birds took panicked flight. Shortly afterwards, we were forced to relive the terrifying moment again, as a powerful aftershock rocked everything back and forth.
In between constant aftershocks, people began to furiously burrow through the rubble in an effort to rescue survivors. Some turned their kind attentions to us, out of their unfailing hospitality, to make sure we were fine and safe. A stranger offered me a bottle of water; others regretted that our sightseeing visit had come to this. Their loss, of course, was far greater.
By the Nepal government's figures, nearly 9,000 people lost their lives and more than 600,000 homes were completely destroyed. One year on, thousands remain homeless. On a recent research visit to the districts of Rasuwa, Nuwakot, and Dolakha, Amnesty International found that the majority of people whose homes had been reduced to rubble were still seeking shelter under the frail cover of zinc sheets and tarpaulin. Where villages were wiped out, their former dwellers still languished in roadside camps.
The slow pace of post-disaster reconstruction by the government of Nepal effectively amounts to the denial of the right to adequate housing of those who remain homeless one year after the earthquake. There is no shortage of funds: development partners have pledged over $4 billion toward reconstruction plans. But the government's National Reconstruction Authority was mired in political wrangling for 10 months and has only just begun rebuilding homes. With the monsoon season looming, reconstruction that is slated to start in earnest on the anniversary of the earthquake will soon grind to a halt once again – and could remain incomplete by the time the next anniversary comes about.
The government has also failed to inform affected people of the help they are entitled to. In several interviews, people told us that they were entitled to two lakh Nepalese rupees (approximately $1,900), but did not know where to collect the funds. In Singati village in Dolakha district, which was decimated by a second earthquake on May 12, 2015, residents were told to open accounts in order to receive the assistance at a makeshift bank. One by one, people in the queue slowly filled out complex forms and used their fingerprints to seal the deal before being given a receipt in English which instructed them to call a number to collect their check books and cards. One young woman, who had walked for a day with her baby from her village to reach the bank, turned to us after receiving her receipt and said in Nepali, "But I cannot read English."
In interviews with Amnesty International in the three districts visited, affected people uniformly stated that two lakh rupees is not nearly enough to build an earthquake resistant house. Furthermore, the money will arrive in three tranches in line with stages of a house's construction, each subject to the approval of an assigned engineer. Even if families carefully ration the funds, including money received through low-interest loans made available by the government, spending everything on the house and not yielding to the understandable temptation to supplement their meager incomes, a fully reconstructed home will prove elusive.
Equally little thought has gone into the particular rights of marginalized groups, including indigenous peoples and low-caste communities, who were some of the hardest hit by the earthquake. The northern reaches of Rasuwa district, which were decimated, are the traditional home of the indigenous people, Tamangs. Like other affected communities, they were never consulted on the reconstruction process, and have no voice at the National Reconstruction Authority. One Tamang woman told Amnesty International that the government had told them to move to a location "in the jungle, where there are no schools for our children." In this and other cases, they had to build makeshift shelters themselves on private land and incur the cost of rent.
As the Nepali government acknowledges, the monsoon season isn't fit for building. How, then, are displaced people expected to endure lashing rains under threadbare tarpaulins, or within mud homes? Until earthquake resistant homes can be fully reconstructed, they must be provided with affordable temporary housing which can protect them from the elements, and access to adequate sanitation. The process should be sensitive to the rights of indigenous groups, people with disabilities, women, children, the elderly, and those who should be afforded greater physical protection. They also need to be informed of–in languages they can understand–opportunities to access other assistance. With greater transparency, aid will become less vulnerable to abuse and corruption – something that donor countries should help ensure.
Until now, the people of Nepal have borne their losses with a forbearance for which they are justly renowned. It is not something that should be taken advantage of, or tested any further.
Aura Freeman is Amnesty International's campaigner on Bangladesh, Nepal and the Maldives.