Samantha Power Misses the Mark on Sri Lanka (Again)
The Obama administration's messaging on Sri Lanka misses the mark yet again.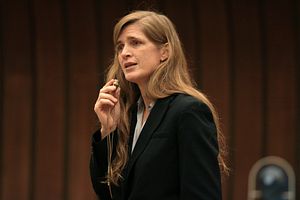 On Thursday in Washington, the United States and Sri Lanka held an important meeting focused on trade, investment, and the broader direction of bilateral economic relations. Samantha Power, U.S. permanent representative to the United Nations, even flew in from New York City to attend the event. Power's prepared remarks are as upbeat as ever.
Like the author of this piece, some readers may be wondering (quite reasonably) why Power was attending a meeting focused on economic issues. According to a media advisory note from the Office of the United States Trade Representative, Power's participation would "highlight how the U.S.-Sri Lanka Joint Action Plan [the agreement inked Thursday] represents continued progress for human rights, as well as democracy and accountability, on the part of the newly elected Sri Lankan government."
It's no secret that the United States has been keen on resetting the relationship with Sri Lanka since Maithripala Sirisena won the presidency in January 2015. Nevertheless, the Obama administration's rhetoric continues to be wildly out of step with reality. Let's take a closer look at Power's statement.
Here's a one paragraph:
Of course, the fact that we [the U.S. and Sri Lanka] are all here in an incredibly positive atmosphere reflects just how much has changed in Sri Lanka since January 2015. That was the month where Sri Lankans cast their votes for a new era: one in which their leadership committed to seeking a durable peace, an accountable democracy, a new relationship with the outside world, and expanded opportunities for all.
Sri Lanka watchers will notice that instead of the United States clearly calling for accountability for wartime abuses (a hugely controversial issue in post-war Sri Lanka), the language seems to have shifted to "accountable democracy." This is something to watch going forward. Is Washington still genuinely pushing for wartime accountability?
Power talks about the "extraordinary progress" that Sri Lanka has made under Sirisena's leadership. "Sri Lanka has, since January 2015, emerged as a global champion of human rights and democratic accountability," she says.
Global champion of human rights and accountability? That's quite an assertion.
Sri Lanka's new government has ruled in a less authoritarian fashion than the administration of Mahinda Rajapaksa, though it's unclear how or when Colombo became a "global champion" of human rights and accountability. The truth is that we're still waiting for the government to move toward deeper reform. Besides, the recent spate of arrests and abductions across the Tamil-dominated Northern and Eastern Provinces should set alarm bells ringing in Washington. That's the type of anti-Tamil behavior that became increasingly common during Rajapaksa's divisive decade in power.
"The United States will seek to leverage our assistance this year to further support broad-based economic growth," Power says. Well, sure, everyone can get behind economic growth. The problem is that it looks like Obama's team is no longer prioritizing the more important (and more controversial) war-related issues that had been a longstanding concern for the United States. In Power's remarks, there's only a fleeting reference to "transitional justice."
Washington is "very clear-eyed about the challenges ahead," Power says. Unfortunately, others – including the Sirisena administration – may have already drawn a very different conclusion.