Singapore Unveils Another New Warship
The city-state launches the second of eight new, locally-built littoral mission vessels.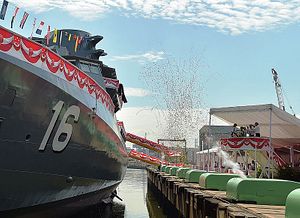 On April 16, the Republic of Singapore Navy (RSN) launched the second of its eight new, locally made littoral warships.
The launching ceremony for the second so-called Littoral Mission Vessel (LMV), dubbed Sovereignty, was held at the Singapore Technologies Marine's (ST Marine) Benoi shipyard and was officiated by Deputy Prime Minster and Coordinating Minister for National Security Teo Chee Hean.
As I indicated in a previous piece on the launch of the first LMV, Independence, in July 2015, the eight new LMVs built in the city-state are replacing the existing 11 Fearless-class patrol vessels which have been in service for 20 years.
The LMVs are said to constitute a marked improvement over their predecessors, with its capabilities giving it greater endurance and speed; wider flexibility and versatility to deal with a wide spectrum of challenges; better centralization; and more sophisticated decision support systems that allow for a much leaner crew (See: "What Do We Know About Singapore's New Warship?").
"[T]he LMV will be more efficient and effective vessels that enhance our ability to detect and respond to current and future maritime threats," Teo said in a speech at the ceremony.
He also acknowledged some of the specific innovations and capabilities that led to the development of the LMV, which were made possible by the government as well as partners in the defense technology community.
"This is made possible only with the introduction of smart technologies and more streamlined work processes, increased automation with sense-making and sensor systems," he said.
Also present at the ceremony were Defense Minister Ng Eng Hen, Senior Minister of State for Defense Mohamad Maliki Bin Osman, Chief of Navy Rear-Admiral Lai Chung Han, and senior officials from the Ministry of Defense and the Singapore Armed Forces. The vessel itself was officially launched by Teo's wife with a champagne bottle breaking over Sovereignty's bow.
The first LMV Independence launched last year is currently undergoing sea trials, according to Singapore's defense ministry. All eight LMVs are expected to be fully operational by 2020.