Solving Myanmar's Myitsone Dam Conundrum
Why scrapping the Myitsone dam project could be a big public relations win for both China and Myanmar.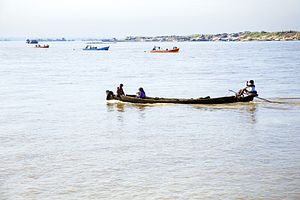 The incoming National League for Democracy government will soon need to make important decisions about the Myitsone Dam. But it will also have to decide whether and how to harness the considerable opportunities for hydropower generation that exist in Myanmar, where fewer than one-third of the population has access to electricity.
On September 30, 2011, President U Thein Sein announced his decision to suspend the China-backed Myitsone until the end of his term, declaring the project was "against the will of the people." Since that time there has been recurrent speculation over what will happen after the president's term ends.
The Chinese developer, China Power Investment Corporation (CPI), has been lobbying for a restart of the project, while Myanmar's civil society and the population at large, emboldened by the National League for Democracy victory in last November's election, remain firmly against a resumption.
However, Myanmar has an urgent need to generate power for electrification to support much needed economic and social development. It also has, at least at the political level, a well understood necessity to maintain friendly relations with its big neighbor to the east. How to turn this dilemma into a win-win situation?
As much as Myanmar needs good relations with China, the need also goes the other way as well. The situation has become a "dilemma of mutual dependence" as Professor David Steinberg and Hongwei Fan term it in their 2012 volume, Modern China-Myanmar Relations. Chinese companies such as CPI and Three Gorges Project Corporation, the latter involved in the hugely unpopular Mong Ton Dam on the Thanlwin River, may be less concerned about public opposition to the projects they are involved in. But the Chinese government cannot afford a strained relationship with Myanmar.
That was underscored when foreign minister, U Wunna Maung Lwin, visited China in October 2011 to ease tensions over the suspension of the Myitsone Dam construction. He met with then-Vice President Xi Jinping, who urged the two sides to settle all relevant matters through friendly consultations. According to notes from the meeting, Xi did not call for reactivation of the Myitsone project.
It is safe to assume that a mutual understanding exists between the two countries to maintain good neighborly relations. Permanent cancellation of Myitsone would incur a loss for the developer, CPI, which may need to be compensated. But conducted successfully, it could be a big public relations win for both the Chinese and Myanmar government.
China would be seen as willing to listen to Myanmar people's concern over projects implemented in the country by Chinese companies. The new NLD government would live up to its promise of change, proving itself a government of the people, as the rhetoric goes. If handled skillfully, this could also create a more accommodating public attitude towards hydropower in the country.
The past approach to hydropower has not been particularly strategic except for an interest in maximizing investment. Projects meeting international standards for environmental and social safeguards, including opportunities for affected communities to be heard, have been the exception rather than the rule. That has contributed to building strong public opposition to the Myitsone and Mong Ton Dams – both mega projects. It has also turned many local civil society organizations against the development of hydropower in the country more broadly.
The NLD government will have to develop its own approach fairly soon, as hydropower is one of the key economic resources it can harness for development and one of the main sources of conflict it needs to bring under control.
Saying 'no' to the massive Myitsone and Mong Ton projects does not have to mean saying 'no' to all hydropower opportunities in Myanmar. When done the right way, hydropower, together with solar and wind, could be an attractive option for sustainably generating much needed electricity for national consumption and the possible export of surplus.
Not all hydropower dams are the same. Because of their location, some dams will have a much higher impact on communities and rivers than others. For example, a dam that severs an important fish migration path will have impacts that may be felt by communities throughout a river basin. Basin-wide, or even country-wide, river network thinking may help in prioritizing certain locations over others or support the development of mitigation plans. Taking a holistic look at the river system is also economically advisable because multiple dams have a cumulative impact, not just on the environment but also on energy performance.
The Nature Conservancy (TNC) and World Wildlife Fund are developing models to compare different hydropower scenarios in Myanmar in terms of their costs and benefits across a range of resources and values. Initial results indicate that some options for hydropower development have much lower impact than others.
This approach to better planning provides ways to find better options that can still meet a country's electricity needs, at the lowest possible costs. This is Myanmar's opportunity to move beyond ad hoc decisions about single dams, and start a process of coordinated long-term planning to meet its energy needs while preserving the precious natural and cultural heritage of its river systems.
There are thousands of megawatts of potential hydropower sites in Myanmar that any government can hardly afford not to consider for development. However, if not well planned, the impact from large dams on fisheries and agriculture, and thus the livelihoods of poor rural people, could be substantial.
On an individual project level, it is the responsibility of the developers to prove no harm. Proper environmental and social impact assessment and public consultations must be undertaken prior to detailed planning and decision making. Negative side effects on communities living up-stream or downstream of dams, must be minimized and properly compensated.
Hydropower has a negative reputation in many countries, not only Myanmar. This is often due to inadequate preparations by the developers, in particular a lack of public consultation and participation where indigenous people have lost their natural habitat without getting much in exchange, sometimes not even the electricity produced.
But there are also examples where this renewable energy is being produced and used and even exported to neighboring countries without causing serious problems. In Norway, one of the countries in the world with the highest standard for social equality and environmental protection, the entire population has access to electricity generated by hydropower, with surplus production exported to neighboring Denmark and Sweden and beyond. Conflicts over hydropower have been much reduced since Norway developed a comprehensive master plan in the 1980s, to decide which projects were in the best public interest and which rivers should be protected.
From the foothills of Himalaya to the Andaman Sea, the  Irrawaddy River passes through Kachin State and the Sagaing, Mandalay, Magwe, Bago, Yangon and Ayeyarwady Regions. With an increasing population, dependent on the river and its resources, plus the impact from intensified agriculture, from industrialization and from climate change, competition for use of this natural resource will inevitably intensify.
To promote sustainable use of the river and attain maximum, equal benefit for all people, a permanent  Irrawaddy River Commission, with representation from the state and regions the river passes through, could help make balanced decisions on development projects.
It could contribute to avoiding conflicts in the future, such as the one over the Myitsone Dam. The commission would be the focal point for government decision making, negotiation and public participation in managing developments related to the river.
Joern Kristensen is executive director of the Yangon-based Myanmar Institute for Integrated Development A former director general of the Mekong River Commission and director of UNODC's programs in Southeast Asia, he has been engaged with economic and social development in Myanmar for more than two decades.
This article previously appeared in the Myanmar Times and is reprinted with the author's permission.