The Human Cost of China's Manufacturing Slowdown
Workers in China's steel and coal sectors are already feeling the pinch.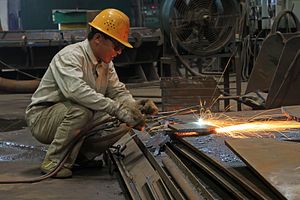 Lowering his voice nervously, Yang Kechao confessed that over half of his workers at Huaxinyuan Steel Company are on vacation. The employees did not leave the factory owner with stations half-filled to go bask in the warm weather of Hejin, Shanxi, a North China province where the plant is based. Nor did they head off on a team-building company retreat. Rather, Yang's staff members do not see any point in clocking in if they cannot be paid.
In February, the Chinese government announced that it will cut 1.8 million jobs from its steel and coal sectors, one of the first major steps in Beijing's plan to transform its industry-heavy economy into a more service-oriented one. The statement has fostered bleak outlooks among those who may find themselves out of work due to this restructuring, including Yang and his factory workers.
"Companies in the steel sector are not making money now," Yang said over the phone. "It's also hard to be the boss when you can't afford to pay your employees."
Over the past two decades, China's investment in its industrial sector has fueled the meteoric rise in the country's GDP. Yet at the start of 2016, Beijing was entering its sixth consecutive year of slowing economic growth. Official GDP growth contracted to a new low of 6.9 percent last year, although this number is still high by the standards of most large economies. Still, there is widespread skepticism over the reliability of official government-reported statistics, and many economists hold the view that China's growth is based on unproductive and wasteful investment.
Recognizing the dire need to rebalance the economy toward service-oriented industries and promote sustainable growth, the government has already reduced investment in smokestack businesses, alongside announcing future layoffs. Prospective job opportunities for workers currently employed in the manufacturing sectors, however, are suboptimal.
The manufacturing industry population comprises approximately 1.5 percent of China's 800 million-strong urban workforce , which between 2013 and 2014 grew by 13.2 million. In previous economic contractions, such as the financial crisis between 1997 and 2005, manufacturing employment in state-owned companies dropped from 70 million to 37 million workers. Back then, the newly unemployed often returned to their rural homelands, where they could rely on family support and networks, or work in the fields to earn a living.
Ho-Fung Hung, an associate professor of sociology at Johns Hopkins University, said returning to one's provincial origin for agrarian work is no longer a viable option, as the farmable land in workers' provincial origins is being eroded due to urbanization across China.
"Rural farmland for decades has been a kind of buffer of any economic downturn in the city," said Hung in a telephone interview. "When this buffer is gone and China has a soft or hard landing – whatever kind of landing – it will be less buffered, and it will create a rise in conflict in the cities."
With China planning to layoff millions of workers in the coming years, policymakers have been fretting over how they can minimize the impact of large-scale job losses. Yin Weimin, China's minister for human resources and social security, said at a news conference this past February that the government has budgeted 100 billion yuan ($15.3 billion), which it will use over the next two years to help laid-off workers from the steel and coal sectors find new jobs.
"The government is very concerned about the higher rates of unemployment, given the increasing number college degrees and the natural growth of the population and so on," said Jenny Chan, an associate professor of sociology at Oxford University, in a Skype interview. "There has been a strong push by the government itself to run job agencies or the human resources firms to absorb parts of the unemployed labor force, and then rechannel them to somewhere their labor power is needed. This is, most of the time, what we would say is unstable and quite poor job-quality."
While GDP growth in manufacturing sectors fell from 7.3 to 6.0 percent between 2014 and 2015, the service industry grew from 7.8 to 8.3 percent. Geoff Crothall, the communications director of China Labor Bulletin, an NGO based in Hong Kong that promotes and defends workers' rights in the mainland, explained that while there are more and more job openings in retail businesses, "there is a mismatch between the needs of employers and the demands of employees." This means that in comparison to their factory positions, the former industrial laborers accustomed to gainful, steady labor will earn less and have greater job instability.
Even though government-ordered layoffs have yet to come into effect, many are already feeling the pain of China's economic shift away from the manufacturing sector. Like the staff members at Huaxinyuan Steel Company in Hejin, many steel and coal workers have become involuntary part-time employees, whereby their hours are cut to reduce factory costs of paying their wages. Other companies have maintained the same number of paid jobs, but at the cost of reduced pay.
"My salary decreased by 30 percent," said Hou Pengfei, an employee of 16 years at Taiyuan Steel & Iron Factory, based in the Shanxi provincial capital of Taiyuan in north China. "I am still going to work everyday. But production has decreased or completely stopped sometimes, which has an effect on our lives. If it doesn't get better, the effect will be more severe in the future."
For those on "vacation" at Huaxinyuan Steel Company, the hunt for jobs with actual wages has already begun. Despite hoping for the best, Yang ultimately sees the future prospects for those manufacturing labor force as dismal.
"They usually go find a job in another sector," said Yang, referring to employees who are looking everywhere for some sort of employment, including positions in the service industries. "They have their families to feed. Their children have to go to school and their families have to live."
Matthew Sedacca is a graduate student at the Columbia Journalism School and a freelance writer based in New York. Benjamin Parkin and Qi Xie contributed reporting to this piece.