The Trouble With Thailand's 'Toughness' on Migrants
The firmness of the ruling junta has been counterproductive.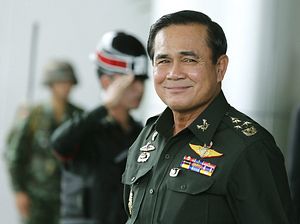 In Bangkok, where a ruling clique of retired generals has spent much of the last two years cracking down on opponents and legislating their own role in Thailand's political future, the longstanding issue of migrants from other parts of southeast Asia has become yet another opportunity for the current government to demonstrate its firm (to the point of being counterproductive) approach to complex issues. On April 15, the Migrant Offshore Air Station (MOAS) was forced to terminate its mission of rescuing migrants in the area because Thai authorities systematically delayed the release of vital equipment from customs and harassed the group's ship with navy vessels. These obstacles came despite clearances granted by the Thai Navy, the Ministry of Transportation and even the Prime Minister's Office.
Going beyond the refusal to help in their own right, this decision to clearly undermine even an outside group's efforts to assist stranded migrants fits into the junta's overall strategy for dealing with population flows. In May 2015, Thailand's ruling officers embarked on a draconian crackdown on organized crime after a mass grave (containing at least 26 suspected victims of human trafficking) was discovered in the jungle along the Thai-Malaysian border. The junta affirmed its commitment to fighting trafficking networks within its borders, with national police deputy commissioner General Aek Angsananont stating: "We will go after the people responsible no matter how powerful they may be."
The trials of 92 men accused of being members of the human trafficking operation commenced in Bangkok on March 18. In an attempt to show Thailand's commitment to bring the perpetrators to justice, the accused include high-ranking Thai state officials from provincial governments and law enforcement agencies, with former general Manas Kongpan most prominent among them. Kongpan, suspected to be a vital figure in the smuggling operation, is thus far the only military figure indicted in relation to human trafficking.
While seemingly extraordinary, this trial inadvertently highlights long-suspected connections between human trafficking organizations and Thai officials. Indeed, there is mounting evidence that sitting officials are either actively involved or willfully passive toward the trade. Following the exhumation of the 26 bodies, senior police officers publicly admitted they had prior knowledge of this area being used by human traffickers. Lead investigator Maj. Gen. Paween Pongsirin, whose inquiries were allegedly cut short by high-ranking government officials, has provided the most damning piece of evidence: following threats against his life, Pongsirin fled to Australia last year.
Although the ongoing crackdown has reduced the influx of Rohingya migrants, Thai anti-trafficking policies have also impacted their wellbeing. By disrupting smuggling routes and preventing traffickers from taking their human cargo ashore, they have led to smugglers simply abandoning thousands of migrants at sea instead. Thus trapped, migrants are often victims of "maritime ping-pong" as Indonesian, Malaysian and Thai navies push them away from their shores instead of offering help. Groups like MOAS have the capacity to rescue these migrants, but not if regional navies actively interfere.
The Junta's Response
Since taking power in a May 2014 coup, Thailand's military rulers have escalated the migrant crisis alongside other domestic tensions. One of the current government's first acts was to announce a clampdown on illegal workers, forcing 200,000 mostly Cambodian residents across the border. The exodus was spurred on by rumors of brutality by the Thai military, and the episode as a whole suggested an anti-Cambodian agenda amid an ongoing border conflict.
According to the Cambodian Human Rights Committee, Thai authorities "forcibly removed" Cambodian workers, killing nine. Witness accounts describing beatings perpetrated by Thai military personnel. As relations between Bangkok and Phnom Penh soured, Cambodian Interior Minister Sar Kheng complained Thailand's government had "rushed to deport workers who are considered illegal without prior notice or discussion with Cambodia or at least making contact with provinces along the borders," adding: "Thai army leadership must be held responsible for all the problems that have occurred, including the loss of life."
Its handling of the multifaceted migrant crisis reflects the Thai military regime's broader approach to politics, with its authoritarian tendencies personified in coup leader and current premier Prayuth Chan-ocha. Critics of the authoritarian draft constitution are urged to be "civilized" in discussing the charter, while failing to do so is met with legal action and notorious "attitude adjustment" sessions. In the run-up to the August referendum on the draft, a new order empowers Thai soldiers to detain and arrest critics of the government in a barely-concealed move to quell dissent. By militarizing Thai political life, Thailand's rulers have contributed to the unraveling of the rule of law. While soldiers are ordained with law enforcement powers, the police are becoming increasingly marginalized and the armed forces' grip over civil society extends further.
The harsh treatment of Muslim migrants also arguably parallels some of the dynamics in the ongoing counterinsurgency in southern Thailand, where Bangkok is suspected of perpetuating a "culture of impunity" within the military that fosters grievances between Muslim and Buddhist populations. According to Zachary Abuza, an independent researcher on Southeast Asian security: "Security forces operate under complete immunity for their actions. That immunity is only waived in rare circumstances when the act was so egregious and there was a public backlash." While the insurgency has been ongoing for decades, the military's rough handling of the issue has engendered even deeper mistrust between Bangkok and local residents. As such, the junta's announcement that peace talks will be pursued does not count for much. The Thai government has thus far shown little enthusiasm for the talks, making it increasingly clear that the junta pays lip service to peace while the Muslim community's feeling of alienation continues to rise.
Grace Guo is a Vienna-based researcher and a program associate for a small NGO focused on Asian politics.