A space tracking, telemetry and command facility operated by a unit of China's People's Liberation Army is nearing completion at a site in Patagonia, Argentina. The new base, the first of its kind outside of China, includes steerable parabolic antennas 13.5 and 35 meters in diameter, computer & engineering facilities, lodgings for technical staff, and a $10 million electric power plant. Chinese and Argentinian officials announced in late April 2016 that the station will become operational in March 2017.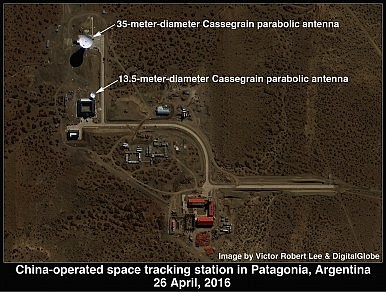 Since its inception, the Chinese base in a remote sector of Patagonia has been controversial, with several legislators and local officials protesting publicly that Argentina has granted sovereign rights over part of its territory to China, and that the facility, entirely controlled and staffed by a unit of China's military, could be used for military as well as civilian purposes.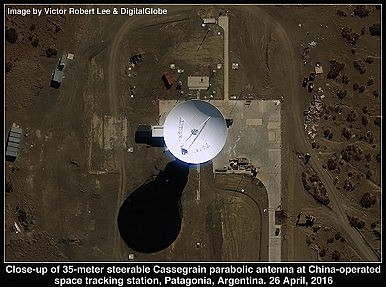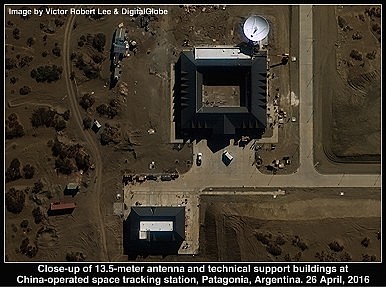 Situated in the same longitudinal sector as the U.S. Eastern seaboard, and the same distance as Washington, D.C. from equatorially positioned geostationary satellites servicing the Eastern U.S., the base's location would potentially be advantageous for non-civilian missions by this type of facility.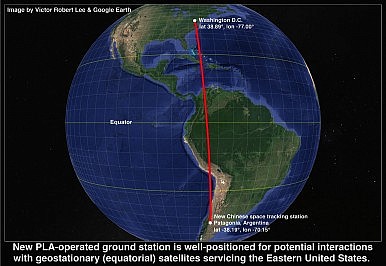 Chinese authorities have stated that the ground station is solely to support deep space exploration and a lunar mission to take place as early as 2017, and that the base has "no possible military use."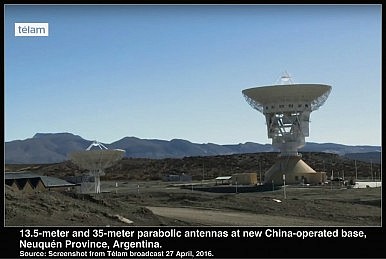 When questioned about possible dual use of the base in late April 2016, Yu Xueming, the site's project manager, employed by China Launch and Satellite Tracking Control General (CLTC), said the fact that the parabolic antennas could not be swiftly rotated meant they could not be used militarily. However, there are numerous military and signals intelligence uses for slow-maneuvering antennas, and the two antennas observed at the Patagonia site are in fact widely steerable. A diagram previously posted at the construction site showed the 35-meter parabolic antenna in a fully horizontal orientation, rather than the vertical position seen in the latest satellite imagery of the facility – the position most suitable for "deep space" purposes.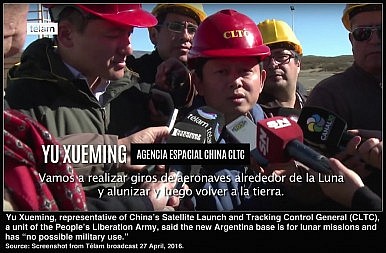 An expert on space communications, who was asked to review the images presented here, confirmed that the two antennas in Patagonia could be used for monitoring of geostationary satellites, in addition to deep space sensing and telemetry. He also pointed out that the two parabolic antennas could operate in tandem through the technique of interferometry to more precisely lock onto satellites and their signals.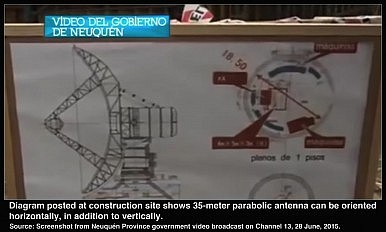 In a 2015 interview, Ambassador Roberto García Moritán, a former representative of Argentina to the Arms Trade Treaty, said the Neuquén base would be very useful for lunar missions, but also that "the antennas and the telemetry" at the base "have dual use. This antenna will have the capacity to interfere with communications, electronic networks, electromagnetic systems; it has the capacity for receiving information about the launching of missiles and other space activities, including of drones, and movement of strategic arms. It has the capacity to collect information of enormous sensitivity in the eventuality of a military competition."
No satellite imagery of the Neuquén site less than fifteen months old was available from non-classified sources, so the author tasked a DigitalGlobe WorldView-3 satellite to photograph the base at 30-centimeter resolution, which was accomplished in late April 2016.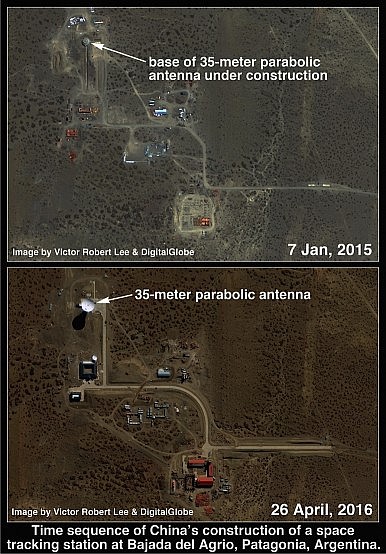 Imagery of the site, in the Quintuco region of Neuquén Province, near the town of Bajada del Agrio in Patagonia, Argentina, shows a surprising rapidity of construction, especially for such a remote area [coordinates: 38.1914°S, 70.1495°W]. The project has been carried out by China Harbour Engineering Company, a subsidiary of state-controlled China Communications Construction Company, which has been integral to China's unprecedented and frenetic island building in the South China Sea. CLTC, the operator of the Neuquén facility, is a unit of the General Armaments Department of China's People's Liberation Army. A related sponsor, whose name is written on a sign outside the Patagonia base, is the Xi'an Satellite Control Center, described by some security analysts as the nerve center of the PLA's satellite tracking, telemetry and control activities worldwide.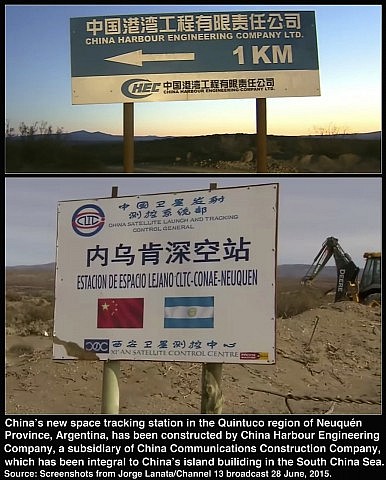 Argentina's 50-year contract with China for the base (tax-free and with a five-year advance notice requirement for termination) was signed under the administration of the country's former president, Cristina Fernández de Kirchner, and immediately prompted allegations of secret clauses attached to the agreement. Although the contract was signed in April 2014, earlier aerial photography shows construction was already well underway by December 2013; parliamentary approval only occurred in February 2015 (133 votes for, 107 against). News reports following the election of Argentina's new president, Mauricio Macri, who took office in December 2015, suggested the incoming administration intends to unveil the secret provisions, but proponents of the project deny there are any secret side agreements at all.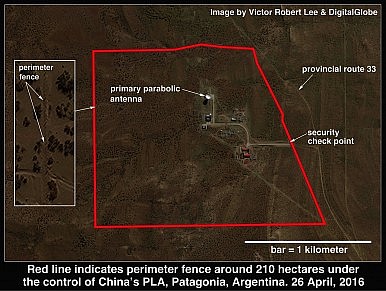 Satellite images of the site show a fenced enclosure measuring 210 hectares in area rather than the contractually defined 200 hectares cited by Argentinian officials. Access is via a single security checkpoint. In a 2015 report by journalist Jorge Lanata for Argentina's Channel 13, a television crew asked for permission to enter the base, but was told by Argentinian guards that the only people who could give permission to enter are "the Chinese, who are in the offices of CLTC in Las Lajas" (a town 40 kilometers away). In the same broadcast a reporter telephoned the Chinese embassy to request permission to enter and was denied access by an embassy officer who said it was "not convenient" to receive them. In the Channel 13 program the mayor of Neuquén City, Horacio Quiroga, said even several elected officials of Neuquén Province had been refused entry, and he exclaimed, "It is Chinese land in Argentina's territory."
Some Argentinian and Chinese authorities have rebutted concerns about the Patagonia ground station by pointing out that the European Space Agency has leased land for a similar type of tracking station that became operational in 2013, at Malargüe in Argentina's Mendoza province, 275 kilometers north of the new Chinese base. However, the Malargüe facility is leased to a civilian agency, the ESA, managed by Argentinian civilians, and the majority of the staff are from Argentina. The facility, known for guiding the 2014 Rosetta mission to land a probe on a comet, is also markedly smaller and less well equipped, as seen in satellite images.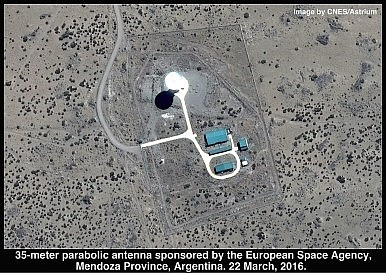 The Chinese government has other international, but more limited, ground stations to support its manned space program – in Namibia, Pakistan and Kenya; and it currently has at least five Yuanwang-class space tracking ships deployed. A ground station in Argentina could be viewed as simply part of the growing footprint of an economically powerful nation that has peaceful intentions for space exploration, for which it should be given the same leeway other nations receive. However, the intrinsic dual-use potential of large steerable antennas, and China's history of digital theft as well as its testing of destructive anti-satellite technologies suggest Argentina's protesters have reason to question the real use of the Patagonia base. The Snowden archive, which revealed that the U.S. has secretly operated at least sixteen ground stations worldwide for interception of foreign satellite communications, adds heft to the skepticism.
U.S. sensitivity over the building of a new Chinese base in the Americas is likely to be heightened by rumblings that the Chinese government already operates signals intelligence facilities in another locale even closer to the U.S. – Cuba, just 300 kilometers south of Miami and 525 kilometers from the U.S. military's CENTCOM headquarters at Tampa. In the U.S. Republican presidential debate on March 10, 2016, Florida Senator Marco Rubio, a son of Cuban immigrants and a member of the Senate's Select Committee on Intelligence, received enthusiastic applause when he said a "good deal" with Cuba would include several measures including kicking "out this Chinese listening station in Bejucal."
Rubio's allegation of Chinese participation in signals intelligence stations in Cuba, especially in the Bejucal region near Havana, is supported by several U.S. security analysts, but direct public evidence is scant. Satellite images of the main Bejucal site, not displayed here, confirm the presence of multiple large steerable parabolic antennas, probable underground facilities that were expanded after 2010, as well as new structures appearing in 2014, including an upgraded array of mast antennas.
Official statements from China and its representatives in Argentina regarding "peaceful use" of the new station in Patagonia will be regarded with the same sort of skepticism that has been justified in another theater: the South China Sea. Beijing shrewdly obfuscated its ongoing annexation of the South China Sea over the past three years, and now is using the same state-controlled corporations it used for manufacturing military bases in the Spratlys to secure an outpost in South America, in longitudinal alignment with the U.S. East Coast and the heart of U.S. satellite communications networks, both civilian and military.
It will not be surprising if future satellite images of the Patagonia base show additional antennas and other types of technology installed on this first-ever tract of sovereign Chinese territory in the Americas.
Victor Robert Lee writes on the Asia-Pacific region and is the author of the espionage novel Performance Anomalies.