China, Thailand Kick Off Military Exercise Blue Strike 2016
Beijing and Bangkok kick off drills at Sattahip naval base.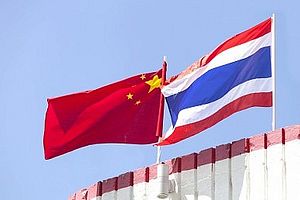 China and Thailand kicked off a joint military exercise over the weekend.
Blue Strike 2016, a joint drill involving the Chinese and Thai marines, got underway Saturday at Sattahip naval base, the largest naval base in Thailand and the headquarters of the Royal Thai Marine Corps.
The opening ceremony, supervised by Royal Thai Navy (RTN) Commander Naris Prathumsuwan and deputy commander of the People's Liberation Army Navy (PLAN) Wang Hai, featured a series of activities, including Chinese marines performing kung fu and their Thai counterparts demonstrating Muay Thai.
Around 1,000 Thai and Chinese personnel are participating in the exercise, The Bangkok Post reported. The exercise features activities involving joint amphibious training, evacuations during conflicts and disaster relief in counter-terrorism scenarios. The armaments and equipment in the drills included helicopters, rocket launchers, tanks, speedboats, and a range of guns.
Wang said that the military drill demonstrates the commitment of both countries to addressing challenges like terrorism and preserving regional and global peace, while Naris said the sharing of practical knowledge and experience would help boost bilateral ties.
The exercise comes amid a series of developments that suggest a burgeoning defense relationship between China and Thailand. Both air forces held their first ever joint exercise last year, and Thailand had also selected China as the country to build the country's submarines (See: "Does Thailand's Chinese Submarine Purchase Really Signal US Drift?"). Thailand also inked an agreement with China last week to purchase MBT-3000 main battle tanks, with deliveries expected to begin before the end of the year (See: "Thailand to Buy Battle Tanks from China").
Blue Strike 2016 will last until June 9. The exercise began in 2010, which was the first time Chinese marine forces conducted drills with foreign forces outside of China.