G7 Summit in Japan: Another Milestone for Global Health
"The Ise-Shima Summit is an ideal opportunity for the G7 to advance international engagement for health-related SDGs."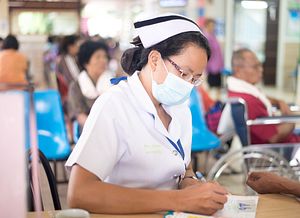 The Ise-Shima Summit will be the first G7 meeting since the UN adopted the 2030 Sustainable Development Goals (SDGs). Promoting global health initiatives is essential in "ensuring that no one is left behind," a fundamental principle of the SDGs. "Ensuring that no one is left behind" is an important concept to protect and empower individual people, and one that Japan has emphasized. It is in line with the idea of human security, building a strong society and nation.
Health is essential for people to lead happy and fulfilling lives. Infectious diseases, such as the Ebola virus, cause significant human and economic losses and pose major threats to states and society. With changes in population and economic development, both the G7 and developing countries share the challenges of an aging society as well as non-communicable diseases such as cancer and diabetes.
The Ise-Shima Summit provides an ideal opportunity for the G7 to advance international engagement for health-related SDGs. In fact, the previous summits held in Japan have marked milestones in the history of global health.
The 2000 Kyushu-Okinawa Summit was the first time leaders took up the issue of "infectious diseases." These discussions led to the establishment of the Global Fund to Fight AIDS, Tuberculosis and Malaria in 2002 and contributed to the achievement of the Millennium Development Goals. At the 2008 Hokkaido Toyako Summit, leaders agreed on comprehensive measures to strengthen health systems, including measures against infectious diseases and improving maternal and child health.
This year's G7 Ise-Shima Summit will discuss three pressing issues on global health: a stronger response to public health crises, universal health coverage, and antimicrobial resistance.
First, it is vital that the G7 strengthens efforts for the prevention and response to public health crises. In a more globalized world, with the accelerated movement of people and goods, there is a greater risk of infectious diseases spreading across borders. Although the Ebola virus first broke out in West Africa, it spread as far as Europe and North America. Similarly, the Zika virus, which was primarily prevalent in Central and South America, has now spread to countries in the Asia-Pacific and Africa.
We should not forget that the Ebola outbreak took more than 10,000 lives. Strengthening our ability to deal with public health crises is vital to ensure that this kind of tragedy will never be repeated. Learning from the Ebola epidemic, experts have proposed many improvements, and the G7 Ise-Shima Summit will further bolster the collective response of the international community.
Second, universal health coverage (UHC) guarantees the provision of basic health services for all people throughout their lives. People face many different health issues throughout their lifetimes, such as nutrition for infants, vaccinations, sexual and reproductive health, infectious diseases, non-communicable diseases and aging. Providing basic healthcare services at an affordable cost is essential for protecting the lives of every individual.
The leaders of Japan and France have agreed to promote UHC and have jointly organized events to build global support for the concept. Now it has become a shared international goal in the form of SDG targets. The Ise-Shima Summit will place the global spotlight on UHC for the first time. I hope G7 leaders will agree on specific actions to accelerate international work to achieve this goal.
Third, a new public health crisis is looming in the form of bacteria that are resistant to the effects of existing antibiotics, which highlights the importance of addressing the issue of antimicrobial resistance. Building on last year's discussion in Germany, G7 leaders will discuss ways to strengthen the "One Health" approach to promote the health and hygiene of people and livestock in an integrated manner.
Research and development in drugs and medical services is important for all three agenda items. G7 leaders will discuss the promotion of research and development by learning from good public-private partnerships examples and other best practices.
To provide fresh momentum for our discussion at the Summit, the Government of Japan has just announced its commitment to contribute $1.1 billion in grant aid to the Global Fund to Fight AIDS, Tuberculosis and Malaria; Gavi, the Vaccine Alliance; WHO; the World Bank; and the Global Health Innovative Technology Fund. I hope this will help G7 countries achieve productive results on the global health agenda.
Last year, Japanese Prime Minister Shinzo Abe clearly expressed his determination to play a leadership role in the global effort on health. His determination was highlighted at the International Conference on Universal Health Coverage in Tokyo in December and a conference with parliamentarians from around the world in April. As Sherpa to the prime minister in this initiative, I am very aware of his commitment to improving global health. I believe that the G7 Ise-Shima Summit will chart a path for the international community toward 2030, marking another milestone in the efforts in global health.
Yasumasa Nagamine is Japan's Deputy Minister for Foreign Affairs.