Hong Kong's Tax Revenue Decline Has a Silver Lining
Hong Kong's overheated property market may finally be cooling off.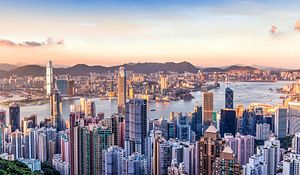 HONG KONG – Amid the slowdown in the Hong Kong property market, Hong Kong's overall tax revenue has fallen for the first time in six years.
In total, the taxman collected HK$291.3 billion (US$37.5 billion), down HK$10.6 billion from the year before. Stamp duty takings on property transactions have plunged 16 percent in the 2015-16 fiscal year, a delayed consequence of property cooling measures legislated by the Hong Kong government in 2012. This represents a HK$12 billion decrease in takings for the government and largely negates gains from other revenue sources.
This is in stark contrast to last year's record breaking results, which saw stamp duty revenues surge up by 80 percent compared to 2013-14 figures. However, this figure was distorted as the Hong Kong Government dragged its feet to pass legislation, resulting in stamp duties in arrears by up to two years only being collected in the last fiscal year.
"The turnover for the past six months has dropped quite a bit compared with earlier last year," said Wong Kuen-fai, Commissioner of Inland Revenue. "We estimate that the level of turnover in property and the share market will remain more or less the same as that of the past six months."
In February, 1,807 residential units were sold, down two-thirds on a year-on-year basis, and a 25-year low, according to government statistics.
Cooling measures were introduced in 2012 as the local housing market was approaching an all-time high, and seen to be overheating. Despite the new special property levy, the housing market continued to rise, hitting another record high in August 2015 according to Trading Economics data. Since that time, the local property market has seen a steady decline, but still hovers above the 2013 record.
The combination of the cooling measures, a record supply of units, potential U.S. interest rate hikes, and China's economic downturn — potentially including a dramatic Chinese renminbi devaluation — means that Hong Kong residential property prices will suffer in the foreseeable future. Property prices posted their sixth consecutive month of decline in March and valuations have been predicted to fall by up to 15 percent in 2016 by some analysts; Nomura predicts a further fall of 19 percent by 2017, while Goldman Sachs has predicted a 20 percent drop by 2018 should U.S. rates increase by 150 to 200 basis points.
Despite the turbulence, Hong Kong will still remain as one of the world's most expensive cities, as it continues to benefit from being the first port of call for Chinese capital outflows. From January to October 2015, buyers in four out of the top 10 luxury deals were from the mainland, according to a report by Knight Frank in December.
However, it is not all doom and gloom. The city was ranked as the most expensive housing market in the world in the Demographia International Housing Affordability Survey in January, with average flat prices at 19 times gross annual median income at the time. The devaluation will give those looking to enter the lower end of the property market a fighting chance, despite looming interest rate increases.