How the Next US President Should Handle the South China Sea
China will surely test the mettle of the next U.S. administration in the South China Sea. How to respond?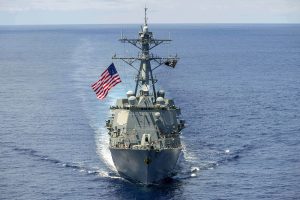 Beijing will test the mettle of the next U.S. administration in the South China Sea. At a minimum, China is determined to use "passive assertiveness" to exercise greater control over this jugular of international commerce. Fortifying artificial islands, executing law enforcement operations, and issuing diplomatic broadsides—while dangling economic incentives in an effort to dismantle multilateral cooperation—all appear to be efforts likely to continue and intensify in the immediate future.
But more aggressive military maneuvers and the risk of escalation should not be discounted. A new president should expect to be tested early and often over U.S. surveillance operations within China's 200-nautical-mile Exclusive Economic Zone, the protection of America's Philippine ally, and support of other claimant-states such as Vietnam.
The level of tension President Barack Obama's successor inherits next January, however, hinges in no small measure on what transpires in the weeks and months ahead.  With the coming judgment of the International Tribunal for the Law of the Sea in the case that has been dubbed Philippines v. China, President Xi Jinping may prefer to test the will of a distracted lame-duck U.S. leader now, rather than wait for a new one who may have to demonstrate his or her resolve from the outset. As China has so far been successful at pushing a de facto context further in its favor, Beijing is likely to try to have the new U.S. president face a fait accompli in the South China Sea.
Perhaps in light of this, the United States is continuing its policy of leaning far forward to reassure friends in the region that Washington is determined to curb China's excessive claims without precipitating conflict. Accordingly, the Defense Department is investing additional resources in the domain awareness and minimal defensive capabilities of key regional states, and top-level leadership has increased its exchanges with regional powers.
The South China Sea has become a litmus test for the Obama administration's strategy of rebalancing to Asia. Hence, what the United States does or does not do in the waters and corridors of power around Southeast Asia in the coming weeks and months will set the standard by which U.S. credibility and regional policy will be judged during the next administration.
Take the issue of Scarborough Shoal, where there have been concerns about China beginning land reclamation on the disputed reef effectively seized from the Philippines in 2012.  If the United States were to specify that Scarborough Shoal is covered under the mutual defense treaty with Manila, the demarche could preempt Chinese reclamation of the shoal or catalyze a crisis, or both.  Regardless, the issue will still be a flashpoint over the next several years.
Despite what might happen this year, it is possible and essential to frame the questions that will guide the next administration's South China Sea strategy. Based on our expert discussions and research at the Center for a New American Security, five major themes emerged that should bound U.S. policy for the South China Sea.
First, the South China Sea represents only a part of a larger U.S. strategy towards the Asia-Pacific region. The Obama administration's rebalance is about allowing a broad balance of power within the Asia-Pacific actors, while forging ahead with preserving and expanding an inclusive, rules-based architecture for international interaction. Therefore, the rebalance is not—and should not be interpreted as—a strategy to isolate China.
Beyond Asia strategy, the next administration will also be compelled to deal with other global security issues. Several major challenges could further disrupt international security, including the the threat of violent extremism, Russia, Iran, North Korea, and China. U.S. decision-makers now and in the next administration will have to remain vigilant and agile, capable of turning greater attention to any one of these challengers when it will be warranted.
A second theme that will shape the next administration's strategy is the bilateral relationship with China. U.S.-China relations are inextricably linked to South China Sea cooperation and competition and vice versa. Obama has sought to expand cooperation with China without flinching from competition in areas of conflicting interesting, particularly in cyberspace and maritime Asia.
U.S.-China relations are complex, but policymakers, including those at the Pentagon, view China as more than merely a competitor.  China's cooperation is vital to both a stable regional and global order. Despite this, China's actions raise at least two salient challenges to a Sino-U.S. relationship based mostly on cooperation. In the first place, China poses a coercive threat to regional order by exploiting law enforcement and non-state actors' low-threshold/limited violence capability (so-called "grey-zone situations") in order to expand its influence at the expense of its neighbors, while avoiding outright war. In addition, the rapid military modernization and deployment of China's anti-access and area-denial (A2/AD) capabilities can be seen as an open challenge to U.S. military power-projection forces that help to underwrite a rules-based regional order.
These twin challenges are compounded in the South China Sea by a perceived asymmetry of Chinese and U.S. interests. China sees the South China Sea as akin to a core national interest, controlling the near-abroad that has historically served as a way onto its shores and into its capital. This can be contrasted to the perceived United States' view of the area as more instrumental to the larger goal of maintaining regional stability and peace with China.
China uses propaganda to burnish this apparent duality. Despite the fact that the United States repeatedly stresses that it is a permanent Pacific power (indeed, the U.S. territory of Guam plants to hold a referendum on statehood this November), Beijing spins a narrative casting the United States as an irrelevant outside power. Possessions in the Marianas are said to be vestiges of imperial interventionism. The Chinese narrative quickly loses potency when China makes excessive claims, such as its still ambiguous right to the area within a nine-dash line covering the vast majority of the South China Sea, partly on on the flimsy basis of historical rights.
As long as American interests are in some doubt, China can be expected to test the will of the United States. Thus it must remain clear that U.S. interests are inextricably intertwined with the advancement, development, and prosperity of the Asia-Pacific region.
A third theme is the critical role played by continued U.S. presence and effective engagement with the region. Many aspects of U.S. strategy remain focused on what the United States does to retain its forward military posture and demonstrate continued commitment and staying power. But other elements of U.S. strategy necessarily rely on capable allies and partners in the region, especially the South China Sea littoral states.
The administration's Maritime Security Initiative is a modest yet clear and focused effort at strengthening the situational awareness and minimal defensive naval and air capacity of the Philippines, Vietnam, Indonesia, and Malaysia. These steps may not alter Chinese behavior, but they reinforce U.S. credibility to preserve and adapt to a dynamic regional balance.
A fourth theme is that South China Sea strategy must be comprehensive and therefore must extend beyond the tools available to the Department of Defense. Beyond the reality that the defensive capabilities of most regional actors are likely to remain outmatched by mounting Chinese capabilities, the United States needs to look to other instruments of policy to dissuade China's assertiveness and encourage greater compliance with regional norms. There should be a much more concerted diplomatic effort to bring accountability to Chinese actions in the region, whether at the regional or international level.
The style of diplomatic activity also needs improvement. In general, U.S. policymakers need to say less and do more. There has tended to be a great deal of discussion about freedom of navigation operations, but arguably too little concern paid to effective action.
Economic leverage is a tool that needs to be fully exploited by Washington, as a consistently large trade deficit to China sometimes distracts us from the fact the United States is the market in this bilateral relationship. In the realm of cyberspace, another contested environment between the United States and China, economic and legal sanctions—or the threat of such sanctions—have tended to capture Beijing's attention. How to integrate tougher diplomacy and economic actions within a larger strategy will fall to the next U.S. administration.
A fifth theme is that U.S. policy must achieve greater clarity about U.S. interests, even while U.S. decision-makers will necessarily wish to retain flexibility over how to calibrate its words and deeds. China and the region are looking for greater clarity about U.S. strategy and major interests. Clarifying interests remains essential to U.S. strategy for the South China Sea and the Asia-Pacific region. At the same time, the United States will want to prevent itself from being backed into a corner by retaining a degree of unpredictability about its potential courses of action should an actor pursue aggression or coercive unilateral changes to the status quo.
While these five points raise almost as many questions as they answer, they provide some of the elementary boundaries of a debate of U.S. strategy in the South China Sea, both for the duration of the Obama administration and for the new administration that will come to power in January 2017.
Dr. Patrick M. Cronin is Senior Director of the Asia-Pacific Security Program at the Center for a New American Security (CNAS). Marcel Angliviel de la Beaumelle is a Joseph S. Nye, Jr. Research Intern at CNAS.