In South Asia, Much Ado About F-16s
Given the recent dispute over F-16s between Islamabad and Washington, what can New Delhi do?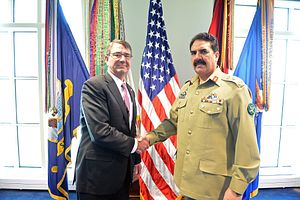 Much to Islamabad's chagrin, the message coming out from Washington is loud and clear. Pakistan is now being asked to pay for F-16 jets out of its own pocket. The message that the U.S. Congress is sending to Pakistan after it threatened to yank financing for F-16 jets ordered by the country cannot be more categorical.
Pakistan can still purchase the fighters, but Senate Foreign Relations Committee chairman Senator Bob Corker has promised to block any U.S. taxpayer funding for the deal in a reflection of congressional anger at the Pakistani government for what many say are its close relationships with anti-American Islamist militant groups and inadequate support of the Afghan peace process. The jets, along with other military equipment, approved for sale to Pakistan will cost the U.S. taxpayer roughly $700 million. Earlier this year, the Obama Administration approved the sale of up to eight F-16 fighter jets to Pakistan.
Pakistan is now reportedly exploring alternative options, such as the Russian Su-35 and the Chinese J-10 and J-20 stealth fighters. Sartaj Aziz, the Pakistani prime minister's adviser on foreign affairs, said that Pakistan will "opt for jets from some other place" if U.S. funding is not arranged. It is clear that even if this immediate matter of the F-16 sale is resolved, the U.S.-Pakistan relationship is in for troubled times. And this has been clear for quite some time now. In many ways, this was bound to happen. Pakistan could not have expected to play China and the United States against each other for this long. Moreover, Pakistan's dubious role in Afghanistan is creating a strong backlash in the United States.
In his address to a joint session of Afghanistan's two houses of parliament last month, Afghan President Ashraf Ghani threatened to lodge a formal complaint against Pakistan at the United Nations. In a departure from his earlier stand, Ghani called on Pakistan to forego attempts to bring the Taliban to negotiations and take military action against the militant group. The Afghan president threatened, "If we do not see a change, despite our hopes and efforts for regional cooperation, we will be forced to turn to the UN Security Council and launch serious diplomatic efforts." Despite Pakistan's repeated assertions that it would go after Taliban leaders who refused to engage in the peace process involving Afghanistan, Pakistan, the United States, and China, negotiations have stalled and deadly attacks in Afghanistan have increased as the Taliban carries out its spring offensive.
On April 19, the Afghan Taliban claimed an attack in Kabul, which killed 64 people and injured 347 others. Afghanistan has alleged that this deadly attack in Kabul was planned by the Haqqani Network in Pakistan. Rather than engaging Pakistan, Kabul is now talking of isolating Pakistan in response. Dawa Khan Meenpal, deputy spokesperson for Ghani, recently suggested that "Pakistan is in the state of isolation. We want to use diplomatic initiative to isolate Pakistan at regional and international levels and to tell the world community where terrorists are and which country and intelligence [agency] support them." Washington's anger is reflective of this growing divide in Afghanistan-Pakistan relations.
When the Obama Administration decided to go ahead with the sale of F-16s to Pakistan, India's reaction was strong too. It openly disagreed with the United States' stand that this sale would help in the fight against terrorism and instead has argued that it would be used against India. The U.S. Ambassador to India was summoned to underscore India's displeasure. New Delhi is seriously concerned about the changing balance of air power in the region as Pakistan today has four squadrons of F-16 fighters, all built with U.S. assistance.
But India-U.S. ties today are at a completely different level. As Prime Minister Narendra Modi prepares to address the U.S. Congress next month, Washington and Delhi need to find a better way of managing Pakistan so as not to impact the positive trajectory of their bilateral ties. There is a larger strategic reality that confronts India and the United States that goes far beyond just Pakistan. This is clear from recent attempts by the two states to swap anti-submarine warfare technology in order to counter the threat from Chinese submarines in the Indian Ocean. It is likely that a joint U.S.-India exercise on anti-submarine warfare will take place in the Philippine Sea and include Japan as these navies gear up to hedge against patrols by Chinese nuclear-armed submarines.
The big takeaway from the F-16 saga is that Pakistan is being sent a message from the U.S. polity that it cannot forever blackmail the United States into material support. India should remain abreast of such changes in U.S. thinking toward the region and leverage them accordingly.