Japan: Abe Set to Delay Next Tax Hike
Bowing to economic realities, the Japanese PM will reportedly postpone the next consumption tax hike.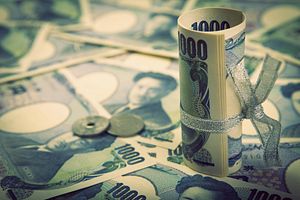 Japanese Prime Minister Shinzo Abe has reportedly cancelled plans to hike the consumption tax in 2017, bowing to sluggish growth, a strong yen and a falling stockmarket. Will it be enough to save Abenomics?
Avoiding the prospect of another potential recession in the world's third-largest economy, Abe reportedly told senior government and ruling coalition officials Friday that he would postpone a planned increase in the consumption tax rate.
Japan slipped into recession the last time Abe's administration hiked the rate from 5 percent to 8 percent in April 2014, in an attempt to improve the government's finances. The rate was previously scheduled to rise again, to 10 percent last October, but Abe postponed the hike to April 2017 as he sought to bolster a softening economy where consumer spending accounts for some 60 percent of gross domestic product (GDP).
Yet according to the Nikkei, Abe will announce in June his decision to further postpone the planned tax increase, based on consultations with fellow Group of Seven leaders at the upcoming Japan summit, and considering the effects of the recent Kyushu quakes and uncertainty over domestic and global economic growth.
The Japanese financial daily did not specify when the tax might be raised, suggesting only a potential date of April 2019, a year before the 2020 Tokyo Olympics, which are expected to deliver a boost to the economy.
However, it suggested the government remained committed to its goal of achieving a "primary" surplus – where government revenue exceeds spending, excluding debt-servicing costs – from fiscal 2020, although it would revise its goal of reducing the primary deficit to 1 percent of GDP by fiscal 2018.
But with a strike rate of three consumption tax hikes and three recessions, few would argue against Abe's planned delay.
"As much as we economists always think that this time will be different, it's clear empirically that, whenever they hike the VAT [value-added tax], it sparks a recession. It's three out of three," Japan economist Jesper Koll, chief executive of WisdomTree Japan, told the ACCJ Journal.
Japan's economy surged ahead of the previous increase, as consumers and businesses stocked up ahead of the hike, growing at an annualized rate of 6.7 percent in the March quarter 2014. However, the following two quarters it fell off a cliff, shrinking for two straight quarters as shoppers closed their wallets.
The latest GDP data showed Japan's economy contracted in the last three months of 2015, posting a modest 0.4 percent gain for the year after zero growth in 2014. According to a Reuters survey, GDP is expected to have expanded at an annualized rate of just 0.2 percent in the first quarter of 2016, following the 1.1 percent contraction in the December quarter, with private consumption stagnant and soft business investment.
"The GDP data will probably show the actual economy lacks strength," Takumi Tsunoda, senior economist at Shinkin Central Bank, told the financial news service.
"There are signs of a pickup in exports and corporations keeping firm capital spending plans, which support the economy, while private spending stays at a standstill."
Finance Minister Taro Aso and Bank of Japan Governor Haruhiko Kuroda have both tried to talk down the yen in recent weeks, but with little effect, while Tokyo stocks have dropped around 15 percent over the past year as exporters' profits sag on a stronger currency.
December Election?
On May 6, WisdomTree's Koll suggested Abe could even use a delay in the consumption tax hike as a "potential vote-winner for a December 2016 lower house snap election."
"In our view, the Bank of Japan (BoJ) did not add to its stimulus program precisely because its leadership recognizes the diminishing returns of central bank action on its own. Note that throughout the past four years of unprecedented BoJ policy action, the central banks' economists have actually continued to cut their estimates of Japan's potential GDP growth, from just around 1 percent three years ago to just below 0.5 percent now," Koll said.
"Clear speak – Japan's best & brightest analysts outright deny a link between central bank action and national welfare creation potential. For a leader as intellectually curious and thorough as Governor Kuroda, the message is clear – the BoJ cannot do it alone."
According to Koll, "The only way to link the central bank balance sheet to aggregate demand and future growth potential is through the combination of fiscal and structural policy. Prime Minister Abe understands this very well…[but] the relative lack of urgency from 'Team Abe' on the economic policy front so far this year is primarily forced by Abe's desire to use his presidency of this year's G7 summit as the stage to demonstrate his global policy leadership."
Koll suggests Abe's actions could help spur Europe to also ease fiscal policy, which together with China's recent stimulus measures "could create an important policy-induced inflection point for the global economy."
Such an outcome could prove positive for both Japanese exports and business investment. And with Japan's September GDP report due in mid-November, during crucial negotiations for the following year's budget, Abe could take the opportunity to call a lower house poll for December.
Longer term though, Japan's economic future will depend on "third arrow" structural reforms to boost productivity and encourage more women and aged workers into the workforce to compensate for a rapidly shrinking labor force. According to a recent OECD report, Japan's population is set to shrink to 100 million by 2050 from a peak of 128 million in 2010. Already, demographic change has knocked more than half a percentage point off the nation's annual growth rate from 1999 to 2011.
"Japan needs to press forward with trade integration and make its corporate sector more dynamic through improved corporate governance and product market reform. Moreover, while Japan has a high level of R&D, the return on such investment could be improved by strengthening university-business linkages and encouraging greater mobility of researchers," the Paris-based organization said.
Policymakers should "make it easier for both men and women to combine work and family life, in part by changing Japan's culture of long working hours. Moreover, Japan needs to expand affordable access to quality early childhood education and care. This can help increase the employment rate of women, which currently is 18 percentage points below that of men.
"In addition, the employment opportunities for older people need to be improved, notably by enhancing their ICT skills and fostering lifelong learning. Such measures will not only boost growth but also contribute to a more inclusive society," the OECD said.
Raising the eligibility age for pensions and long-term care programs could help reduce welfare costs, with the proportion of people aged over 65 expected to rise from 26 percent currently to around 40 percent by 2050. The OECD also suggested "a more concrete strategy for bringing down the public debt to GDP ratio, something that will require all three arrows of 'Abenomics' to be working in concert."
Delaying a planned consumption tax hike could damage "trust in the country from the market and international community" as previously stated by Aso, as well as delaying such fiscal consolidation efforts.
But for a prime minister and central bank governor seeing their hopes in Abenomics fading, the roll of the dice on tax policy could be their last chance at success.