Philippines, France Ink New Defense Pact
Defense agreement lays out framework for bilateral cooperation.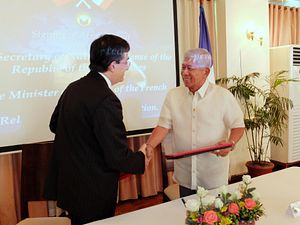 Last week, the Philippines and France inked a new defense pact in a boost for bilateral cooperation.
Philippine Defense Secretary Voltaire Gazmin and French Ambassador to the Philippines Thierry Mathou signed the agreement at a ceremony at the Department of National Defense in Camp Aguinaldo on May 11. Both sides had been negotiating the defense pact since 2014.
According to a statement by the French Embassy in Manila, the cooperation agreement provides an overall framework to develop relations between the defense agencies and armed forces of the two countries as well as to promote defense collaboration relating to defense equipment, logistics and the defense industry.
The agreement also specifies strengthened cooperation through high-level visits, dialogues and defense policy consultations, training and capacity-building, information exchange, and the development of naval cooperation.
"Our relationship would be further enhanced as we institutionalize our cooperation through this agreement," Gazmin said during the signing ceremony.
The Philippines, one of the region's weakest militaries, has looked to strengthen defense ties with several allied and partner nations over the past few years in the face of several security challenges, including China's growing assertiveness in the South China Sea disputes (See: "The Truth About Philippine Military Modernization and the 'China Threat'").
A verdict on Manila's South China Sea case against Beijing is expected sometime in May or June (See: "Does the Philippines' South China Sea Case Against China Really Matter?").
Defense spokesman Peter Paul Galvez told reporters that the conclusion of the Philippines-France Defense Agreement was "very timely."
"The cooperation provided for in the agreement could enhance the two countries' defense capacities and capabilities essential in addressing such challenges," Galvez said.