Sri Lanka's Uneasy Peace
The island nation's "democratic transition" leaves plenty to be desired.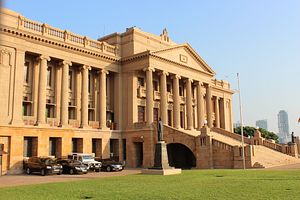 Sri Lanka's civil war ended on May 18, 2009 — seven years ago. The country's government forces defeated the Tamil Tigers, a group that had been fighting for a separate Tamil state in the nation's northern and eastern provinces. Credible allegations of abuses committed by Sri Lankan military personnel and the Tigers have persisted since the conclusion of war.
In the post-war era, longtime president Mahinda Rajapaksa took the country in an increasingly authoritarian direction. Due to widespread corruption, nepotism and the erosion of the rule of law, he was unexpectedly defeated during a presidential election in January 2015.
In October 2015, the country's coalition government co-sponsored a U.N. Human Rights Council resolution pertaining to reconciliation and accountability in Sri Lanka. Though crafted in diplomatic language, the resolution contains a multitude of positive prescriptions. Sri Lanka's unforeseen "democratic transition" meant that there was a legitimate opening for Colombo to move on transitional justice, or at least that's what many had hoped. Unfortunately, Colombo has yet to really turn towards implementation of the resolution.
Colombo's Sinhala-dominated government remains extremely reluctant to reach out to the Tamil community. Perhaps the political leadership simply doesn't want to do so. Maybe they're worried about the domestic political ramifications of making such gestures. Regardless, the sense of disillusionment that's set in with many Tamils is palpable and, absent genuine progress, skepticism about the government's plans will only become more profound.
I visited the country a few months ago. In the capital, some people I spoke with were fairly upbeat about how things had been going. Sure, the current administration's performance leaves plenty to be desired, although at least there was now a lot more space to criticize the government.
The time I spent in the Tamil-dominated north and east was very different. Across the board, people with whom I visited were frustrated and disappointed. To be clear, there's more space to criticize the government in these parts of the country too. The administration has given some land back to Tamil civilians as well. However, these positive changes pale in comparison to the longstanding problems that permeate daily life in these locations: unresolved disappearances, the military's continued occupation of civilian land, the government's refusal to release Tamil political prisoners, sexual violence, sustained militarization, widespread surveillance, livelihood issues. In what many believe was an effort to intimidate Tamils in the run up to war-related commemorative events, a recent spate of arrests across the north and east is also very worrisome. Acts of military intimidation have been widely reported this week too. In short, this is not what a reconciliation roadmap looks like — not even close.
Sri Lanka's peace remains uneasy. The fundamental trends across the country's north and east are not conducive to lasting peace or a return to normalcy. In fact, one could make a compelling case that the environment to move ahead with a credible transitional justice package doesn't even exist in the north and east today. Seven years since the war's tragic finish, let's be candid about the current state of affairs in a diverse, divided island nation — and the wounds of war which have yet to heal.
*A version of this piece first appeared in The Huffington Post.