The Philippines Under President Duterte
Duterte rode a wave of anti-establishment sentiment to victory. But how he will actually govern?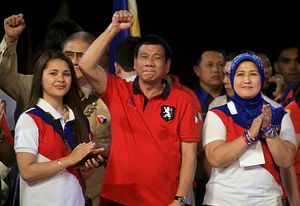 A self-confessed "man of many flaws and contradictions," the Philippines' new president-elect, Rodrigo Duterte, now has the tough job of uniting the country. However, the tougher job will be convincing everyone that the Philippines is not regressing and his policies are indeed fit for a modern democracy.
The former mayor of Davao City used his first press conference since capturing almost 40 percent of the votes in the May 9 general elections to set the record straight about his policy on killing criminals.
"If you resist, show violent resistance, my order to police [will be] to shoot-to-kill," he told reporters in Davao.
The 71-year-old has also vowed to bring back the death penalty, a policy that was abolished a decade ago.
Duterte's controversial plan to use extrajudicial killings as a way to end crime within six months of his presidency earned him a lot of attention and votes. While the rest of the world cringed at his tough-talking rhetoric and foul comments about women during the campaign, many Filipinos cheered. It is troubling that such a blatant disregard for human rights received overwhelming support from the Philippine public.
While the Philippines is Southeast Asia's oldest democracy, it has gained a reputation as one that has been captured by political dynasties. Political scientist Benedict Anderson called it a "cacique democracy," a country where power is passed from one oligarch to the next. Running for public office is indeed a family affair in the Philippines. Prominent surnames like Aquino, Roxas, and Marcos are linked to an influential elite with traditional connections to wealth and power.
Known to Filipinos as Rody, Duterte led a populist campaign that appealed to a rising anti-establishment sentiment fed up with the usual suspects ruling the country. His strong family roots to Cebu and Mindanao in the south set him apart from past presidents. But if his resume is anything to go by, it seems Duterte is all for the status quo of powerful family dynasties. While promoting himself as a challenger to the country's poorly performing political elite, he had already built his own tight clique in Mindanao's capital.
Duterte's consolidation of power in Davao City dates back to 1988, when he first served as mayor for three consecutive terms before being forced out of office after reaching the constitutional limit in 1998. After doing a brief stint representing Davao City in the House of Representatives, Duterte ran for the city's top post for a fourth time in 2001 and was re-elected consecutively until hitting the three-term limit again in 2010. His reluctance to see political change led him to run as vice mayor to his daughter Sara Duterte-Carpio, only to win back the title of mayor himself in 2013.
The familiarity of the Duterte brand and its hardline approach, which has been credited for turning Davao City from a crime hotspot into one of the Philippines' safest metropolises, is certainly one of the reasons he has maintained his popularity for almost three decades. It is no surprise that Duterte's children also cleaned up in the elections. With his daughter back in the mayor's seat and son Paolo Duterte winning the vice mayoral post, the Duterte dynasty in Davao City will live on. Duterte has successfully sold his family brand to the rest of the country. It seems Filipinos want a change, at whatever the cost.
Although Duterte has secured enough support from the Philippine public to take the highest office in the country, he does not, however, have the approval of Philippines' political elite. While current President Benigno Aquino's implied warning of a return to dictatorship with a Duterte victory can be seen as a political move to endorse presidential candidate Mar Roxas as Aquino's preferred successor. But the comment will not be easily forgotten, even as the fever pitch of the campaign trail dies down. It will be hard for Duterte to shake off nicknames like "dictator in waiting" and "Dirty Harry," especially after his latest "shoot-to-kill" comment and vows to reintroduce capital punishment. The political opposition will no doubt evoke these titles to weaken and discredit his presidency.
Antonio Fuentes Trillanes, a retired Navy officer-turned-senator notorious for leading coup attempts has already warned that a possible military intervention should not be ruled out. One must take seriously the history of military coups that have dogged Philippine political history since the fall of the Marcos dictatorship. The administration of Corazon Aquino was subjected to at least seven coup attempts between 1986 and 1992. Most recently, President Joseph Estrada's removal in 2001, and several attempts to remove Arroyo during her presidency, demonstrates a long practice of military coups in contemporary political affairs.
While Duterte has indicated salary increases for police, soldiers, and troops, it is yet to be known whether he will pursue the modernization of the Armed Forces of the Philippines with as much energy as Aquino. President Arroyo, who critics accused of being too cozy with the Chinese, ignored external defense and instead focused on quelling domestic terror threats during her term of government. In contrast, the Aquino administration had to respond to increased tension in the disputed waters caused by incidents with Chinese patrols boats in Reed Bank in 2011 and the two-month military standoff in Scarborough Shoal in 2012, among others.
Duterte will inherit a P83.9 billion ($1.77 billion) AFP modernization program, of which Aquino has already spent P56.79 billion on "big ticket" items. With modernization linked to protecting the country's claims in the South China Sea, Duterte's openness to explore other options with China may mean investment in external security will receive less attention.
While not denying that the maritime dispute with China is a threat to national security, Duterte has confirmed he wants closer ties with Beijing. This suggests he will resurrect policies from the Arroyo administration, rather than continuing the more popular approach of his direct predecessor. Duterte has signaled that joint exploration of oil and gas in the disputed waters is an option, which is a surprise considering Arroyo's 2004 Joint Seismic Marine Undertaking agreement with China was widely considered to be a sell-out of Philippine territory. Following this deal, Arroyo secured Chinese funding for the controversial North Luzon Railway, a contract that later became included in the corruption charges filed against her. On a similar note, Duterte said he would "shut up" about China's reclamation activities if the Asian superpower provided critical transport infrastructure in return.
Once the honeymoon period is over, the criminal killings begin, and Duterte gets too close to China, his family brand might quickly lose its popularity. While he is trying to unite the country, the potential for human rights abuses and risks in the South China Sea will divide it. After a long turbulent history of coup attempts and political instability, the question is, how long will the Philippines — public, military, and political elite combined — put up with the man of many flaws and contradictions?
Danna Diaz is a freelance broadcast journalist. She tweets @dannamdiaz