What a Tsai Presidency Means for Cross-Strait Relations
Washington needs to publicly show its support for the incoming Tsai Ing-wen administration.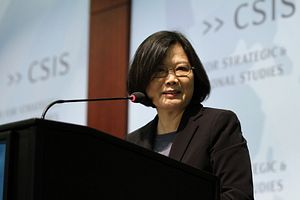 On May 20, Tsai Ing-wen will become the first female president of Taiwan. And while this is a significant achievement, it isn't the most consequential milestone of the upcoming inauguration.
Tsai leads the independence-minded Democratic Progressive Party (DPP), which is poised to claim control of both the Legislature and the Executive for the first time in Taiwanese history. The DPP's ascent is a victory for democracy: it completes the full transfer of power from the Kuomintang (KMT) Party which, only four decades ago, governed the island with martial law.
At the same time, this good news for democracy poses a dilemma for the United States. Washington has long been wary of the DPP because the party's pro-independence platform risks sparking conflict with China. But now that Tsai is about to take the presidency, Washington's best bet may be to signal support for her.
To see why, one must understand Taiwan's domestic politics and international context. Tsai owes her presidency in large part to a group of radicalized youth who occupied the Legislature two years ago in protest of a trade pact with China. I was in Taiwan at the time and watched the concentrated movement against the trade pact turn into a large-scale airing ground for social discontent that all but pushed the KMT out of power.
The young protesters resented tightening ties between Taipei and Beijing and the government's reluctance to challenge the geopolitical status quo – under which China allows Taiwan to govern itself, but only as long as no public rhetoric explicitly contradicts Beijing's claim to the island. Protesters asserted, as a primary seed of their discontent, that government cooperation with China undermined Taiwan's autonomy and democracy.
However, Tsai herelf cannot be considered radical. Whereas Chen Shui-Bian—the only other DPP politician to hold the presidency, serving from 2000 to 2008—made a host of pro-independence moves, Tsai seeks to maintain close relations with the mainland. In her January victory speech, she promised to "build a consistent, predictable, and sustainable cross-strait relationship," working "to maintain the status quo for peace and stability." Since then, she has consistently reiterated that commitment.
The catch is that the newly minted political activists have made it very clear that they are not DPP stooges. During the 2014 protests they stressed—before anything else—that their movement was distinct from the DPP. In January 2015, the protest leaders launched their own political party, with a platform far more radical than the DPP's on the question of cross-Straits relations. The young activists may have voted for Tsai, but their allegiance is far from guaranteed. As Yang Tai-shun, a political science professor in Taipei, explained in a March interview with Hong Kong's South China Morning Post, "These people … support instant independence of Taiwan, making it difficult for them to accept proposals by Tsai to maintain the cross-Strait status quo." And the activists are far more powerful than their votes alone: They have shown themselves able to mobilize and to sway Taiwanese society.
Domestic politics aside, Beijing may not even give Tsai the chance to play the part of a moderate. Under Xi Jinping's rule, China has internationally become more assertive. While Tsai does not take power until Friday, May 20, China has already made its opposition to her administration very clear. A month ago, Beijing pressured Kenya into extraditing some 40 Taiwanese nationals to the Mainland rather than to their home. More recently, Beijing invited Taiwan to join the World Health Assembly, but on the condition that the island publicly accept the One China principle.
Cross-strait conflict – from either direction — would create an enormous problem for the United States. As the island's most powerful protector, Washington supports a robust democracy in direct opposition to Mainland China's authoritarianism. At the same time, global governance and East Asian stability demand good relations between China and the United States. The United States can only balance those two competing priorities if Sino-Taiwanese relations remain stable. That was simple while the Ma Administration tightened ties with Beijing. It becomes more challenging with a DPP government.
Contradictory though it may seem, the surest way for the Obama Administration—and its successor—to calm the situation today is explicitly to support Tsai. A show of support is more likely to restrain than to inflame the elements encouraging conflict in the Taiwan Strait. A nod from Washington would bolster Tsai's legitimacy at home, assuaging domestic pressures. At the same time, it would underline the U.S. commitment to Taiwan.
Such a show need only be small and symbolic. There is certainly no call for a change in U.S. policy or a direct challenge to the cross-strait status quo. Washington could reach out to Taiwan's new government, allowing an unofficial visit by a DPP leader to the United States. Even a public allusion to Tsai's inauguration would do the trick. From an opposite angle, Washington could also push back against Beijing's recent pressure on Taiwan to accept the One China principle before participating in institutions of global governance. The importance lies in the gesture. This is a dispute about symbols and rhetoric. The U.S. response can be about that as well.
A graduating senior from Princeton University Woodrow Wilson School, Emily de La Bruyere will be attending Sciences Po in the fall on the Michel David-Weill fellowship.