Where Does Afghanistan Fit in China's Belt and Road?
Afghanistan can be a hub for the OBOR project, but Kabul needs to capitalize on the potential benefits.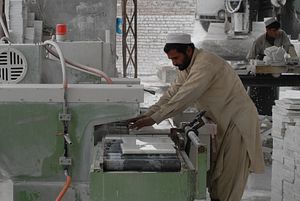 One Belt, One Road (OBOR) is China's plan to expand its politic and economic influence via a network of economic integration initiatives with stops across three different continents. China has big plans to fund the initiative. The Chinese Development Bank (CDB), the lead financial body for OBOR, will invest $890 billion into over 900 projects. China has also announced a $40 billion Silk Road Fund to invest in OBOR. This largesse will be spread over 60 countries –including Afghanistan.
China, as an economic power in Asia, has consistently been involved in Afghanistan, from investments projects (like the Mes Aynak copper mine) to supporting peace talks with Taliban as part of the Quadrilateral Coordination Group (comprising Afghanistan, China, Pakistan, and the United States). At different regional summits, Afghan leaders have always insisted on the key role that China can play in resolving Afghanistan's political and economic challenges. In his remarks at the 2015 Shanghai Cooperation Organization (SCO) summit in Ufa, President Ashraf Ghani sought to create a local push to resolve Afghanistan's problems. Clearly, the Afghan government believes China should play a decisive role in the issues of Afghanistan rather than being an observer.
Despite of a strong military and economic presence in Afghanistan by the United States and its allies, China has two specific reasons to become involved in Afghan issues, especially by investing in Afghanistan. First, China wants to contribute to the reconstruction of Afghanistan's economy and sees economic engagement as China's main contribution to Afghan and regional stability. Second, China is concerned that any new instability in Afghanistan may spread to South Asia and Central Asia and have serious impact on the stability and security of its western province, Xinjiang.
Though OBOR is primarily aimed at expanding China's economic power and finding new markets for Chinese goods, it will also bring significant economic opportunities for countries in the region, including Afghanistan. Afghanistan's integration into OBOR will give the country the ability to pursue economic stability by improving trading opportunities, connecting with regional rail and road networks, emerging as an important partner in regional energy market, and fighting the regional narcotics trade.
Afghanistan's geographical location and natural resources give Kabul a credible change to play an active role in the development and building of OBOR. Afghanistan can play the role of Asian transit and trade roundabout, connecting Central Asia to South Asia and East Asia to West Asia to further regional connectivity, energy transport, and regional trade through the OBOR corridor.
However, as of yet it is not clear how Afghanistan fits into China's overall vision for OBOR. At most , there have been suggestions that Afghanistan could be connected to OBOR through Tajikistan. Kabul should seek clarify from China on how Afghanistan is connected to OBOR, and in return should clearly state what sort of cooperation Kabul would like to see with China.
The October 2015 International Monetary Fund (IMF) Regional Economic Outlook report on Middle East and Central Asia estimates that China is committed to $100 million in OBOR investments in Afghanistan — $100 million out of a planned $890 billion. Meanwhile, significant amounts are being invested in other countries in the region, including $45 billion in Pakistan and a total of $31 billion in Central Asian countries. This detail highlights the degree to which China has focused its investment around Afghanistan rather than within Afghanistan. Still, though $100 million in Chinese investment pales in comparison to what other neighbors are seeing, this sum will provide opportunities for the Afghan economy of Afghanistan.
To attract more benefits from OBOR, the government of Afghanistan needs to take the initiative. Kabul should consider and start working on small infrastructure and energy projects to integrate with OBOR and look for various funding mechanisms through which such projects can be financed. Longer term, Afghanistan should increase its high-tech manufacturing capacity in order to produce high value goods for export; otherwise it would be very difficult for the country to benefit from the economic opportunities created by OBOR. Building economic zones in big cities and implementing long term projects to promote the manufacturing industry would be a step in the right direction.
China is a powerful neighbor and will be essential to Afghanistan's successful economic development. But Afghanistan cannot utilize the potential economic opportunities of OBOR based on Chinese investment and support alone. The government of Afghanistan also needs to take the initiative to further cooperation in the region. Most importantly, Kabul needs to show leadership of the Afghan economy.
Afghanistan is sitting at the center of OBOR. Instability and war in Afghanistan can disrupt the future of this integrated economic belt. China and other countries in the region need to step forward to support the peace process in Afghanistan and eliminate the potential threat to the economic and trade corridors being built to Eurasia and beyond.
Zabihullah Mudabber is pursuing an MA in Economic Governance and Development at OSCE Academy in Bishkek, Kyrgyzstan. He previously worked at the Ministry of Commerce and Industries of Afghanistan.