2 Years On, Has Modi's 'Act East' Policy Made a Difference for India?
The Modi government has opened new vistas for partnership in the Asia-Pacific region.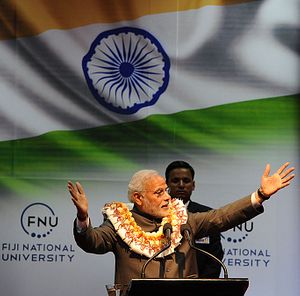 Two years into its term, the National Democratic Alliance (NDA) government in India, led by Prime Minister Narendra Modi, can feel satisfied with the progress on its Act East Policy (AEP), which was launched at the East Asia Summit in Myanmar in November 2014.
Some analysts seek to dismiss the transformation from the Look East Policy (LEP), initiated by Prime Minister Narasimha Rao in 1992, to AEP arguing that it merely represents a change in nomenclature. A closer look would reveal that while there is continuity, there are several significant areas where AEP has gone far beyond what LEP achieved in 20-plus years.
This is partly because the India of today is not the India of 1992, when it was facing an uncertain future on the international policy front with the collapse of the Soviet Union and its foreign exchange reserves having dwindled precipitously. India then needed to promote economic growth, which was done admirably through LEP — bilateral trade between India and ASEAN rose from $2 billion in the early '90s to $12 billion in 2001 and to $72 billion by 2012. Since then, however, bilateral economic engagement has languished, partly due to the continuing international financial and economic crisis and subsequent Eurozone sovereign debt crisis and anemic international demand.
Under rapidly changing geopolitical realities, defined by the assertive rise of China, AEP has imparted greater vigor to India's ties with ASEAN. This is reflected in travel by India's top leadership — president, vice president, and prime minister — to 9 out of 10 ASEAN states over last 24 months. Relations, which were stagnating, are again assuming renewed vitality.
In particular, India has accorded a new focus to promoting connectivity through Myanmar and Thailand with other ASEAN states. Modi's allocation of $1 billion for promoting connectivity at the India-ASEAN Summit in Kuala Lumpur last November has brought the primacy of "connectivity, culture, and commerce" to the fore. India has recognized that success of AEP will be determined by its contribution to security and economic development of Northeast India.
Accordingly, relations with ASEAN have become multi-faceted to encompass security, strategic, political, counterterrorism, and defense collaboration in addition to economic ties. Cooperation to curb terrorism, especially in face of rising influence of Islamic State. has assumed priority. Defense partnerships with several ASEAN states have advanced.
On the economic front, in wake of finished negotiations on the Trans-Pacific Partnership agreement, India is keen to expeditiously conclude talks on the Regional Comprehensive Economic Partnership (RCEP) agreement. The implementation of the Free Trade Agreement on Investment and Services between ASEAN and India in 2016 will promote the development of all member countries.
Meanwhile, AEP has sought to significantly expand its geographical coverage beyond ASEAN alone, to include other countries like Japan, Australia, Pacific Island nations, South Korea, and Mongolia. India's partnership with Japan has witnessed the most dynamic growth. Several historic decisions have been taken, the most telling being the decision by Japan, the only country to have suffered a nuclear attack, to sign a civilian nuclear deal with India. Japan's commitment to invest $35 billion in India, a joint deal on constructing a high-speed railway, and cooperation on the Delhi-Mumbai Industrial Corridor, as well as joint participation in the Malabar exercises and defense cooperation, provide evidence of the flourishing bilateral strategic, economic and technological partnership.
Modi has also sought to rejuvenate ties with countries that have been neglected in recent years, including Australia, which saw the first visit by an Indian prime minister in 28 years; Fiji (the first visit in 33 years) and Mongolia, which hosted the Indian prime minister for the first time ever. At the same time, Modi sought to develop normal ties with China by hosting President Xi Jinping in September 2014 and paying a reciprocal visit in May 2015. It is cause for some satisfaction that no major cross-border incursions by Chinese forces have taken place after September 2014, when Modi delivered a strong message to Xi during the latter's visit.
As for the South China Sea disputes, India has sought to firmly articulate its principled position of freedom of navigation, maritime security, expeditious resolution of dispute according to international law and the UN Convention on the Law of the Sea, developing a Code of Conduct, and settlement through dialogue and peaceful means. India is concerned because more than 40 percent of its trade traverses through the South China Sea, and on account of its interest in harnessing fossil resources in the region.
India's AEP has also impacted relations with the United States. During U.S. President Barack Obama's visit to India as chief guest at India's Republic Day celebrations in January 2015, Modi stated, "For too long India and the U.S. have looked at each other across Europe and Atlantic. When I look towards the East, I see the Western shores of United States."  By aligning India's Act East Policy with the U.S. pivot to Asia through the Joint Strategic Vision, India seeks to expand its geo-strategic space to contend with China's growing assertiveness and foster balanced relations.
These are early days for AEP. In the coming years India must continue to focus on further strengthening collaboration with ASEAN nations and others. Partners must work to promote economic revival, seek strategic cooperation to fight terrorism, and enhance maritime security and defense cooperation. In addition, Modi's use of soft power such as Buddhism, tourism, people-to-people contacts, and cultural ties with the region must continue to be harnessed.
Ashok Sajjanhar is a career diplomat who has served as Ambassador of India to Kazakhstan, Sweden and Latvia, as also as Secretary/Principal Executive Officer of the National Foundation for Communal Harmony, an autonomous organization with the Ministry of Home Affairs. He has held several significant positions in Indian embassies in Washington, Moscow, Brussels, Geneva, Bangkok, Tehran and Dhaka.