A Chinese Cab Driver and the Sino-Tibetan Problem
A brief conversation illuminates how public opinion is shaped by (and diverges from) official Chinese narratives.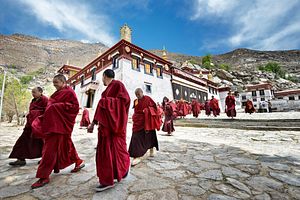 On June 15, 2016, U.S. President Barack Obama met with the Dalai Lama despite official protestations from the Chinese government. Interestingly, many Tibetans I know are debating the significance of this meeting. For many, it was an important marker of the continued relevance of the Tibet issue, while a few others felt that it is not really of much use as Obama is nearing the end of his term.
How do the Chinese perceive it, aside from official pronouncements? After all, China's self-designated chief spokesperson on Tibet, Zhu Weiqun has consistently held that time is on China's side— that the Dalai Lama is losing his international influence as "the attention of public opinion in the West to the Dalai Lama is going down by the day."
Interestingly, I discussed the same themes in a conversation with a private cab driver in Shanghai on December 24, 2015. Was it a coincidence that my cab driver on that rainy afternoon had spent about a year in Lhasa? He seemed to have developed quite a liking for the Tibetan people and taken interest in many of the issues related to them. However, he was clear that he did not want to return; probably the attitude sickness got to him, or so he mentioned. He still has many family members in Tibet, he told me.
About the Tibetan people, this is what he had to say: the Tibetan people are very humble, kind-hearted, welcoming, and hospitable. But at the same time, they are very lazy; that is why they prefer not to migrate to the rest of China. He made the second point in response to my question as to whether there were many Tibetans in Shanghai.
I posed a question about Tibetan people being perceived as "lazy" to Professor Tsering Shakya on my return to India. His response struck a chord; he mentioned that it is a typical colonial argument to deride the natives as lazy – part of the logic of the "white man's burden."
My cab driver also observed that the Tibetans are very poor in comparison to others in China. In his view, the Chinese government was not doing much to help. But he was aware about the policy of "pairing up," whereby the Shanghai municipal government has adopted Lhasa city to help develop it. I was amazed that he knew so much about specific government policies for Tibet. He also told me that there are many Chinese government workers in Tibet to help the region.
I asked him what he thought about do the special treatment being meted out to the Tibetan people by the government. He was very open to it; in his mind, the Tibetan people are poor, so they need help.
Without my prodding, the driver went on to tell me that he knew about the Dalai Lama and the different viewpoints involved with that topic. I asked him if he would like the Dalai Lama to come to China (a question influenced by the speculation in mid-2014 about a possible visit by the Dalai Lama to Wutai Mountain for a pilgrimage). He responded that the Chinese people do want the Dalai Lama back. But what he said next was extraordinary. It reflected his keen interest in international issues, happenings and politics; however, it was also clear that his views were influenced by what he read in the Chinese media.
According to my driver, the "Dalai's influence is going down" — the same language used by Zhu Weiqun. Similar views were echoed by at least two of the Chinese scholars I would speak with during my trip. The driver reasoned that it was because of the Dalai Lama's declining influence that the Chinese government is not interested in having a dialogue with him anymore.
I wondered at the irony of the situation and the implications of his analysis. If the Dalai Lama's international popularity is a criterion for China to be interested in talking to him, then, by implication, the Dalai Lama must continue with his international meetings and visits — which the Chinese deem "splittist activities" — in order to have any hope of talking with Chinese leaders. Based on this logic, one could argue that the recent Obama-Dalai Lama meeting was an important signal to the Chinese leadership that the Dalai Lama is still influential.
My driver did not stop there, however. He went on to comment that dialogue is impossible now because the Chinese government has been branding the Dalai Lama as the enemy for too long. Hence, Beijing cannot talk with the Dalai Lama without losing face.
It's been six months since I had this conversation with a stranger in Shanghai with the help of a very kind Chinese friend who helped translate my questions and his answers. I thought it important to share this dialogue, as it gave me insights into the thinking and knowledge of a lay Chinese person (albeit one who had lived in Tibet for a year) on many aspects of the Tibet issue.
When I visited China in May of this year, I asked some scholars about Zhu Weiqun's views and his impact on China's Tibet policy. His views certainly seemed to have trickled down to the Shanghai cab driver. But are Zhu's comments mere rhetoric or is he a serious representative of the views of the Chinese leadership, particularly that of the Politburo and President Xi Jinping himself?
I received contradictory responses. One scholar told me that Zhu – who was China's chief interlocutor in talks with the Dalai Lama from 2006 until the talks reached an impasse in 2010 — continues to remain influential despite being reassigned in 2012. After the 18th Party Congress of that year, Zhu was shifted (demoted, according to some) from executive vice minister of the United Front Work Department (UFWD) to chair of the ethnic and religious affairs committee of the Chinese People's Political Consultative Conference (CPPCC). However, Zhu remains important, one scholar told me, owing to the fact that his juniors in the UFWD still hold important positions in government.
Another scholar said that Zhu's statements in the media need not be taken seriously, as Zhu is a long time leftist and a hardliner. I was told that Xi is aware of Zhu's tendencies but is waiting to finish his first term (which ends in 2017) to consolidate his position.
Another view, however, is that Xi is too busy to concern himself with the details of the Tibet issue and hence, is dependent on experts like Zhu to guide him as far as ethnic and religious issues are concerned. Others outside China who have written about the "minzu (ethnic) lobby" in China. James Leibold, a prominent writer on ethnic issues in China, in a piece last year argued that Xi's concentration of power around himself was a means to tackle the "vested interest groups, including in the realm of inter-ethnic relations." Currently, according to Leibold, the minzu lobby comprises "a powerful and deeply entrenched part of the political machine in the People's Republic of China."
Of course, it is not clear what Xi might really intend in terms of reforming ethnic policy – would he veer toward more assimilation, more autonomy, or something else?
Tshering Chonzom Bhutia is an Associate Fellow at the Institute of Chinese Studies in Delhi, India.  She holds a PhD in Chinese Studies from the School of International Studies, Jawaharlal Nehru University.