Despite Trump's Rhetoric, GOP Senators Try to Reassure South Korea
Reassuring allies in the face of Donald Trump's presumptive nomination to the Republican presidential ticket is not easy.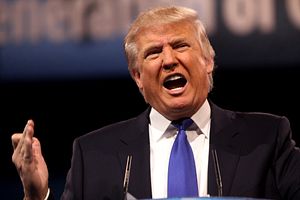 Three Republican senators visited South Korea this week in a bid to reassure Seoul that should presumptive Republican presidential nominee Donald Trump move into the White House, U.S. policy toward the country will not change.
Freshman Senators Joni Ernst of Iowa, Cory Gardner of Colorado, and Dan Sullivan of Alaska–who are not up for re-election in November 2016–are in Asia on a four-nation tour.
Trump's campaign rhetoric has drawn attention in Asia, particularly in South Korea where 28,500 U.S. troops are stationed. These, along with the more than 50,000 stationed in Japan, are seen as a vital part of maintaining northeast Asia's security status quo. But Trump has consistently accused Seoul of free-riding on American military might. In 2013, Trump asked in a YouTube video "…how long will we go on defending South Korea from North Korea without payment?" He goes on to say–in a rambling style that has come to typify his campaign remarks:
South Korea is a very, very rich country. They're rich because of us. They sell us televisions; they sell us cars. They sell us everything. They are making a fortune. We have a huge deficit with South Korea. They're friends of mine. I do deals with them. I've been partners with them, no problem. But they think we're stupid. They can't believe it. We are defending them against North Korea; we're doing it for nothing. We're not in that position. When will they start to pay us for this defense? Isn't it really ridiculous when you think of it? They make a fortune on the United States and then they got some problems, and what happens? They call the United States to defend them, and we get nothing?
More recently, in an interview with the New York Times Trump was asked his thoughts on Japan and South Korea obtaining their own nuclear arsenals. His response (as Politifact says, "Let's set aside Trump's internal inconsistency…"), left open the door for that possibility:
Well, you know, at some point, there is going to be a point at which we just can't do this anymore. And, I know the upsides and the downsides. But right now we're protecting, we're basically protecting Japan, and we are, every time North Korea raises its head, you know, we get calls from Japan and we get calls from everybody else, and "Do something." And there'll be a point at which we're just not going to be able to do it anymore. Now, does that mean nuclear? It could mean nuclear. It's a very scary nuclear world. Biggest problem, to me, in the world, is nuclear, and proliferation. At the same time, you know, we're a country that doesn't have money.
Japanese Foreign Minister Fumio Kishida said recently, "It is impossible that Japan will arm itself with nuclear weapons." Some in South Korea have floated the idea of acquiring nuclear weapons, but the position is far from mainstream.
On the trade front, Walid Phares–part of Trump's foreign policy team–told Yonhap News Agency that Trump may wish to "go back to ground zero" on all of the U.S. Free Trade Agreements, including the one completed with South Korea in 2012. Trump has called himself a "free trader" but also decried the Trans-Pacific Partnership (South Korea is not a part of the agreement, but Japan is a core member) as a "horrible deal."
Against this backdrop, the three Republican senators–two of which have reportedly endorsed Trump, according to Politico–gave an exclusive interview to Yonhap. Their narrative is clear: they're trying to stave off worries that a Trump presidency would mean a major upheaval in U.S. Asia policy. Gardner–who has not explicitly endorsed Trump–said, "There will be no renegotiation of our free trade agreement… We will look for ways to strengthen our free trade agreement and as we move forward with the Trans-Pacific Partnership, look for new ways to engage our best partners."
Gardner also said, "Whether [the president] is Hillary Clinton or Donald Trump, we have an absolute commitment and resolve to growing our alliance with Korea and there is no going back."
Ernst, who has said she would "support whoever our nominee is" in the interest of party unity, told Yonhap that U.S. accusations of free-riding are valid when directed at some European members of NATO but  added, "However, when you take a look at the Korean Peninsula, it's a very different situation."
Ernst, who serves on the Senate Armed Services Committee and is the first female veteran to serve in the Senate, has been floated as a possible vice presidential nominee, but told Politico that she's "just focusing on Iowa right now."
Sullivan, who also serves on the Senate Armed Services Committee, told Yonhap that South Korea is covering 93 percent of the relocation costs related to moving all U.S. forces in the country to Camp Humphreys. The relocation has been in the works for several years and is expected to be completed this year.
Foreign policy is often viewed as a predominantly presidential realm, but Suillivan stressed the Congressional role in foreign policy in the interview with Yonhap. He pointed out that Congress passes laws to implement deals, like the U.S.-Korea free trade agreement: "The role of the U.S. Senate, the U.S. Congress in these issues is not simply in passing — it's central."
Whether the three senators' Asia trip will be able to reassure U.S. allies in the Asia-Pacific is uncertain. Trump's bombastic remarks–such as his openness to directly negotiating with North Korea–are bound to sustain regional worries that American commitments are fleeting. Trump endorsed the concept of greater unpredictability in a major foreign policy speech, saying that "We must as, a nation, be more unpredictable." Although he was referencing the fight against ISIS, his openness to unpredictability is worrying to South Korea and Japan, who view one particularly unpredictable country–North Korea–as a very close, very determined, and very dangerous threat.