How Modi's Nuclear Agenda Matters for Mexico
The Indian prime minister will have a hard time convincing Mexico to support India's inclusion in the NSG.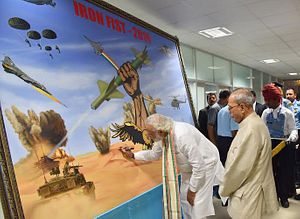 Fresh from his victory of securing Swiss backing for India's membership of the Nuclear Suppliers Group (NSG), Indian Prime Minister Narendra Modi is currently en route to another country with strong reservations about India's recent bid to join the grouping: Mexico.
Modi's one-day stopover in Mexico on June 8 will be the first bilateral visit of an Indian head of state in 30 years. And while the official remit of Modi's meeting with Mexican President Enrique Peña Nieto is to discuss "cooperation in… areas such as space, energy, agriculture, and science and technology," sources on the Indian side have suggested that Modi's visit is really about addressing Mexico's NSG concerns.
Seen through a nuclear lens, Modi's Mexico visit holds more than a little irony. Three decades ago, India's last top-level visit to Mexico took as its central theme not a covert hope for support of India as a nuclear-trading, non-NPT signatory in possession of the bomb, but Mexico and India's shared—and longstanding—efforts towards the eradication of nuclear weapons.
A recent chapter on Mexico's view of India as a rising power describes how the joint commitment to nuclear disarmament between India and Mexico runs deep. Or used to.
Thirty years ago in August, Mexican President Miguel de la Madrid received Indian Prime Minister Rajiv Gandhi in the Pacific coastal city of Ixtapa. The occasion was the second Summit of Heads of State for Peace and Disarmament and in attendance were the members of the Six-Nation Five-Continent Peace Initiative, a group comprising Argentina,Greece, India, Mexico, Sweden, and Tanzania, determined to strengthen international security by promoting nuclear disarmament.
The countries' shared commitment to dismantling the global nuclear order had been cemented at the first summit held the previous year in New Delhi. Then, two years later, Rajiv Gandhi delivered his seminal speech at the United Nations proposing a world free of nuclear weapons, a blueprint for disarmament whose momentum drew upon the discussions and activism of the Six-Nation Initiative.
Then came India's nuclear tests of 1998. With the sheets still warm following their close cooperation on disarmament in the 1980s, part of the significance of India's tests for Mexico was betrayal: India's nuclear tests signaled the obliteration of the countries' shared resolve to rid the world of nuclear weapons.
Mexico moved swiftly to condemn the tests. As Antonio de Icaza, the Mexican representative to the Conference on Disarmament in Geneva in 1998, put it, India's actions "were not conducive to the achievement of a nuclear weapons-free world; rather, they exacerbated regional tensions and were inconsistent with the actual international climate of détente."
Like India, Mexico's commitment to nuclear disarmament and non-proliferation has persisted as a regular and prominent feature of its international engagement. And like India, Mexico has counted efforts to eradicate the menace of nuclear weapons as a central part of its identity. Yet unlike India, Mexico has rather more to show for its disarmament activism.
Mexico's nuclear disarmament showpiece is the Treaty of Tlatelolco—the Treaty for the Prohibition of Nuclear Weapons in Latin America and the Caribbean—the first treaty to create a nuclear-weapons-free-zone in a densely populated area (as compared to the prior 1961 Antarctic Treaty). Opened for signature in 1967, it preceded the Nuclear Non-Proliferation Treaty. The Treaty of Tlatelolco shone out especially against the looming shadows cast by the Cuban Missile Crisis. Its Mexican architect, Alfonso García Robles, won the Nobel Peace Prize in 1982 for his efforts.
In light of this perhaps greatest of success stories in Mexico's diplomatic history, it is unsurprising that India's post-test disarmament rhetoric has failed to convince Mexico that the two countries still share the same aspirations for a nuclear weapons-free world.
Mexico's disarmament activism has persisted, with India frequently a target, either explicitly or implicitly. Every year Mexico joins the New Coalition Agenda in presenting a resolution to the UN First Committee on Disarmament and International Security that calls on India, together with Pakistan and Israel, to become signatories to the NPT.
Mexico became a member of the NSG in 2013, and made its position on India clear—if only tacitly so—in its first ever statement at the NSG plenary in Prague. Mexico flagged the significance of the IAEA Comprehensive Safeguards Agreement, in combination with an Additional Protocol, as "the international verification standard to which all states should adhere as soon as possible." That India was a target is clear: India is the only state exempted from the NSG's 1992 requirement of full-scope safeguards as a condition for nuclear transfers. As the Spanish saying goes: al que le quede el saco que se lo ponga — if the jacket fits, wear it.
Both Switzerland and Mexico are known as non-proliferation hardliners, and, along with China, have occupied the current Indian leadership with the threat they pose to the unanimous vote required of the NSG on the question of India's membership. Modi's charm has secured a Swiss Yes, but the case of Mexico may be tougher. Mexico's historical achievements in the field of nuclear disarmament and nonproliferation, together with the betrayal of India's nuclear tests and continued status as an NPT outsider, make Mexico's acceptance of India into the NSG unlikely.
Dr. Gilberto Estrada Harris works on the development of strategic networks of research collaboration between Oxford University's Nuffield Department of Medicine and research and public health institutions in Mexico. His current research explores Mexico's engagement with the Global South.
Dr. Kate Sullivan de Estrada is Lecturer in Modern Indian Studies at the University of Oxford. She writes, researches and teaches on Indian foreign policy. Her writings on Indian nuclear issues and Indian politics have appeared in The Hindu, The Indian Express and the Economic and Political Weekly, among others.