Japan, Thailand Eye Stronger Security Ties
Tokyo and Bangkok looked to boost their defense relations during Gen Nakatani's recent visit.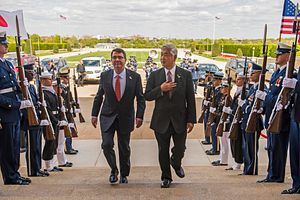 This week, Japan's Defense Minister Gen Nakatani visited Thailand as both sides looked to boost their defense relationship.
According to Deputy Government Spokesperson Major General Werachon Sukondhapatipak, the two sides discussed how to further promote security relations ahead of the 130th anniversary of their diplomatic ties in 2017.
The joint statement signed by both sides and seen by The Diplomat noted steps both sides plan to take steps to deepen defense ties, mostly in terms of exchanges and exercises. These include establishing staff talks between the Royal Thai Army (RTA) and the Japan Ground Self-Defense Force and dispatching observers from the RTA to Japan's "Nankai Rescue" exercise for the first time.
But few public details were provided on the fields that had attracted the most attention ahead of the visit: the transfer of defense equipment and defense industry cooperation. Before the trip, reports had surfaced that Thailand was interested in Japanese Maritime Self Defense Force's P-1 patrol aircraft and US-2 large amphibious rescue aircraft. Though the joint statement merely noted that the ministers "affirmed to continue working-level discussion" to promote defense equipment and technology cooperation, the key to watch will be the inking of a formal pact, a prerequisite for any deals to occur.
Turning to multilateral cooperation, the two sides agreed to continue close coordination to conduct a multilateral engagement under the ASEAN Defense Ministers Meeting-Plus (ADMM-Plus) –often referred to as the premier venue for defense and security issues in the region. Japan is co-chairing the ADMM-Plus Experts' Working Group for humanitarian assistance and disaster relief (HA/DR), while Thailand is co-chairing the ADMM-Plus Experts' Working Group on military medicine.
The regional security section of the joint statement also included a paragraph on the importance of international law and principles in the resolution of the South China Sea disputes ahead of an upcoming verdict by the Hague-based Permanent Court of Arbitration (PCA) on the Philippines' case against China.
"The Ministers also recognized the importance of freedom of navigation and overflight, unimpeded lawful commerce, as well as peaceful resolution of disputes without using force or coercion in the South China Sea, in accordance with international law," the statement said.