Kazakhstan's Land Reforms
A major debate on the contentious issue of land reforms is underway in Kazakhstan.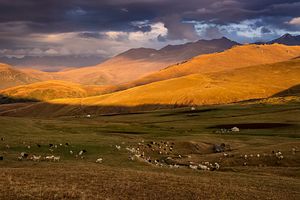 While the June 5 shooting in the Western town of Aktobe, Kazakhstan, has dominated the headlines in Central Asia in recent days, sidelining coverage on the politics of land reform, within the country, active discussions on amendments to the 2003 Land Code continue. A closer analysis of these discussions reveals that Kazakhstan is very much at a crossroads with respect to internal economic policy and determining the future development trajectory of the agricultural sector.
On March 31, 2016, then-Minister of Economy Erbolat Dossayev announced at a Press Conference in Astana plans to implement the bill, "On the implementation of changes and additions to the Land Code of the Republic of Kazakhstan," adopted by the Mazhilis (Parliament) on November 2, 2015.
Under the new bill, entities with (at most) 50 percent foreign ownership were eligible to lease agricultural land for 25 years, a 15-year extension from the current code that since 2011 has allowed for a 10-year lease. The bill also eliminated leases on agricultural land to residents of Kazakhstan, creating instead an auction-like mechanism (called a konkurs, or competition) wherein Kazakhs would purchase agricultural plots, thereby acquiring title.
Dossayev's announcement of supposedly sweeping land reforms took the country by surprise, prompting individuals in major metropolitan to gather in the streets to protest the bill. They (falsely) claimed that the law that would grant foreigners the right to purchase land. The backlash ultimately forced Dossayev and Agricultural Minister Asylzhan Mamytbekov to resign.
Clearly the public was misinformed. According to opposition leader Zauresh Battalova, "we were mostly upset because of the lack of communication. We didn't know anything about the reforms."
Land reform is an extremely sensitive topic in Kazakhstan. In 2003, when the Land Code was introduced, legalizing the notion of private property for the first time in Kazakhstan, people protested and the controversy forced Prime Minister Imangali Tasmagambetov to resign. With 43 percent of the workforce residing in rural regions and 18 percent of the workforce engaged in agriculture, modifications to the Land Code directly impacts a significant portion of the population. Plus, Kazakhs possess an intimate relationship with land; they fought against warring, nomadic tribes for hundreds of years to secure the territory, and view land as the source of all life. There is a Kazakh saying, "land is mother, and you do not rent out your mother."
In response to recent protests, President Nursultan Nazarbayev placed a moratorium on land reform through December 31, 2016. He also formed the Presidential Commission on Land reform, a 75-member body that includes politicians, businessmen and members of civil society, to explore questions related to land reform, and draft a new bill to submit to the Mazhilis by year-end. The Commission was designed to be an independent, ad hoc body capable of fostering an inclusive and wide-reaching dialogue on issues related to agricultural land reform.
Having convened on three occasions in May 2016 in Astana, the Commission began its multi-week tour around the country, meeting with local farmers, and businessmen. Last week, the Commission held its first off-site session in Akmolinsk oblast, while smaller, roundtables also occurred in Kyzylorda and Kostonay oblasts.
Land, Labor, Capital and Technology
A closer analysis of the arguments presented during the Commission meetings reveals the complexity of the Land Code, leakages in existing structures, and the variance of opinions on future modifications to the Land Code. The issues most frequently raised by participants in the discussions relate to the fundamental factors of production in a market economy: land, labor, capital and technology.
First, with respect to land title, while there is near consensus that foreigners should not have the right to own land in Kazakhstan, there appears to be a steep division between younger businessmen in favor of granting leases to foreigners, so as to attract investment, and older officials who either oppose leasing land to foreigners all together, or favor doing so under stringent terms. Many officials fear that foreign investors, particularly Chinese, would exhaust Kazakhstan's land resources, while generating little value to the community.
The question of leasing versus purchasing land for residents of Kazakhstan is a separate question, and one of the most important ones facing the Commission, said Kairat Bissetayev, chairman of the Union of Potato and Vegetable Growers of Kazakhstan. According to Kenzhegali Sagadiyev, a member of the Commission and former rector of two agricultural institutes, of the 100 million hectares of land used for agriculture, 1.30 million hectares are privately owned, and 98.70 million hectares are either leased or sub-leased. Many farmers choose to lease land because it is often more affordable.
Valery Pel'tser, director of the TOO "Farmer 2002," reiterated at the Commission meeting in Akmolinsk the importance of leasing and sub-leasing agreements. Pel'tser highlighted that on his enterprise, only "200 hectares are privately held land, and 90 percent of the land is leased." In a 2014 interview, he noted that "Farmer 2002" contained over 23,000 hectares. While Pel'tser supports the gradual transition towards a model where most, if not all, farmers own, rather than rent, private plots of land, this should be a gradual process. Any rapid reorganization of agricultural land will only deprive those who are currently employed the ability to continue working. If currently occupied (and rented) land is put for sale in some form of auction, the key question is to whom will the land be offered? Any change in the land code should be done in a way that keeps working people, economically active.
Without the stability of a long-term lease, farmers are reluctant to invest significant resources in developing these plots. Kazbek Askarov, director of a sovkhoz (small village or farm) in Kokshetau oblast and an honorary freeman of the Ualikhanovskoy region, lamented that farmers are unable to expand operations because large farm holdings purchased large tracks of land with the support of banks and other lending institutions. These large holdings then lease out the land to individuals, who will then sublet out their plots to local farmers at a speculative rate, for cash. "This year my son will pay 3,500-4,000 tenge for a hectare, but next year the oligarch leasing out the land will ask for 5,000 tenge per hectare…so we have that kind of speculation." In the agricultural and retail sectors in Kazakhstan, sub-leasing agreements are often undocumented, with payments made in cash. While sub-leasing arrangements are relatively quick and easy to conclude, the absence of written contracts and the uncertainty over the length of the sub-lease likely dissuades conservative foreign investors or banks from extending loans to farmers with a sub-lease.
Second, on the issue of labor, at the Commission meeting Akmolinsk oblast, several older farmers observed the declining number of agricultural workers, as young, rural Kazakhs relocate to urban areas in search of economic opportunity. Between 2010 and 2015, the number of workers employed in agriculture fell by 32 percent, from 2.29 million to 1.37 million. During that time, agriculture's share of total employment fell from 28 percent to 18 percent. The quality of agricultural training has also declined, as many Soviet-era agricultural institutes in remote regions have closed. This is not to say that efforts have not been made to educate the agricultural workforce. For example, between 1996 and 2001, while serving as Rector of the Kazakhstan Government Agricultural University, Kenzhekhan Sagadiyev oversaw a multi-month agricultural exchange program wherein Kazakh farmers completed an intensive workshop in Astana and trained with their counterparts in Germany. Rather, Kazakhstan simply lacks the countrywide institutional infrastructure necessary to educate all of Kazakhstan's agricultural workers. And because most farmers are on the lower end of the earnings scale and work in small-scale family farms, rather than on major industrial holdings, it is very difficult for them to travel to major cities for an education.
Third, there is universal recognition that technology and investments are critical for the future advancement of the country's agricultural sector.
Private citizens of Kazakhstan provided the bulk of investment in agriculture in recent years. According to data on "Investment in fixed capital in agriculture" provided by the Agency of Statistics of Kazakhstan, between 2010 and 2015, on average, 1.1 percent of investment in agriculture came from the federal budget, local budgets provided 0.5 percent, other borrowing sources constituted 23 percent, and an overwhelming 75 percent of investment came from private investors. In other words, private individuals were responsible for two-thirds of total investment in agriculture over the past five years.
In 2015, of total investment in agriculture, 82.3 percent came from private funds, 3.3 percent local credit from banks, and 0.1 percent came from local budgets. The federal budget and foreign firms provided 0 percent of investment, respectively, that year. Moreover, 14.3 percent of investments came from "other borrowed funds," of which 0.39 percent was provided by non-residents of Kazakhstan.
Thus, with private farmers responsible for 75 percent of the investment into agriculture in Kazakhstan, and foreign investment constituting less than 1 percent, the vocal opposition to foreigners leasing land is astounding given the relatively minor influence of non-Kazakhs in this sector. Still, the high share of investment from citizens of Kazakhstan reveals why the issue is so important to many, and also shows the enormous potential and opportunities for foreign investment.
But Kazakhs fear that a foreign company will exhaust Kazakhstan's land resources, extracting benefits for personal gain while degrading the quality of the land for future generations. At the third session of the Commission in Astana, Secretary of the Central Committee of the Communist People's Party of Kazakhstan Vladislav Kosarev argued that foreigners should not even be allowed to rent land in Kazakhstan, because Tajikistan permitted Chinese firms to lease land for up to seven years. Now "Tajiks are unable to return to leased land," because the Chinese tenants have supposedly transformed the land into a "moonscape." Meanwhile, Kenzhekhan Sagadiyev said that the Land Code should allow all foreigners, except residents of Kazakhstan's neighbors, to lease land, though later confessed that Kazakhstan's geopolitical reality made this proposal impossible. Political scientist Marat Shibutov also noted that Kazakhstan's legal obligations under the WTO and Eurasian Economic Union (EEC) precluded the legalization of any proposal inhibiting the free trade of goods and services across neighboring states.
Of course, such statements against foreign ownership of land can be unsettling to investors.  In response, Nurzhan Altayev, deputy chairman of Atameken, the Chamber of Entrepreneurs of Kazakhstan, cited the importance of long-term land leases to secure foreign investment. Last year, Altayev helped to secure a 100 million euro investment from Inalca Eurasia, a subdivision of the Italian company Cremonini, in Aktepa, a company based in the Aktobe region, to work together in the area of meat production. The joint venture at Aktepa employs 1,000 residents of Kazakhstan. Any move to reduce the terms of land leasing for foreigners, or redact them entirely, would send the wrong message to foreign investors, and ultimately hurt one sector that is in desperate need of investment.
Still, the most important and complex questions confronting the future development of Kazakhstan's agricultural sector relate to the effective application of technology to usable land for agricultural development. Zheksenbay Kaskirbayev, director of the Institute in the name of Baraeyeva, highlighted at the Commission meeting in Akmolinsk oblast the need to focus on improving the quality of land, rather than proliferating the area of used land. While there are technically 8 million hectares of unused land, much of it is not conducive to widespread agricultural cultivation. "Even during the Soviet Union, there were hectares of land where nothing ever grew…so why use that land?" Rather, the Commission should strive to provide a legal framework that enables farmers to most effectively use land that is conducive to sustainable cultivation of crops, and adopt global practices including hybrid plant breeds and advanced fertilizers. But investment is also needed in other areas, including storage, cold supply chains and production.
Elaborating on the theme of agricultural education, Kaskirbayev also emphasized the imperative for each producer to understand the composition of fertilizers, and how their use impacts ultimate soil quality and the crops themselves.
Key Question 
The discussions on land reform reveal that twenty-five years after achieving independence, Kazakhstan's agricultural community continues to develop, and faces several, significant questions.
While the Commission on Land Reform only recently undertook its work, and still has much to do, it has managed to instigate a unique, open and constructive dialogue where real people can bring their issues to the direct attention of policymakers.
Moving forward, any amendment to the Land Code should further regulate leasing and sub-leasing arrangements on agricultural plots. The Commission should also investigate ways to improve the quality of training for professionals in agribusiness. Measures must be made to help the country's agribusiness professionals secure investments and collaborate with foreign firms, research organizations and lab, so as to improve the efficiency and competitiveness of Kazakhstan's agriculture. And these steps must be taken in a manner that most effectively utilizes arable plots of land.
As the Commission continues its work over the coming months, Kazakhstan's businessmen, politicians and citizenry will be hoping to resolve these questions and chart a new course for the country's future development.
Dena Sholk, author of The Sholk Road Adventures, is an independent Eurasian analyst and a former Fulbright scholar in Kazakhstan.