New Zealand's Defense White Paper: Playing Catch Up
On both conventional defense and cybersecurity, New Zealand is trying to "catch up" to existing trends.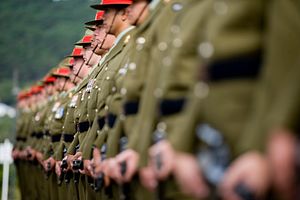 Several months behind schedule, the New Zealand Defense White Paper was released last week in Wellington. It has earmarked funding of around NZ$20 billion (US$14 billion) over 15 years for defense, which will be used, among other things, to replace frigates and aircraft and to provide the New Zealand Defense Force with a cyber warfare capability.
This investment is the equivalent of one percent of New Zealand's GDP, or around half the proportion of GDP spent by Australia and the United Kingdom on defense, and as such is small by international standards. Nevertheless, it adds an extra NZ$1.3 billion per year to the budget of the country's defense forces.
The increase is seen by many as conservative in light of modest military spending by the New Zealand Government in recent decades. According to Waikato University law professor Alexander Gillespie, "We're keeping pace with what we've got, we're not expanding the base. We haven't got a military strike wing, like the Australians have and haven't got submarines like the Australians have, so we're still keeping up but we're not expanding."
According to the opposition Labour Party's defense spokesperson, Phil Goff, "much of what the Government is intending to spend is simply catch up." His comments focus on personnel numbers, which at 11,440 (regular forces) he says are down eight percent on 2009. "The Auditor-General has reported that it will take the Army 11 years and the Navy 16 years to recover the capabilities they had in 2008/09," he stated in a media release.
While this measured increase is perhaps in line with the White Paper's assessment that there is presently no direct military threat to New Zealand, Prime Minister John Key commented that factors such as the growth in military spending by Southeast Asian nations makes defense more important and complex than ever. "The emergence of ISIL, heightened tensions in the east and south China seas, and the rapid evolution and spread of cyber threats are just a few examples. New Zealand's geological isolation no longer provides the protection it once did," he said at the White Paper's launch.
Widely seen as a big change in this White Paper from the previous paper published in 2010 is its focus on cybersecurity in terms of both national resilience and the protection of defense systems. Noting the threat posed by increasing reliance on networked technology, it stated that New Zealand has an interest in "contributing to international cyberspace and space efforts to protect this infrastructure from being exploited or disrupted."
While not providing specifics in relation to what a cyber warfare capability may look like, Defense Minister Gerry Brownlee stated that "it will be a significant number of people who are deployed into the armed forces or from the armed forces who will specialize, to a greater extent, in this sort of deterrent." In a television interview subsequent to the White Paper release, Brownlee indicated that this would include a capability to defend and to offensively retaliate against cyber attacks.
However, enhanced cyber capability – like much of what is listed in the White Paper – is also widely seen as merely a "catch up" measure. Cybersecurity, in general, is an area in which New Zealand has been seen as complacent at a national, government, and enterprise level.
It was only last month that Communications Minister Amy Adams announced the government would invest NZ$20 million over four years on a new national Computer Emergency Response Team (CERT) to combat cyber attacks and cybercrime. Over 100 countries already have CERTs, and Australia's – just next door – has been operating for more than two decades. With NZ$257 million lost to cyber attacks last year, the move has been criticized by some cyber security experts in New Zealand as a case of too little too late.
With the White Paper now committing billions to the process of "catching up," time will now tell whether it can ultimately deliver adequate and timely outcomes.
Nicholas Dynon is editor of the New Zealand defense and national security magazine Line of Defence. He has previously served as an Australian diplomat in Shanghai, Beijing, and Suva, and as an officer in the Australian Army. He holds postgraduate degrees from the  University of Sydney and the Australian National University in International Relations and Asian Studies respectively, and his China-focused research has been published in a number of peer-reviewed journals.