Organ Harvesting in China
Two new reports shed light on a gruesome practice.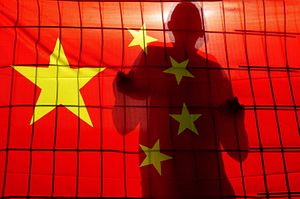 Across China, a gruesome trade in human organs is taking place on a mass scale. Like something out of a horror movie, livers, kidneys, hearts, lungs, and corneas are being cut out from prisoners of conscience while they are still alive. The victims are then, if still living by that point, executed. If anything proves the meaning of the term "crime against humanity," it is this bloody, ghoulish practice.
This week, two new reports are being launched in the British Parliament in London that expose the range of China's appalling human rights abuses. One of them lifts the veil on the scale and nature of forced organ harvesting in China.
Three researchers – distinguished human rights lawyer David Matas, former Canadian member of parliament and government minister David Kilgour, and journalist Ethan Gutmann – have published a detailed tome that argues, on the basis of forensic research into the public records of 712 hospitals in China carrying out liver and kidney transplants, that the scale of organ harvesting is far, far bigger than previously imagined. All three have previously published reports on the topic, but they now conclude that between 60,000 to 100,000 organs are transplanted each year in Chinese hospitals. The numbers and the extraordinarily short waiting times for transplant patients suggest that prisoners of conscience, from the spiritual movement Falun Gong as well as Uyghur Muslims, Tibetans, and house church Christians, may be the primary victims.
Their report, Bloody Harvest/The Slaughter: An Update, is an impressive 798-page piece of work. They find that one hospital alone, the Oriental Organ Transplant Center at the Tianjin First Center Hospital, is probably doing more than 6,000 transplants a year.
"The end of this crime against humanity is not in sight," the authors claim. "The ultimate conclusion is that the Communist Party of China has engaged the State in the mass killings of innocents … in order to obtain organs for transplants." While China officially claims 10,000 organ transplants a year, the authors argue that this is "easily surpassed by just a few hospitals."
Their claims have also been highlighted in another report launched this week by the Conservative Party Human Rights Commission. Following an extensive inquiry into China's human rights record, examining the severe repression of human rights lawyers, dissidents, and civil society activists, violations of freedom of expression, freedom of religion, abuses in Tibet and Xinjiang, and the erosion of freedom in Hong Kong, the Conservative Party Human Rights Commission released The Darkest Moment: The Crackdown on Human Rights in China 2013-2016 at an event in Parliament yesterday. In the section on organ harvesting, the report notes the new findings and called for an international inquiry into the practice.
The Commission calls on British Parliamentarians to initiate legislation to prohibit organ tourism in China, at least until a comprehensive investigation has been completed, and to consider releasing statistics on how many British citizens travel to China for organ transplants each year. It urges the United Kingdom, the European Union, and others to prepare a list of doctors engaged in organ harvesting in China, and to introduce a travel ban for those associated with such practices. Tomorrow, the Commission will hold a hearing specifically on organ harvesting.
Chinese-born Canadian actress and winner of Miss World Canada, Anastasia Lin, a Falun Gong practitioner, gave evidence to the Conservative Party Human Rights Commission alongside Gutmann at a hearing earlier this year, and spoke at yesterday's launch. The two will also speak at tomorrow's hearing, alongside a Uyghur surgeon, Dr Enver Tohti, who has admitted once conducting an operation to remove organs from a prisoner.
Lin has starred in several films highlighting the persecution of Falun Gong and has interviewed many survivors in preparation for her roles. Her latest, The Bleeding Edge, depicts the horrors of organ harvesting in China, and will be screened in Parliament in the autumn. She told the Commission: "United Nations Special Rapporteurs have taken up this question and called on the Chinese government to account for the sources of organs. This has not happened. Recent reforms to the transplant system have seen prisoners reclassified as regular citizens for the purpose of organ 'donation' – thereby further obscuring the truth about organ sourcing and concealing gross violations of medical ethics."
This tragic and barbaric practice, Lin added, "forces us to confront the question of how humans – doctors trained to heal, no less – could possibly do such great evil?" Her answer: "The aggressors in China were not born to be monsters who take out organs from their people … It's the system that made them do that. It's the system that made them so cold-bloodedly able to cut people open and take out their organs and watch them die. No one is born to be so cruel."
The release of this new evidence demands a response from the international community. The United Kingdom faces calls to review and recalibrate its relationship with China, which it currently describes as in a "golden era," in view of the severe and widespread assault on human rights that has occurred under Xi Jinping's presidency. How is it possible to have a golden era of relations with a country that takes a knife to prisoners of conscience while they are still alive, in order to sell their organs? An urgent international investigation is needed, a ban on organ tourism to travel required, and a travel ban on those who perform such bloody acts is long overdue. This crime against humanity must stop.
Benedict Rogers is Deputy Chair of the U.K. Conservative Party Human Rights Commission.