Pakistan's Counterterrorism Operation: Myth vs. Reality
What Pakistan isn't telling the public about operation Zarb-e-Azb.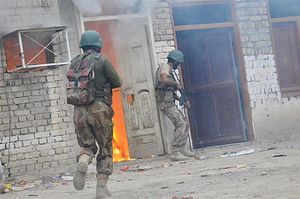 June 15 marked the two year anniversary of Pakistan's counterterrorism operation Zarb-e-Azb, which has now entered its final phase. To commemorate the occasion, the director general (DG) of the Pakistani military's Inter Services Public Relations (ISPR), General Asim Bajwa, made an elaborate presentation in which he shared the military's achievements and sacrifices against terrorists in the country.
What is crucial to remember, however, is that there are always two sides to a story – one that is told and one that is not communicated clearly to the public. What has been told to the citizens of Pakistan regarding Zarb-e-Azb – that is, its successes – appears to be straightforward. It is essential now to weed out the "untold" aspects of Bajwa's presser to understand the future challenges facing Pakistan's war against home-grown extremism and terrorism.
As far as the successes are concerned, three achievements merit particular attention. First, Zarb-e-Azb has fully restored the writ of the state and currently no area in Pakistan is under militant occupation, barring a few scattered pockets of influence and sleeper cells. Pakistani territory has largely been retaken from militants. Second, the operation has led to a significant change in Pakistan's internal political discourse — namely, the conclusion that appeasing militants through negotiations or reconciliation is futile. These practices alone cannot bring peace, unless initiated from a position of strength.
The third and most important achievement concerns the state garnering popular support in countering terrorism. Operation Zarb-e-Azb, under General Raheel Sharif's watch, has to an extent regained public trust in the state and its institutions. It has revived a sense of confidence in the common man that the state has resolved to bring peace by defeating terrorism.
Having recognized the achievements of Zarb-e-Azb, however, it is important to look at the aspects that didn't feature in the ISPR press conference. By doing so, we can try to outline the challenges Pakistan may face in countering terrorism in the future.
First, Zarb-e-Azb has certainly dismantled and dislodged Tehrik-e-Taliban Pakistan (TTP), but it has not yet been destroyed. TTP has relocated to and resurrected its infrastructure in Afghanistan, enabling it to become a low-intensity long-term threat to Pakistan due to cross-border support and sanctuaries. In other words, the terrorist threat to Pakistan is far from defeated—which has been one of the core objectives of Operation Zarb-e-Azb.
Second, as estimates independent of those presented in General Bajwa's presser also suggest, there is no doubt that terrorist violence is at an all-time low, but worryingly enough intolerance and extremism appear to have increased within Pakistani society. The ever-widening gulf between Pakistan's "secular-liberals" and the right-wing "Islamists" has been exacerbated alarmingly, further shrinking the common space. The erosion of the middle ground is alarming; it will increase the already high level of polarization and politico-religious fissures in society.
Third, ambitious counterterrorism operations are good opportunities for states to rebuild their image and correct negative public perceptions, both at home and abroad. Unfortunately, contrary to the fanfare generated during Zarb-e-Azb's launch, with it being termed as the "mother of all operations," it has in fact failed to live up to the media hype created by the ISPR. Beyond local consumption, it has not won Pakistan much recognition regionally and internationally. Poor strategic communication and dull diplomacy are to be blamed for this failure; counting Pakistan's sacrifices in the war on terror and playing victim to international and domestic security dynamics have merely won hollow platitudes.
Furthermore, prior to the launch of the operation, public opinion favored rooting out radicalization and extremism from society's midst, which could ultimately result in defeating militancy and terrorism long-term. However, beyond tactical measures and cosmetic steps, no serious efforts seem to have been made to tackle the two-headed monster of extremism and radicalization. Criminalization of hate speech and the ban on extremist literature were the most crucial steps to be taken in this direction. However, there is still no concerted effort to devise a national counter-radicalization policy. Lacking this, the gains of Zarb-e-Azb are fragile and possibly even reversible.
Over time, terrorism has evolved and morphed from a security threat to an ideological challenge. Consequentially, Pakistan's battlefield has expanded from the literal physical space to the symbolic ideological space. In the latter, the war of narratives is fought through ideas. However, Pakistan's strategy in the war of ideas, the basis for countering an ideological threat, appears to be missing. Without this, promoting moderation and inter-faith harmony are unachievable goals. Pakistan lacks a coherent, forward-looking narrative, which should reflect the vision of its founding father Muhammad Ali Jinnah, who envisioned Pakistan to be a moderate Muslim state.
Finally, Zarb-e-Azb was an opportunity to revive the dysfunctional National Counter Terrorism Authority (NACTA), which could meet the competing demands of different law enforcement and intelligence agencies through central coordination in countering terrorism. However, NACTA remains low on the governments' priorities as stakeholders from both military and civilian setups continue to fight over its control and ownership.
In addition, the present situation with the criminal justice system is no better. Similarly, the Anti-Terrorism Courts' performance remains less than ideal and leaves much to be desired. The military tried to overcome these gaps through ad hoc arrangements of military courts and special policing powers granted to them under Article 245 of the Constitution. Much-needed institutional reforms in the police and judiciary are still lacking. Hence, despite doing well against the terrorist threat on tactical levels, the institutional capacity of counterterrorism with clearly demarcated and well-defined professional functions remains absent.
From a strategic point of view, a good operation is short, focused, and limited in its objectives. An unrealistically overambitious operation with vaguely defined objectives can turn a timely victory into a prolonged defeat. Operation Zarb-e-Azb has achieved its military and security objectives and that is how it will be remembered. It will also be remembered as the legacy of General Raheel Sharif, and it will be an illustrious one. Sharif has returned hope to the people of Pakistan and now the operation should be taken to its logical conclusion by allowing displaced families to return to their homes respectfully.
Abdul Basit is an Associate Research Fellow at the International Center for Political Violence and Terrorism Research (ICPVTR) of the S. Rajaratnam School of International Studies (RSIS), Singapore.