Thailand's Prayut 'Won't Resign' if Referendum Fails
A comment likely to feed into international concerns about the junta's lasting grip on power.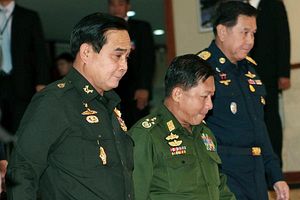 Thailand's Prime Minister Prayut Chan-o-cha said Monday that he would not step down even if Thais end up rejecting a military-backed draft constitution when they vote in an upcoming August referendum.
"I won't resign. I am the one who lays out the rules for this country," Prayut told reporters at Bangkok's Government House, according to Reuters. He was responding to a reporter's question that cited the example of British premier David Cameron, who said he would resign last week after a referendum where citizens voted to quit the European Union.
Prayut went on to compare the two cases, including the different problems that both countries face. He also clarified that the ruling National Council for Peace and Order (NCPO) did not draft the constitution itself.
Prayut and Thailand's ruling junta seized power following a bloodless coup that ousted Prime Minister Yingluck Shinawatra, the sister of former Thai premier Thaksin Shinawatra who continues to be a divisive figure in Thai politics.
Prayut is no stranger to controversial remarks at press conferences. He has made headlines in the past for various outbursts and offhand remarks, including saying he has the power to shut down news outlets and suggesting that foreign tourists wearing bikinis did so at their own risk.
But such remarks are likely to feed international concerns that the junta does not plan on loosening its grip on power anytime soon, even though it has promised a referendum on a draft constitution on August 7 and an election in 2017 after several delays. The referendum will be the first time Thais will go to the ballot box since the May 2014 coup.
Many have already denounced the draft charter as undemocratic. Meanwhile, the junta has banned criticism of the constitution in the run-up to the vote, with perpetrators facing up to ten years behind bars. Last Friday, a Thai court jailed seven activists for campaigning against the constitution.