US Cabinet Officials Pull Out of China Cyber Talks After Orlando Shooting
As U.S. representatives attended to the domestic crisis; meetings in Beijing moved to the sub-ministerial level.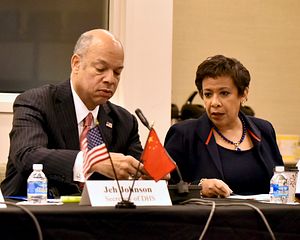 After a horrific mass shooting in Orlando, Florida on Sunday, which left 49 dead and 53 wounded, United States Attorney General Loretta Lynch and Homeland Security Secretary Jeh Johnson withdrew from a planned high-level meeting in Beijing on cybersecurity issues between the two countries.
The second U.S.-China High-Level Joint Dialogue on Cybercrime and Related Issues was intended to build on a December visit to the United States by Chinese State Councilor Guo Shengkun. Guo, China's minister of public security, and U.S. Under Secretary for National Protection and Programs Directorate at the Department of Homeland Security Suzanne Spaulding led the proceedings on Tuesday.
Both the December and June meetings are a product of last fall's deal between Presidents Barack Obama and Xi Jinping to protect intellectual property rights and prevent commercial cyber espionage and theft.
The main purpose of the current round of talks was to evaluate and discuss each country's implementation of their agreed-upon commitments and promote transparency.
"A key element of the agreement is information sharing and establishing mechanisms," Spaulding told the AP.
She said the two sides had been setting up email addresses to share information. "We are very pleased to have temporary email addresses and very much appreciate" working to set up permanent addresses, Spaulding said.
Her counterpart agreed on the importance of the progress. "We want to bring the discussions from policies on paper to actual implementation," said Guo.
The initial agreement, struck in September during Xi's official state visit to the United States, was considered a diplomatic breakthrough by Washington. Notably, U.S. officials have not conclusively determined that it has led to a decline in hacking attacks against U.S. companies.
China is strongly suspected by U.S. officials of orchestrating a major hack into the U.S. Office of Personnel Management's database, which led to the compromising of personal information of over 22 million federal employees, contractors, pensioners, and others. China has repeatedly denied sponsoring or permitting any hacking attacks.
A U.S. congressional advisory body, the U.S.-China Economic and Security Review Commission, said last year that China's increasing use of cyber espionage has already cost U.S. companies tens of billions of dollars in lost sales and expenses in repairing the damage from hacking. It said that in many cases, stolen trade secrets had been turned over to Chinese government-owned companies.
The Commission is highly critical of Beijing, and called the U.S. response to the threat "inadequate." It also alleged that China has infiltrated numerous other U.S. government computer networks.
In 2014, five Chinese military officers were indicted on charges of commercial cyber espionage and China was threatened with economic sanctions. U.S. security experts and analysts noted a drastic drop in cyber attacks from China following the legal action against the PLA officers, but remain divided over the real impacts of U.S.-China discussions.
China maintains that it is also a victim of cybercrimes and hacking at the governmental and commercial level.
China and the U.S. have effectively cooperated on numerous occasions to combat child pornography websites and the international networks connected with them.
Along with cybersecurity, the two days of talks covered the intersections of the two countries' global supply chain security, transnational crime-fighting capabilities, illegal immigration, counterterrorism, and maritime law enforcement.