US-China Strategic and Economic Dialogue: Key Takeaways
Small victories achieved, but large gaps remain between the U.S. and China on a number of policy fronts.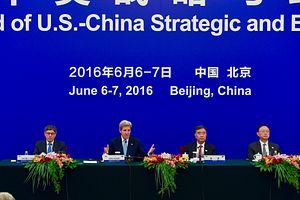 On June 6-7, high-level officials from the United States and China met in Beijing to discuss trade, finance, security, the environment, and more.
Chinese Vice Premier Wang Yang and State Councilor Yang Jiechi and U.S. Secretary of State John Kerry and Treasury Secretary Jacob Lew co-chaired the talks, with Wang and Lew heading up the economic track and Yang and Kerry handling the strategic track. It was the eighth annual meeting between senior Cabinet-level officials from the governments of the world's two largest economies.
Many international observers were critical of the talks, citing few concrete results—particularly in relation to the ongoing disputes over China's militarization of the South China Sea.
On the final day of the two-day dialogue, a Chinese J-10 fighter jet conducted what the U.S. Department of Defense called an "unsafe" intercept of an American reconnaissance plane over international waters in the East China Sea, allegedly passing within 100 feet of the U.S. aircraft at high speed.
No meaningful progress was made in regards to the continuing tensions over the disputed territories, reinforcing how difficult it is for each country to see eye-to-eye on the matter.
On the economic front, many U.S. companies were disappointed with the outcomes of the talks and used the dialogue to voice their continued frustration over doing business in China. Many foreign businesses are increasingly gloomy in their outlooks on conducting operations in China, partially due to China's struggling economy but also due to discontent with what many see as protectionism.
At the talks, U.S. representatives pressured China to curtail its unparalleled glut of steel, which has caused global indignation due the damaging effects of decreased prices upon U.S and E.U. producers. The U.S. recently slapped countervailing subsidies and anti-dumping duties on Chinese steel.
At the opening of the two-day event, Lew voiced strong criticism of China's overproduction, citing its "damaging and distorting effects" on international markets. "Implementing policies to substantially reduce production in a range of sectors suffering from overcapacity, including steel and aluminum, is critical to the function and stability of international markets," said Lew.
In his own opening remarks, President Xi Jinping promised to "redouble efforts" to reduce overcapacity of steel but announced no new initiatives or specific measures. No agreements were reached in regards to China's overcapacity of aluminum either. China's finance minister, Lou Jiwei, emphasized the role of market forces as an impetus to curb overproduction and reiterated that China's economy will respond to global price changes.
Some Western observers are skeptical of Beijing's intimations to drastically decrease production, which could mean laying off millions of workers.
One of the few tangible results of the dialogue was a major development in international finance. China for the first time included the United States in a plan allowing American banks to clear renminbi-denominated transactions, allowing a quota of up to $52 billion under its Renminbi Qualified Foreign Institutional Investment program.
According to a fact sheet published by the U.S. Treasury Department, the United States and China reiterated their previous pledges on exchange rates, including "refraining from competitive devaluation" and targeting exchange rates for competitive purposes.
The U.S. Federal Open Market Committee (FOMC), a key determiner of monetary policy, assured China it would conduct its policies in a manner "sensitive to the effects on the international financial system."
China meanwhile promised "to continuously deepen reform, promote economic structural adjustments, and expand domestic demand by increasing household consumption, increasing the service sector's proportion of the economy, and ensuring investment is high quality and driven by the private sector."
In May, China's exports fell 4.1 percent, a sign of weak global demand, but its imports surpassed experts' expectations—suggesting China's domestic demand may be picking up. China's central bank recently forecast its 2016 economic growth at 6.8 percent, higher than many outside analysts' figures.
The United States is widely believed to be recovering from the 2008 global economic crisis; however, May unemployment figures were weaker than anticipated.
With the United States in the throes of the 2016 elections, Chinese officials are wary of anti-China rhetoric, especially talk of protectionist trade policies. Washington., meanwhile, hopes the elections will spur China to liberalize foreign investment policies.
Next week, China is expected to release a newly revised list of sectors barred from international investors, a so-called "negative list"—part of the ongoing negotiations over a Bilateral Investment Treaty.