Why Defining a 'Forest' in India Is Harder Than It Sounds (And Why That Matters)
In attempting to clarify what constitutes a forest in India, who is the Environment ministry trying to protect?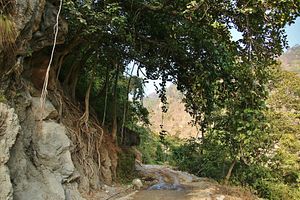 As I discussed earlier, the Indian Prime Minister's Office (PMO) has been involved in a tussle with the Tribal Affairs Ministry over the question of the Forest Rights Act (FRA) as well as the rights of forest-based communities. The Environment Ministry has been an instrumental part of this battle by reinterpreting the FRA and paving the road to doing away with consent, on multiple levels, from 'gram sabhas' (village-level governments) before chopping down India's traditional forests.
This entire debacle occurs as the government has made parallels commitments to afforestation through policies like the Green India Mission, the explicit goals of which include increasing the forest-based livelihoods of millions of households. The FRA is what allows these communities the right to manage India's forests instead of merely constituting a low rung in the government's monopoly over them. However, in repeated instances, as an analysis of the correspondence between the ministries suggests, the Tribal Affairs Ministry has not been able to put up a strong offensive – and as a result, India's forest policy is now up for review.
Environment Minister Prakash Javadekar said that he will convene a meeting of State Forest and Environment ministers to discuss plans to improve the quality of forest conservation efforts, implement scientific management of forests, and attempt to achieve a target of 33 percent forest cover throughout the country. He also outlined a proposal that would allow degraded land to be leased out to industries to harvest timber. However, the important first step towards revamping forest policy must be defining what actually constitutes a forest. And this is where the trouble begins.
The Forest Conservation Act (FCA) of 1980, upon which subsequent laws have been built, never clearly defined what a forest was – thus allowing for disparity in interpretation from state to state as well as legal battles over whether vast tracts of land could benefit from non-interference by being defined as forests.
Javadekar's statement indicates that currently notified forests as well as areas with a good canopy will constitute forests. While this is merely a provisional definition in a draft notification, it immediately raises concerns about thinner green areas, which are vulnerable because of their proximity to important cities. Similarly, scrub forests may be at threat from such a definition.
States, under the new definition, are classified into those that had clearly demarcated forest areas as of the FCA 1980 and those that did not. They are placed into a hierarchy further on the basis of those that have significant green cover and those that do not – giving more leeway for State governments to allocate portions of forest land in the more densely green states. More problematic though is the idea that the purpose of redefinition is to bring some clarity in order to facilitate infrastructure development – tipping the balance in favor of industry in the perennial debate between development and the environment.
The July meeting and its subsequent outcomes are crucial in deciding what the Environment Ministry's goals regarding forest conservation in practice are and who exactly it wishes to protect. The afforestation projects it hopes to undertake and its professed commitment toward communities whose livelihoods depend on forests will not meet with success if forest conservation laws continue to be perceived as roadblocks, instead of steps towards development in a holistic sense.