Will Genocide Be the True Cost of State Building in Myanmar?
To govern, Aung San Suu Kyi seems prepared to turn a blind eye to the Rohingya issue.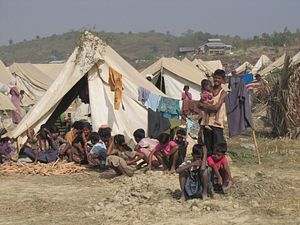 "If we mix religion and politics then we offend the spirit of religion itself," said Myanmar's independence hero Aung San, addressing his Anti-Fascist People's Freedom League party in 1946.
Seventy years on, for his daughter and globally revered human rights icon, Aung San Suu Kyi, the doctrine has changed.
Deeply entrenched nationalism has blurred the line between religion and politics as Myanmar seeks to build a viable state. And it's pitting the Nobel Peace Prize winner's pragmatism against her principles—with the lives of the nation's Rohingya minority at the center.
"[Aung San]…wanted the Buddhist Sanghas [associations] to retain their traditional roles and abstain from politics," writes author Nilanjana Sengupta in her book A Gentleman's Word.  "Their contribution to nation building could be in spreading the message of brotherhood and freedom from fear but not in inflammatory communal politics."
But since Aung San's assassination in 1947 and independence the year after, xenophobia has been stoked by the successive nationalist agendas of Myanmar's leaders. With the dominant Buddhist and ethnic Bamar population—estimated at 89 percent and 68 percent respectively today—minorities were considered a hindrance to nation building.
Attempts by the state to homogenize language, culture, and religion gained impetus among the nation's monkhood, an institution with gargantuan civilian sway.
Nationalist Buddhist groups like the 969 Movement, championed by Ashin Wirathu (dubbed the "Buddhist bin Laden" by some) amassed a stronger platform for their xenophobic rhetoric under former-President Thein Sein's censorship-loosening reforms since 2011.
The nation's Muslims, four percent of the population, have been their top target. Rakhine state's Rohingyas are subject to violence, discrimination, and economic exclusion. Numerous attempts to flee have seen hundreds drown at sea and thousands displaced in refugee camps, and the government afford humanitarians limited access. They are "one of the world's most persecuted minorities," says the UN.
And early last month, Suu Kyi's government—once a glimmer of hope for the minority— requested the very term "Rohingya" be renounced, failing to recognize the community's rights as part of Myanmar's 135 official list of ethnic groups.
Suu Kyi's stance is not new. Since violent riots broke out between ethnic Rakhine and Rohingya in 2012, she has remained passive, neutralizing questions by pointing out aggressions against Buddhists and downplaying the concern of international bodies.
For some, Suu Kyi was just straddling the political line, cautious not to alienate an electorate largely sold to an entrenched islamophobic narrative. In the lead up to the National League for Democracy's landslide election victory in November, an Al-Jazeera source reported that she deliberately purged the party of its Muslim candidates.
For an election that received plaudits from U.S. President Barack Obama, the Rohingyas were ineligible to vote, and currently there is not a single Muslim parliamentary representative.
Suu Kyi not only had to pander to the electorate, but also to the military which traditionally bands around nationalism and is constitutionally entitled to 25 percent of seats. But it was assumed her humanitarian streak would return once in power, more willing to tackle electorally sensitive issues years before the next election. However, Suu Kyi's latest constraint may be the pressures of state building.
After 27 years of playing the pro-democracy activist opposition, the NLD are in uncharted territory. In November, U Win Htein, a party spokesman, said the Rohingya would not be the party's priority.
Suu Kyi inherits an inefficient, unskilled, and corrupt bureaucracy, alongside a promise to deliver economic development. Elevating the strife of an estimated 800,000 to 1.3 million minority may pale in comparison, particularly when factoring in a likely lengthy reconciliation process, financial resources, and potential for social instability.
Suu Kyi is aware of the sacrifice, diplomacy, and compromise that comes with taking office. "I've been a politician all along. I started in politics not as a human rights defender or a humanitarian worker," she said in a 2013 CNN interview. She will have to negotiate shrewd deals with international suitors and make controversial decisions on large construction projects. Not all parties can be satisfied.
Bound by the realism of statecraft, Suu Kyi may be playing a long game. Forging peace between Buddhist and minority communities is likely to be more delicate, iterative, and convoluted than external observers can appreciate.
During U.S. Secretary of State John Kerry's visit to Myanmar last month, Suu Kyi asked for "enough space" to address the "emotive" Rohingya issue. On May 31, it was announced she would lead a new Central Committee for Implementation of Peace and Development in Rakhine State, though the details remain sketchy.
The global community is growing impatient with a woman who has come to embody revolution and democratic values. Some have suggested her Nobel Prize be revoked for failing to act definitively on her sermons, while others fear Suu Kyi sees reason in the nationalist logic of Myanmar's past.
The fact that she may be carefully treading the line between religion and politics is a bitter pill to swallow for her followers who feel short-sold, particularly when the Rohingya "face the final stages of genocide," according to an 18-month study by the U.K.-based International State Crime Initiative, published last year. "The marked escalation in State-sponsored stigmatization, discrimination, violence and segregation, and the systematic weakening of the community, make precarious the very existence of the Rohingya," it adds.
The clock is ticking on Suu Kyi, with her legacy deeply intertwined with the fate of Myanmar's long-persecuted minority.
Tej Parikh is an international affairs journalist and recently received his master's degree from Yale University, with a focus on state building, ethnic politics and fragile states. He has published for Reuters, The Diplomat, The Cambodia Daily, the Guardian and Global Politics Magazine. He tweets at @tejparikh90.