6 Dead in Police Station Attack in Almaty
The incident in Kazakhstan's old capital is being described as terrorism, though there are many unanswered questions.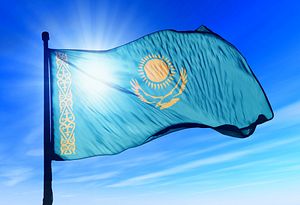 At least six people have been killed in Kazakhstan's largest city, the old capital Almaty, in an apparent attack on a police station. Authorities have raised the the terror alert in the city to red and some are describing the incident as a terrorist attack.
According to the Ministry of Internal Affairs, a man shot a policeman around 11:00 am outside a station and took his automatic weapon. The man then fled, shooting two policemen in pursuit. He then tried to hijack a car, shooting and killing the driver, and was detained after a gun battle with police. Authorities say that in addition to the civilian driver, three police officers were killed.
The incident comes a little more than a month after a gang of about 30 men robbed a pair of gun stores and attempted to attack a national guard base in Akobe. In that attack, three soldiers and three civilians were killed, in addition to more than a dozen of the attackers.
In contrast to the somewhat sluggish response to the Aktobe attack, President Nursultan Nazarbayev immediately called an emergency security council meeting. Nazarbayev, according to Interfax, described the attack as an "act of terrorism."
Authorities say two men have been detained in relation to the attack and the latest reports say one suspected attacker was killed. The Ministry of Internal Affairs initially said one of the attackers was a 27-year old convict from the Kyzylorda region suspected of murdering a woman over the weekend. Tengrinews reported his name as Kulikbaev Ruslan Alpysbaevich. The head of the National Security Committee said he was radicalized in prison by Salafists.
Interfax quoted a police source describing the attacker as "a religious radical and probably a follower of non-traditional Islam."
Amid a wave of global attacks–Istanbul on June 28, Dhaka on July 1, Baghdad on July 3, Nice on July 14, and countless other incidents–the knee-jerk label applied to surprising, unexpected flashes of violence is terrorism.
Dauren Abaev, the Kazakh Minister of Information and Communication, told Ratel.kz that it is too early to say that the attack in Almaty was an act of terrorism; although, as noted above, Nazarbayev seems to have done so.
A violent act can be terrifying without being terrorism. Terrorism is defined the use of violence in pursuit of political aims and those are at this time absent in the Almaty incident. The term is nevertheless frequently used as it elevates the importance–and news coverage–of an event. Terrorism also prompts a different kind of domestic and international response than criminal violence does, especially if linked to Islamic extremism.
The list of what we don't know is extensive, as are the questions a reasonable analyst would ask about the attackers and their motivation. Unfortunately, we might not get much clarity.
Update: This story was updated with additional information about the attackers.