Air Astana Introduces New Almaty-Tehran Route
Kazakhstan looks to expand tourism ties to Iran.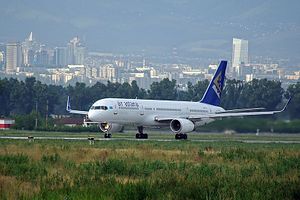 Kazakhstan was particularly pleased when Iran and the P5+1 settled a nuclear deal last summer, and its implementation earlier this year has further contributed to renewed enthusiasm for bilateral relations. Kazakhstan, a devout proponent of nonproliferation, nevertheless had decent relations with Iran but deeper ties–particularly economic linkages–were impeded by international sanctions. As those peel away, Astana and Tehran have their sights set on increasing bilateral business and tourism.
The latest piece of this puzzle was Air Astana's announcement last weekend that it would begin direct flights three times a week between Almaty and Tehran, on Tuesdays, Thursdays and Saturdays. Almaty, Kazakhstan's former capital, is the country's largest city with a population of more than 1.4 million. Tehran, the Iranian capital, is home to more than 8.1 million. Located in the country's southeast, near the Kyrgyz border, Almaty is Kazakhstan's most popular tourist destination.
Ibrahim Canliel, senior vice president of sales and marketing for Air Astana, highlighted Almaty's draw in comments to Kazinform, the Kazakh national news agency. "I trust that our Iranian guests will enjoy the history and culture of Kazakhstan. Beyond that, Almaty has a lot more to offer with premium ski resorts, year around cultural events, a wide variety of shopping malls and fine dining – all at great value for money."
The flight, just three and a half hours, starts at about $250 (86,000 KZT), according to Air Astana's website.
"The new service connecting Kazakhstan with Iran will provide convenient connections to Air Astana's CIS and Asian network, in particular to the cities of Beijing and Urumqi," Canliel said.
Tourism is just a small piece of bilateral relations but certainly both sides are looking for a boost. Easier travel makes for easier business. In 2015, according to Kazakh estimates, bilateral trade reached $1 billion. The two countries are also reportedly working on boosting the amount of cargo carried on the Kazakhstan-Turkmenistan-Iran railway which went into operation in late 2014. With the removal of sanctions, many countries are looking to leverage Iran's position between Asia and Europe. Kazakhstan is no less eager to do so while also hoping to become a prime travel destination for Iranians looking to explore Central Asia.