Australia's Election Cliffhanger
The final outcome is uncertain, but either way the result looks likely to be disappointing for PM Malcolm Turnbull.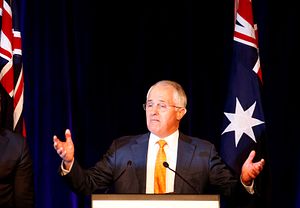 Australians went to bed late Saturday not knowing exactly what government they might have elected, after a cliffhanger federal poll that could result in a hung parliament or even fresh elections.
Although the incumbent Liberal-National Coalition was considered leading the count in the 150-seat lower house by 72 seats to major opposition party Labor's 66, a number remained in doubt, while gains to minor parties in the upper house could make the Senate even more challenging for the next government.
The results have left Prime Minister Malcolm Turnbull and Labor party leader Bill Shorten facing a potential test of their negotiating skills in forming the next government of the world's 12th largest economy.
Speaking after midnight Saturday local time, Turnbull said: "We can have every confidence that we will form a Coalition majority government…[although] the final result may not be known until Tuesday."
Criticizing Labor for its campaigning against alleged government plans to privatize the national health service, Medicare, Turnbull said: "The Labor party ran some of the most systematic, well-funded lies ever peddled in Australia….More than a few people were misled…but the circumstances of Australia cannot be changed by a lying campaign by the Labor party."
Turnbull drew a parallel with the cliffhanger 1998 poll, when then Liberal Prime Minister John Howard only secured re-election on late results from Western Australia, despite losing the popular vote.
He also defended his move to call a double dissolution poll, saying it had been called simply to "restore the rule of law to the construction industry" to stamp out "union thuggery."
By contrast, an upbeat Shorten told supporters earlier in the evening that "Labor is back" and the government had lost public backing.
"Three years after the Liberals came to power in a landslide, they have lost their mandate….Mr Turnbull's economic program, such as it was, has been rejected by the people of Australia.
"Whatever happens next week, Mr Turnbull will never be able to claim that the people of Australia have adopted his ideological agenda. He will never again be able to promise the stability which he has completely failed to deliver tonight."
While Labor only gained a primary vote of around 33 to 34 percent – its second-lowest on record – preferences from Greens and other parties helped boost its two-party preferred vote to virtually a dead heat with the Coalition, which suffered a national swing against it of around 2.8 percent.
'Worst Kind Of Win'
Despite likely gaining re-election, commentators described the result as a blow to Turnbull and his strategy of calling a double-dissolution poll, with the center-right Liberal leader facing increased pressure from both internal and external critics.
"Malcolm Turnbull is facing the prospect of the worst kind of win, where the Coalition is returned with the most seats, but his authority is weakened, his internal critics are emboldened and his agenda is imperiled," the Age's political editor Michael Gordon commented.
"[Turnbull] wanted the numbers to deliver strong, stable government and banked all on his economic plan built on company tax cuts. The best he can hope for is a wafer-thin majority and a toxic Senate: a recipe for instability if ever there was one."
Conservative columnist Andrew Bolt was even more explicit, calling on Turnbull to resign for his electoral failure, after having ousted former Prime Minister Tony Abbott in a party room coup in 2015 on the basis of Turnbull's apparent electoral popularity.
"You went to the election with basically only one policy to sell – a pathetic 10-year promise to cut company tax. And now look. Almost everything turned to ruin," Bolt blasted.
"There is no way you can seriously claim that this result is better than anything Abbott could have achieved."
Brisbane Times' Mark Kenny said Turnbull's second-term agenda "clearly failed to fire the imagination of voters."
"Turnbull effectively vacated the field in terms of material promises for his second term, attempting instead to sell an economic growth mirage in a decade's time based on the vague sense that an ambitious and unfunded 10-year corporate tax plan would mean jobs and confidence, and wealth distribution," he wrote.
"At best it was the replacement of material policy with something approximating "the vibe". At worst, it was simply unconvincing to ordinary people.
"…Turnbull's purpose in replacing Tony Abbott has been squandered through a surfeit of rank amateurism, political naivety, and surprising first-term hubris."
Turnbull's campaign message of "stick to the plan for a strong new economy," comprising tax cuts and incentives for small businesses, defense and science initiatives and export trade deals failed to cut through with voters. Instead, Labor's "Mediscare" campaign around protecting the national health service along with its push for greater education spending made for simpler messages.
As late as 11am on election day, Labor was sending text messages to voters saying: "Mr Turnbull's plans to privatize Medicare will take us down the road of no return. Time is running out to save Medicare."
Turnbull had resisted sloganeering in his campaign – a tactic which had proved effective for Abbott in the 2013 election, when he used slogans such as "stop the tax" and "stop the boats" and won a landslide victory.
Rainbow Senate
Despite Turnbull's aim of securing stable government, the Senate is set to prove even more problematic. South Australian independent Nick Xenophon's party was tipped to pick up seats; anti-immigration Pauline Hanson's One Nation party was set to win potentially up to two senators; and independents Jacqui Lambie and Glenn Lazarus were also set to return, along with a number of Greens senators.
Previously, the Coalition government required the support of six of eight Senator crossbenchers to approve legislation blocked by Labor and the Greens, but this barrier is set to become even higher.
Before the poll, Griffith University political scientist Paul Williams told The Diplomat that the most likely outcome was a narrow Coalition victory or a hung parliament – a forecast that proved prescient, despite surveys showing the Coalition leading narrowly in the last week of the campaign.
For a prime minister who has declared there has never been a more exciting time to be Australian, the electorate has delivered a political thriller. Turnbull's negotiation skills are about to be severely tested in the biggest game of thrones of his political career.