Cambodia's Democratic Development: Short-Term Pain, Long-Term Gain
Despite recent setbacks, the long-term trends for Cambodia's democracy are encouraging.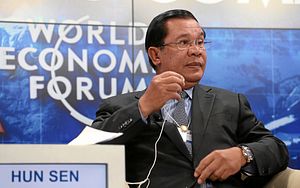 At first glance, Cambodia's democracy seems to be swiftly backsliding. Sam Rainsy, the leader of the opposition Cambodia National Rescue Party (CNRP), is once again in self-imposed exile while his deputy, Kem Sokha, has been under self-imposed house arrest. Prime Minister Hun Sen and the ruling Cambodian People's Party (CPP) have cracked down on the media, threatening legal action against outlets critical of the government. More distressingly, political analyst and civil society activist Kem Ley was assassinated in broad daylight. Any observer would agree that these developments are troubling.
In many respects, history is repeating itself. In 1997, then-Second Prime Minister Hun Sen launched a coup to consolidate power, deposing then-First Prime Minister Prince Norodom Ranariddh of the FUNCINPEC party, which was in coalition with the CPP. In 2005, the government tried and convicted Rainsy in abstentia on politically motivated charges and did so again in 2010. In both cases, Rainsy was forced into self-imposed exile to avoid arrest. Given that these crackdowns helped Hun Sen hold and consolidate power, it's predictable that he'd continue to resort to similar tactics – and predictable that some observers would conclude democracy is backsliding.
However, if one takes a closer look, the long-term trends of the country's democratic development are encouraging. In comparison to past crackdowns, the current one has been relatively soft. Unlike 1997, Hun Sen's bodyguard unit has stayed in their barracks. Unlike 2005, the government acknowledges issues the opposition has championed, such as land rights. Unlike 2010, the opposition has access to communication channels that enable them to circumvent censorship. This is perhaps the most encouraging trend, as the emergence of online and social media has fundamentally shifted the political landscape in favor of democracy.
During and after the 2013 election, the government did not embrace online media; if anything, they suppressed it. Rainsy and the CNRP maintained a hyperactive online presence – particularly on Facebook and YouTube – while Hun Sen's CPP lagged well behind. However, in recent months, the government has embraced Facebook with open arms and even launched an official "Samdech Hun Sen" smartphone app. Some argue the government's efforts are cosmetic and intended to distract from the current crackdown. This argument may have some merit, but it speaks volumes that the government has embraced a form of media that is nearly impossible to censor.
If Cambodia's democracy were truly backsliding, the government would not have removed a clause from the draft cybercrime law that would have allowed them to prosecute individuals who post online content that "slanders or undermines" government officials. The fact that the government was responsive to opposition and civil society criticism of the clause indicates a shift in mindset conducive to further democratic development. Despite recent events, long-term trends point towards a positive trajectory that provides some hope for Cambodians who sorely lack adequate political representation.
Parker Novak is the Principal of Red Team Advisory Group, a Washington, DC-based political consulting firm, and studying for a Master's degree in Global Advocacy at George Washington University.  He previously worked for the International Republican Institute in Phnom Penh, Cambodia.