Chaos in Kashmir: A Question of Identity
The root cause of Kashmir's unending violence? Its people have no place in India's national identity.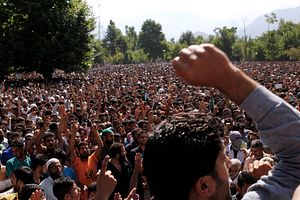 When three rebels were killed in a gunfight with security forces in Indian Kashmir, the government had to take radical measures: disrupt communication services, impose curfews, and ensure that anti-India leaders remain confined. The government's main worry was that among those killed was one 22-year-old Burhan Wani – arguably the most prominent militant to operate in Kashmir in recent years – and his death was sure to trigger an outpouring of emotions on the streets of Kashmir. And trigger it did.
The next morning, on July 9, thousands of enraged Kashmiris defied curfews and assembled at various locations to participate in Wani's funeral. The funeral then turned into anti-India and pro-independence protests; as angry crowds clashed with police and paramilitary, the situation turned violent and deaths started to pile up. Over the next week, at least 33 people died in the clashes, and hundreds more were injured. As of this writing, the situation remains tense and the death toll has reached 40. With each additional civilian death, peace seems to become more elusive as funerals of the dead turn into massive protests and result in violent confrontations between the forces and the crowds.
This cycle of chaos is not unprecedented. Anti-India and pro-independence protest movements have been a common occurrence in Kashmir since the late 2000s, right when a 1990s-era insurgency started to fade away. The current situation also follows a familiar pattern of weeks-long protests, clashes, and deaths that are initially sparked by a single incident. But what is rather more worrying this time, from New Delhi's point of view, is the massive support expressed by the Kashmiri population for a fallen anti-India, secessionist militant. It is clear now that even though the 1990s-era insurgency is almost dead, the sentiments that lay at the core of it are still alive. Kashmiris have not acquiesced to Indian control of the region, and they continue to long for more indigenous political control and possible secession from India.
Many reasons have been proposed to explain the anti-India and secessionist sentiments of Indian Kashmiris. For some, the problem is caused by their pro-Pakistan leanings and by Pakistan's support for Kashmiri rebels and anti-India leaders; others blame the presence of extremist elements in Kashmir or the heavy-handed approach of the Indian security establishment toward Kashmiris; many are convinced that mediocre levels of education, high unemployment, and corruption are at the root of the problem. True, each of these issues bolster the anti-India and pro-independence feelings of Kashmiris, but they are not the root cause.
In fact, many of these issues are themselves the end-result of something more fundamental and simple: that Kashmiris see themselves as a distinct nation and desire, naturally, to distinguish themselves as one, and achieve the global honor and status associated with nationhood. What better way to do that than achieving statehood and sovereign control of their lands? And to understand why Kashmiris feel so separate from India, we need to turn our attention to the construction of national identity in post-British India, which has failed to include Kashmiris.
To unify the numerous ethno-linguistic groups in the country, national identity in India has been built on stories of Indian civilization and a history of colonialism. Kashmiris, for the most part, don't easily see themselves of the same civilizational background as Indians, because of a substantial cultural divide, their historic remoteness from mainland India, and also their Muslim-majority character. In this age of interconnectivity, Kashmiris have become even more aware of the gap.
When schools teach Indian colonial history to Kashmiri students, it becomes evident to the children that they are not studying their forefathers. The British didn't colonize or rule over Kashmir. Kashmir, instead, was ruled by a Hindu king. As Indians were trying to get their independence from the British, Kashmiris were involved in their own struggle against the monarchy. Interestingly, the last move of the disliked king was to sign the Instrument of Accession, the legal document on the basis of which India claims and controls Kashmir. The document remains as unpopular in the Kashmiri psyche today as the king who signed it.
Indian national identity on a popular level is also emboldened by the country's wars and rivalry with Pakistan – the enmity serves as a unifying force. In Kashmir, however, Pakistan is seen as a benevolent state that repeatedly voices concern over the situation there and publicly supports its separation from India.
To sum it all up, the same factors that have created and maintained a cohesive national identity in India have also alienated and excluded the Kashmiris. In fact, the very nature of the Indian identity is antithetical to Kashmiris. Thus, by now, they have developed their own separate national identity, and they resent Indian control of the region. The reason a 22-year-old rebel's death was enough to trigger such massive unrest in Kashmir was the fact that he had become a symbol of Kashmiri nationalism and identity – for which he was ready to fight and die.
No material factor can replace the longing for honor, status, and independence within a national group – it can only keep a temporary lid on it. The Kashmiri nation remains no different. Economy, jobs, corruption, religion, and human rights will only remain secondary issues until the presence of a Kashmiri national identity is accepted as a reality and efforts are made to represent it in the sovereign structures that govern Kashmiris. Until then, protests, violence, and deaths will continue to ebb and flow.
To bring perpetual stability, the separatists have proposed their solution: an independent Kashmir. It's time for the Indian state to offer a pragmatic counter.
Hatim Bukhari grew up in Kashmir and studies International Relations at Florida International University.