China's Quest to Attract Foreign Talent
Can China overcome its "brain drain" to create a net inflow of highly skilled workers?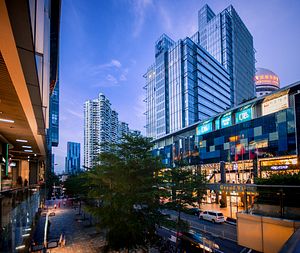 Last week, the Ministry of Public Security announced a series of welcoming policies for skilled foreign workers in the pilot free trade zone in Guangdong Province, the country's manufacturing powerhouse.
The package include 16 new measures, such as fast-track approvals for skilled foreign nationals, a simplified permanent residence application, subsidies for foreign students' start-ups, and accelerated visas and residency application processes for overseas Chinese. Set to go into effect on August 1, 2016, the new measures, as the ministry revealed, aim to answer "the free trade zone's urgent demand for high-caliber foreign talent, overseas Chinese returning to start businesses, young foreign students, and investors to realize innovation-driven development of the zone."
The new policy is in line with the Chinese government's plan to set up its first immigration office, which was confirmed by Public Security Minister Guo Shengkun earlier this year in an internal meeting. Specifically, the office will be founded by the end of the year by merging and expanding the ministry's border control and exit-entry administration bureaus. Although the ministry has not disclosed further information, people with knowledge of the plans have made it known that the office would aim at seeking overseas talents to facilitate the country's transition into a consumer spending and innovation-driven economy.
These new immigration stratagems are clear signs that the Chinese government is well aware of the momentous importance of skilled human capital to the transition of the country's economy. After launching the Reform and Opening Up Policy in 1978, China founded remarkable economic success largely on its large low-skilled labor supply. But due to rapid economic development and urbanization, Chinese wages have been rising rapidly in recent years.
Equally pressurizing are the country's demographic changes. In the previous decades, China benefited from its demographic dividend — that is, the freeing up of resources for economic development when fertility rates drop and the labor force temporarily grows faster than the population dependent on it. In fact, the often-condemned One-Child Policy played a crucial role in giving rise to this advantage. It effectively reduced fertility rates and freed up an economic surplus for savings and investments. However, it has also caused the country a serious aging problem, which is simultaneously intensified by the general improvements in living standards and health practices. As the UN Statistic Division predicts, the median age of China will climb from 30 in 2000 to 44 in 2050, and the dependency ratio will leap from 10 percent in 2009 to 40 percent in 2050.
That being the case, China can no longer rely on its low wage-reliant growth model as it did in the previous decades. A transition into a more skill-based and capital-intensive economy is the only way out of this so-called "Middle Income Trap," which is faced by all developing countries trying to ascend to developed statuses. It is also in this context that the Chinese government is so keen to lure overseas talent.
Nonetheless, attracting and retaining talent are by no means easy tasks for China. Even just the matter of retaining Chinese talent has caused the Chinese government headaches for years. Since the sizes of the upper and middle classes in Chinese society have ballooned faster than ever before, more economically-capable households have sent their children to study overseas. Frequently those young minds, who are armed with valuable know-how, choose to settle overseas after graduation. When push comes to shove, more desirable working environments, living styles, and healthcare developments are the major reasons for their preferences. On that account, the state-owned China Daily has dubbed the situation as "the world's worst brain drain."
Meanwhile, more secure wealth preservation overseas is another factor which constantly drains talent and capital abroad. According to Shanghai Hurun Research Institute's studies of the Chinese upper class in 2015, 64 percent of the "high net worth individuals" whom it polled were either emigrating or planning to do so. Most of all, their preferences are based on the belief that China's existing financial and legal systems are not regulated enough to protect their wealth.
Given this backdrop, it is not hard to conceive that highly-skilled human capital outflow always outweighs the inflow in China. This imbalance reflects the limited attractiveness of the country to highly-skilled talents worldwide; as long as that's the case, the Chinese government's road to attracting overseas talent will in all likelihood be arduous.
Ultimately, a lack of confidence in the Chinese system is the root cause of the imbalance. The 16 new immigration measures to take into effect Guangdong may well facilitate the immigration process. The immigration office, which will be created later this year, may be able dispense more tempting offers to overseas talent. Yet neither measure will touch the root of the problem. If China is to achieve a smoother transition into a more skill-based economy, it must shore up its soft power – no matter whether it is engaging overseas Chinese to return or luring foreign nationals to settle in China.
Wy Cheng is a researcher and writer on politics and economics.