Crackdown on Hong Kong's Dissident Publications Continues
Two more journalists from Hong Kong are convicted of illegal business operations.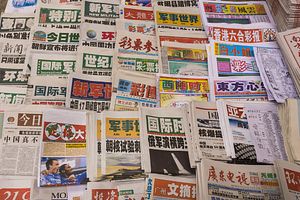 In the continued persecution of those who criticize and make fun of the Chinese leadership, in particular Xi Jinping, China has continued to pursue and imprison Hong Kong journalists.
Echoing the recent case of the five missing booksellers, another two Hong Kong journalists, who had business operations based out of Hong Kong, have been arrested in China's Shenzhen, where they were residing at the time of arrest in May 2014.
The pair were charged for running an illegal business, the very same charge imposed on the five abducted booksellers last year. Their Hong Kong-registered company, National Affairs Ltd, published two magazines largely based on rumors and gossip about those in the upper echelons of the Chinese government. It also frequently carried reports on the power struggles within the Communist Party of China, according to the Hong Kong Journalists Association (HKJA).
Publisher Wang Jianming was sentenced to five years and three months in prison, while editor-in-chief Guo Zhongxiao was slapped with a sentence of two years and three months. Both pleaded guilty in the Shenzhen Nanshan District People's Court last year.
The two were prosecuted on the grounds that they sold banned material to Chinese nationals, despite the fact that only eight Chinese nationals were actual customers (and friends of the publisher) and that the business is registered and based in Hong Kong, a technically separate territory with its own laws.
Wang's lawyer argued that under "one country, two systems" there was nothing illegal in his client's business. Nevertheless Guangdong's print and broadcast regulator said the magazines were "illegal publications" that were not registered in mainland China, but were sold to Chinese readers.
Under Chinese law, illegal business operations that lead to less than RMB 250,000 ($37,500) in proceeds would result in a jail term of less than five years. The defense argued that the illegal portion of the business (the mainland readers) accounted for only RMB 60,000 ($9,000) of the total revenues. However, in a rare occurrence even by Chinese standards, the judge chose to ignore these figures and instead ruled on the HKD 7 million ($902,500) in total revenues.
The Independent Commentators Association and HKJA are worried that the mainland authorities are selectively suppressing targeted or sensitive publications on the "pretext of law" in order to intimidate and silence journalists who travel to the mainland and in turn, erode press freedom in Hong Kong.
Hong Kong Journalists Association chairwoman Sham Yee-lan said the Hong Kong government had a responsibility to offer help to its citizens. The Hong Kong Immigration Department said that it had not received any request for help, according to the South China Morning Post.
From October of last year, five booksellers, all of whom either worked at or owned Mighty Current Media, a Hong Kong publishing house and bookstore that specializes in tabloid publications on China's political elite, went missing under mysterious circumstances. The men, of varying nationalities but all of ethnic Chinese descent, disappeared from mainland China, Thailand, and Hong Kong and turned up on Chinese television confessing and asking to be punished for a number of offenses that they had committed over the past 10 years.