Dhaka Hostage Crisis: Anatomy of a Terror Attack
The terror landscape in Bangladesh merits close scrutiny after the Gulshan hostage crisis.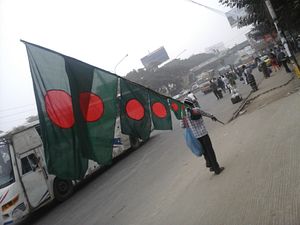 The terror attack in an upmarket neighborhood of Dhaka last weekend was a watershed event in Bangladesh's struggle against Islamist radicalism. By the time the Bangladesh Army swept into the Holey Artisan Bakery and ended the 11-hour standoff, 20 people had been killed. Most of the victims were foreign nationals – nine Italians, seven Japanese, one American, and one Indian. One of the six militants was captured alive.
Although Bangladesh is no stranger to militant violence, last week's attack marked the country's first international hostage crisis since 1977, when a Japanese airline was hijacked by Japanese Red Army operatives and flown to Dhaka. The attack bears some similarities with other high-profile incidents in South Asia like the multi-target terror attacks in Mumbai, India in 2008.
Like Mumbai, an affluent area frequented by foreign nationals was chosen. Like Mumbai, the attackers planned for a prolonged hostage crisis to gain international media attention but did not expect to survive the inevitable encounter with law enforcement agencies. Like the attack on Chabad House in Mumbai, the victims bore signs of gruesome torture.
Bangladesh has been in the throes of a struggle between liberal, secular forces and radical and nationalist groups since it gained independence 45 years ago. In 2008, the Awami League (AL) led by Shiekh Hasina came to power promising action against terrorist groups and those that sided with the Pakistan Army in the 1971 civil war.
To that end, her government passed the Anti-Terrorism Act (2009), instituted counter-radicalization programs and targeted Islamist organizations like the Jamaat-e-Islami Bangladesh, Harkatul Jihad al-Islami Bangladesh (HuJI-B), Jamaat ul-Mujahideen (JMB) and Ansarullah Bangla Team (ABT).
These steps have drawn counteraction from radical groups and their support structures. Extremist elements have targeted Bangladesh's minorities, bloggers and those who espouse liberal views. In 2011, mid-level officers of the Bangladesh Army aligned with the radical group Hizb ut-Tahrir (HuT) instigated a failed coup against the Hasina government.
A former Bangladesh Army major, Mohammad Ziaul Haque, who was involved in the plot to overthrow the government has since gone underground and is thought to be assisting and providing tactical training to an al-Qaeda-linked Bangladeshi militant group, Ansar al-Islam.
It is in this context that we must place the recent terror attack in Dhaka. The Islamic State's interest in gaining a significant foothold in Bangladesh is well known. It is a fact that the JMB has pledged allegiance to IS.  It is also clear from information released on social media by accounts linked to IS that a level of coordination existed between IS and those that perpetrated the attack in Dhaka. However, the extent to which IS's "central command," for lack of a better term, was operationally involved in the horrifying attack in Dhaka remains unclear. Was the attack IS-inspired or IS-orchestrated?
It is here that speculative articles in some international media houses must come in for criticism. A dominant narrative appeared to emerge before the situation in Dhaka was brought to an end, and indeed before an investigation had even begun in Bangladesh, that the attack had "the hallmarks of al-Qaeda or [IS]."
Some analysts proffering unsubstantiated claims appear to have little understanding of Bangladesh's history, its challenges with radicalism and radical groups, the objectives and motivations of such groups, or their support structures, both local and foreign. It is another matter that both ISIS and al-Qaeda in the Indian Subcontinent (AQIS), which compete for influence and attention, have claimed responsibility for the attack.
Even as some media houses zealously pursued the IS angle, Bangladesh's Home Minister Asaduzzaman Khan rejected the claim, blaming instead the local militant group, the JMB. Details emerging of the perpetrators paints a picture of affluent, well-educated 20-year-olds, some of whom may have become radicalized either during or after their time at university in Malaysia.
The JMB is an Ahl-e-Hadith militant group founded in Bangladesh in the mid-1990s. The organization has largely stayed away from pan-Islamic causes and has focused its energy of establishing Islamic rule in Bangladesh. Since the early 2000s, JMB has claimed responsibility for a number of bombings in Bangladesh – most significantly, the serial blasts that rocked the country in 2005 – and has carried out targeted assassinations of members of the country's Hindu minority, Shia community, academicians, public intellectuals and secular forces.
Despite a series of arrests of JMB operatives in recent years, intelligence agencies in Bangladesh warned earlier this year that JMB was reconstituting itself, particularly in the north of the country, with sleeper cells formed with "highly educated members and technology experts," a description eerily fitting some of the attackers behind last week's carnage.
Over the years, JMB has found support from local and foreign organizations, and states in the neighborhood. In December 2015, Bangladesh expelled a Pakistani diplomat posted to its High Commission in Dhaka after Bangladeshi law enforcement agencies alleged that the diplomat had links with the proscribed JMB and was involved in terror financing activities. A November 2015 operation against JMB operatives in Dhaka resulted in the arrest of four Pakistani citizens linked to the group.
Since its founding, JMB has also maintained ties with Pakistan-based militant groups like HuJi and Lashkar-e-Tayyiba (LeT). Lashkar was reportedly instrumental in sending operatives from Bangladesh for training in Pakistan via groups like JMB. In Bangladesh, the main opposition Bangladesh Nationalist Party (BNP) adopted what can at best be described as a policy of ambivalence towards militant groups like the JMB and HuJI-B while in power most recently from 2001–2004.
Bangladesh's law enforcement agencies are searching for answers even as the spate of violence against the country's minorities and secular forces continues unabated. While the interrogation of the surviving militant from the attack in Dhaka might offer new clues to law enforcement agencies, but the battle ahead against radicalism is likely to be long and arduous for the Bangladeshi government and its law enforcement agencies.
Attacks such as the one at the Holey Artisan Bakery are aimed at instilling a sense of fear among the civilian population and visibly undermining the credibility of the state in the eyes of its citizens and the outside world. Indeed, a further recurrence of these sorts of high-profile attacks could also have a deleterious effect on the country's economy and its ability to attract foreign investment.
Bangladesh today is fighting for its soul. To this end, the U.S., India and other states ought to significantly ramp up assistance to Dhaka in its counter-terrorism efforts, including support in capacity building, securing the country's critical infrastructure, technology training and better intelligence sharing with law enforcement agencies in Bangladesh.