India and the Downsides of the South China Sea Decision
For India, July's South China Sea ruling by an arbitral tribunal is a complicated matter.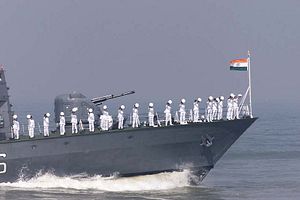 As Harsh Pant notes this week in The Diplomat, the recent decision of an international tribunal on the South China Sea in favor of the Philippines is in many ways to India's advantage. It underscores "the country's credentials as a responsible global power," particularly with reference to how India resolved its own maritime dispute with Bangladesh in 2014, Pant notes. And the decision could definitely help India gain influence in Southeast Asia, through its ties with Vietnam, the Philippines, and other countries.
But in the face of the hardline Chinese reaction to the ruling, India would do well to remember a truth about geopolitics: great powers ignore legal rulings that do not benefit them, as Graham Allison pointed out on these pages. Indeed, India itself never did much to enable United Nations Security Council Resolution 47, which called for a plebiscite on the future of Kashmir, after its division between India and Pakistan in 1948, to go through. After creating various facts on the ground and stalling, the issue gradually fell off the international agenda. By 2010, the United Nations had removed Jammu and Kashmir from its list of disputed territories, despite Pakistan's pressure to the contrary.
Additionally, India may or may not benefit from the legal implications of the tribunal's ruling when it comes to its own border disputes with China. While the ruling specifically dealt with maritime boundaries and maritime law, it is interesting to note that one reason it ruled against China's territorial claims was because it found that "there was no strong evidence that China 'had historically exercised exclusive control over the waters or their resources." If similar logic is extended to the territories that China and India dispute–Aksai Chin and Arunachal Pradesh–it would be difficult for India to establish that it or its predecessor states controlled these regions and exploited resources.
While the princely state of Jammu and Kashmir did exercise a loose sort of sovereignty over Aksai Chin, the region and its surroundings were also tributary to the Qing Empire, and in any case, neither truly administered the area. But if Kashmir and its successor state, India, had a slightly stronger claim to Aksai Chin than China, it was unexploitable thus far, and today China controls the region and has built a highway through it. On the other hand, India does control and exploit Arunachal Pradesh, to which China, as the successor state and overlord of Tibet, could claim greater historical rights, especially over the Buddhist pilgrimage center of Tawang.
But throughout most of its history, the majority of what is today Arunachal Pradesh was inhabited by tribal peoples under the jurisdiction of no state, and thus, like the South China Sea's reefs, the mere fact of knowing that territory existed did not amount to a zone of control or sovereignty. This fact helps neither India nor China for that matter, and brings home the point that control, and not historical theories or legalisms matter in territorial disputes. Russia only got Crimea when it exercised control over it, not because of Crimea's history as a part of Russia before 1954 or because it is inhabited mostly by ethnic Russians.
Of course, China knows this. As it has demonstrated in its reaction to the South China Sea case, China will likely hold onto any disputed territories with India for as long as it can, until either India drops its claims, makes other concessions to bring China to the negotiating table, or uses force to change the Chinese position, which is an extremely unlikely proposition. This would all be notwithstanding any legalistic claims India may put forth; and India, since the time of its first prime minister, Jawaharlal Nehru, has loved emphasizing legalisms and treaties in its border disputes with China. India should not expect the tribunal's ruling to lead to changes in China's behavior that would be advantageous to it.
Thus, the tribunal's decision on the South China Sea is not necessarily a victory for India–and given India's own status as a great power and party to various territorial disputes, it is not necessarily in India's interests to support always support such law-based approaches. It was one thing to support such an approach with a friendly country like Bangladesh, and another to support an approach to history that might not necessarily be advantageous to its own position.