Is SCO Expansion a Good Thing?
"The SCO was already having difficulty crafting an identity and practical ideology with 6 member states, let alone 8."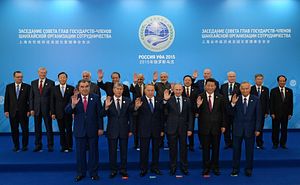 Whilst the brotherhood of European Union countries has shrunk by one, the community of Shanghai Cooperation Organization (SCO) states grew by two. Whilst it is by no means confirmed that India and Pakistan are full members of the regional security organization, their membership is all but assured as long as they are able to ratify the relevant documents through their national processes. The more existential question is whether this membership is going to transform the SCO in the same way that British exit from the EU is likely to transform the EU. As with the EU referendum, no one really knows, but it seems equally likely that the end result will be negative.
SCO expansion has been a source of great trepidation for member states for some time. Previous efforts at expansion had stalled for various reasons. Iran was kept out both for practical reasons: it was under UN sanction in contravention to the rules. But realpolitik also played a role: the larger member states did not want to so openly join former President Ahmadinejad's aggressive anti-Western alliance. Afghanistan was always kept at near arms length, reflecting some member states' desires to bring the state in, whilst others preferred to maintain their relations at a bilateral level. And the question of India and Pakistan always seemed to be balanced by the two big powers (China and Russia) who each wanted one of the two in, whilst the Chinese generally grew concerned that an expanded group would lose coherence.
In the end, China appears to have lost this struggle, obliged to both accept its close ally Pakistan as well as expanding a regional organization whose utility it was already questioning. Whilst to outside observers, the SCO was the primary vehicle of regional engagement, in reality, Beijing was undertaking a consistent level of bilateral engagement on the sidelines of SCO meetings. Every SCO Summit was accompanied by bilateral engagements, and by all accounts, it was at these engagements that all serious business was done. Previous Chinese efforts to push the SCO in new directions stalled, including Beijing-led efforts to create an SCO Development Bank, an SCO free trade area, or other economic initiatives.
Most recently, China had shown the degree to which it was losing interest in the SCO as a vehicle for regional multilateral security engagement when PLA Chief of Staff Fang Fenghui raised the notion of a regional sub-grouping of China, Afghanistan, Tajikistan, and Pakistan as a vehicle for engagement on regional security questions. Whilst it is not clear that this proposal was a new regional concept as opposed to a potential relevant meeting grouping, its expression reflects a Chinese willingness to look beyond the SCO to resolve regional security questions and highlighting their skepticism toward the organization.
This is in many ways a shame. The SCO, for all its failings, is an organization that might offer some solutions for a fractured region. Central Asia is a part of the world that is beset with border disputes at a very senior level that impede the most basic cross-border trade. The SCO is one of the few organizations that guarantees relevant leaders are obliged to meet with their counterparts on a regular basis on neutral ground. The hope for some was that by bringing Pakistan and India into this format, it would similarly force them to engage in another forum on a regular basis.
In reality, however, SCO expansion is likely to produce little such impact. But it has potentially highlighted a reality in international affairs. Whilst people are keen to leave multilateral organizations in the first world, they appear keen to continue to join them in the developing world. Notwithstanding protestations of national strength and independence by SCO member states, the reality is that they are all 25 years young this year and keen members of an organization that they may not adore, but one in which they have had a resonant voice from the beginning. From an outsider perspective, some of the practices that are advanced through the SCO are questionable at best, but seen from inside they are comprehensible measures that address fundamental questions of national security. This clarity of purpose is what gives the organization its attractiveness, cutting through the nebulous normative concepts that drive European security projects.
But as the EU has learned to its detriment, expansion and new members do not always lead to a positive outcome. It can also lead to a context in which individual member states dictate agendas and steer narratives away from hoped for goals. And it is here that sentiment for expansion for the SCO lies: somewhere between timid optimism and catastrophic exuberant expansionism. The SCO was already having difficulty crafting an identity and practical ideology with six member states, let alone with eight. Going forwards it is likely to continue to drift onward, meandering through the seas of time with no clear port in sight.
Raffaello Pantucci is Director of International Security Studies at the Royal United Services Institute (RUSI).