Pakistan's Failed Kashmir Policy
"Pakistan's decades-long policy of naked meddling in Indian administrated Kashmir has complicated the problem further."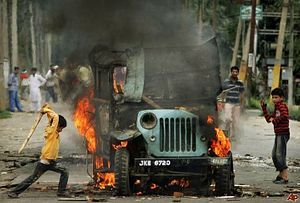 The killing of Burhan Wani, a young Kashmiri militant leader, has plunged the region into a new wave of instability. As one could anticipate, the latest tensions in Jammu and Kashmir have again brought the nuclear arch-rivals, India and Pakistan, face to face.
In the coming days and weeks, the tensions between both nations are likely to escalate. Both countries have already traded accusations: Pakistan by condemning the Indian security forces' use of excessive force in the valley while India has called Pakistan's condemnation a sign of its attachment to militancy and extremism.
On July 22, the prime minister of Pakistan in a statement said that "we are waiting for the day Kashmir becomes Pakistan."  In a rejoinder, Indian Minister for External Affairs Sushma Swaraj said that Pakistan's prime minister should know that "Kashmir can never become a part of Pakistan."
While New Dehli's heavy handed approach to deal with the local insurgency in Kashmir is questionable, Pakistan's decades-long policy of naked meddling in Indian administrated Kashmir has complicated the problem further. In a way, India's massive military deployment in the region is partially in response to Pakistan's open interference in the region.
Aqil Shah, the Wick Cary Assistant Professor of South Asian Politics in the Department of International and Area Studies at the University of Oklahoma, contends that although Pakistan has repeatedly asked for a plebiscite in Kashmir, in reality, Islamabad has not been serious in honoring its legal commitments concerning a plebiscite or any other resolution. "In 1948-1949, the United Nations passed several resolutions on Kashmir that required Pakistan to withdraw its troops from the area as a precondition for a plebiscite followed by a reduction of Indian troops to a level necessary for keeping order in Kashmir. However, Pakistan obstructed the process by refusing to meet its obligation to demilitarize the area unless India simultaneously withdrew its troops," Shah told The Diplomat.
Moreover, Pakistan's policy of intervention in Jammu and Kashmir has not, in any way, helped the local population of Kashmir. "The Kashmiris who want Jammu and Kashmir to join Pakistan may find it helpful and same with Kashmiri militants. But in the end, does Pakistani interference bring Kashmiris any closer to a more dignified and happy life, with less trouble from Indian security forces? I don't think so," Michael Kugelman, a South Asia expert at the Woodrow Wilson Center for Scholars, told The Diplomat.
In fact, Pakistan's official rhetoric of extending moral and diplomatic support has been fueled by its support for Islamist militant groups in the region, which has only "delegitimized" the Kashmiri struggle. "Pakistan's default policy has been to use and sponsor jihadi groups, including the designated global terrorist organization Lashkar-e-Taiba," said Shah. He further added that Pakistan's policy of using non-state actors in Kashmir only "allows New Delhi to reduce the conflict to Pakistan state-sponsored terrorism."
There is no military solution to the conflict, which Pakistan has invariably tried to push for. However, if any solution to the crisis will come about it will have to be through dialogue. "Both sides recognize, any mutually acceptable solution will have to come through diplomacy. The most feasible option for both sides is to accept the Line of Control (LoC) as an international border, demilitarize on both sides, and allow the free movement of people [and] commerce across the border," said Shah. Kugelman agrees: "India has long insisted that any change in Kashmir's status is effectively impossible and won't happen. Then again, if we look at past history, we see several promising initiatives that were put forward and endorsed by hardliners on both sides. So anything is possible."
Any peaceful resolution in Kashmir, however, requires a drastic shift in Pakistan's existent policy of keeping the issue alive as a regional and international problem whose only resolution remains an independent Kashmir or a Kashmir that becomes part of Pakistan. "Pakistan wants to criticize Indian tactics not just so the world will pay attention to a flashpoint that it often ignores, but also because it makes India look bad and undercuts the global image that New Delhi fervently wants to sparkle. In this sense, by calling attention to Indian excesses, Pakistan garners two benefits: It gets the world to take notice of Kashmir and it makes India look like the bad guy," said Kugelman.
Particularly, the military in Pakistan, which by and large controls Pakistan's foreign policy, supports any policy that can internationalize the Kashmir question: "The military's corporate identity and interests are linked to projecting itself as Pakistan's only savior against the 'evil' designs of India. The military high command's apparent patronage of Lashkar-e-Taiba, Jaish-e-Muhammad, etc. certainly signal its resolve to keeping the pot boiling in Kashmir in the futile hope that the international community will take the bait," says Shah.
That said, however, India's policy of using brute force to quell any small or large insurgencies in the region, political mismanagement, and repression of Kashmiris has undoubtedly deeply alienated the people in the valley, which puts serious doubt on the sustainability of any solution that ignores their aspirations.
Unless Pakistan and India move beyond their deeply entrenched positions of settling scores at the expense of the Kashmiri people, the plight of Kashmiris will continue unabated.