Seeking a US-China Consensus in the South China Sea
How to manage tensions in the U.S.-China relationship after the South China Sea ruling.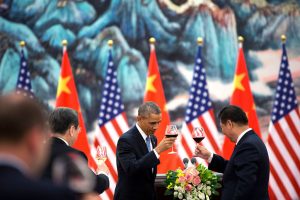 Ed note: On July 5, just one week before the award of the South China Sea arbitration came out, a "U.S.-China Dialogue on the South China Sea" was held in Washington D.C. co-organized by Chongyang Institute for Financial Studies, Renmin University of China (RDCY) and the Carnegie Endowment for International Peace (CEIP). This article is based on Chen Xiaochen's prepared remarks for the seminar; his remarks as delivered did not follow the text.
Tension in the South China Sea does not necessarily mean an impasse. If think tanks and political circles of both China and the United States could realize the importance of disparities management and control, frank strategic dialogues, prudent thinking, and consensus seeking, along with the proceeding of substantial academic exchange, would have a positive effect on the South China Sea tensions and U.S.-China relationship.
First of all, managing and controlling differences is the top priority to cool down the tensions in the short run. This will take time. Rome was not built in a day; the South China Sea dispute is complicated while U.S.-China relations is the most sophisticated relationship worldwide. We are fully aware of the divergences between the United States and China over the South China Sea issue. Nevertheless, the divergences not only imply conflict, but also indicate we should manage and control them. The Code for Unplanned Encounters at Sea (CUES) is an important shared rule, but not enough. Military and political circles in both countries should facilitate more channels for communication, whether in ordinary times or during an emergency.
The lessons of history warn us that military affairs should not take precedence over politics; instead, the military field should be subject to the grand picture of international politics. Regardless of military or politics, all parties should consider disputes over the South China Sea in a political perspective and realize the limits of military means. Before President Barack Obama's trip to China for the G20 Summit in Hangzhou, the two powers should cool down the tensions and manage this transitional yet sensitive period before and shortly after the U.S. general election.
Second, frank and strategic dialogues are also essential for finding a viable solution to the tensions between China and the United States, especially in terms of high-level exchanges. As we all know, both countries have achieved a lot under the framework of the Strategic and Economic Dialogue (S&ED) from trade, finance, to investment. However, even as bureaucracies in both sides make the outcome list longer and longer, the shadow of security anxiety is still there. In fact, I would argue it is one of the problems with the S&ED — too enthusiastic about a long list of outcome, leaving no time or credit for frank discussion of strategic issues. Hence, I suggest the S&ED mechanism in future should adhere to its original purpose by focusing more on core issues of strategic importance. Let the strategic dialogues be frank and honest; let them focus more on strategic issues even is that means fewer outcomes for the media to broadcast.
Third, in the long term, prudent thinking should guide U.S.-China interactions. The way we think matters, and misunderstanding could emerge. For instance, scholars in Chinese think tanks generally attribute the South China Sea tensions to the U.S. pivot (later rebalance) to Asia, while Americans tend to deny the strategic impact of the rebalance and its consequences for security tensions. Chinese intellectuals, as well as some American scholars, also consider it not a wise choice to send U.S. fleets directly to the South China Sea, while other American think tanks maintain it is nothing but a part of the long-standing Freedom of Navigation Program (FON). We do not know if United States intended to target specific countries while formulating its Asian rebalance — many in the U.S. say no; many in China say yes. But it's undeniable that the actual U.S. deeds over the past few years have indeed made the Chinese side feel more threatened. From my perspective, we have come to a time for reflection on both the means and the ends of the rebalance. With the U.S. general election coming, it is a good time for the United States to carefully readjust the rebalance and rethink how to get along with China.
Last but not least, it is necessary for both Chinese and American think tanks to strengthen ties and academic exchange. Without this, misunderstandings may come about and form an echo-chamber-effect. For example, American think tanks seem to have widely accepted the notion that China is developing what is called an "Anti-Access" or "Area Denial" (A2/AD) strategy. But this "strategy" — based on historical practice and theories and doctrines from the U.S. military — has neither corresponding discussion in Chinese official documents nor similar proposals by Chinese think tanks, except when introducing American think tank perspectives back to China. This concept may fall into the "self-fulfilling prophecy" by misinterpreting China's strategic intention. In this case, think tanks in both sides should have a thorough understandings of each other, rather than invent self-constructed concepts.
In my view, think tanks on both sides should consider potential areas of consensus a research priority. Among these are issues such as meteorological stations, typhoon early warning systems, and joint research on climate change. In addition, we should make the cake bigger by expanding economic cooperation surrounding the South China Sea. As a matter of fact, no party would deny economic cooperation and a win-win situation in the Asia-Pacific. The Silk Road Economic Belt and Maritime Silk Road initiatives proposed by China envision connecting China's economic development with the whole Asia-Pacific region, in which every country share the dividends of openness and development. I trust this vision to be inclusive and open, and the United States is welcome to participate with its own economic strength, and jointly ensure the lasting prosperity and peace of the South China Sea as well as the Asia-Pacific.
Chen Xiaochen is a researcher at Chongyang Institute for Financial Studies, Renmin University of China. This article is his drafted speech for the "U.S.-China Dialogue on the South China Sea." Chang Yudi, RDCY intern researcher, and Pang Jiakai, RDCY intern, also contributed research.