The Consequences of Global Armed Drone Proliferation
Who has drones and how are they getting them?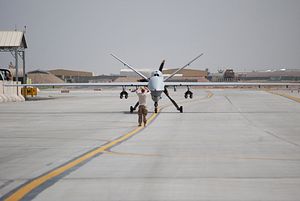 In an unprecedented release last Friday, the White House pulled back the veil on the U.S. military's drone program, providing statistics on counterterrorism strikes and civilian casualties. The media has been rightly skeptical about the numbers, which skew far below numbers collected by watchdog groups and nonprofits. But the global impact of this deadly technology cannot only be measured in casualties. Impact should also be measured in access and proliferation. Who has drones and how are they getting them?
Experts are still predicting how drones will change the character of warfare, but the reality is that warfare has already changed. The era of armed drone use has arrived, and the rapid proliferation of drone technology among states and militant groups alike, poses a new threat to the international community. Anyone can strike anywhere, indiscriminately. Our future of drones isn't coming. It's here. It's our policy that's stuck in the past.
For a while, that threat to the world wasn't a threat to the United States. Arming drones involves sophisticated technology. Technology that was relatively novel in 2001, when the U.S. first started weaponizing drones. And flying drones requires logistics networks and access to airfields. Essentially, the U.S. had an unmatched global footprint that provided an edge over the competition. But America's monopoly over the drone industry was short-lived, with Israel surpassing the U.S. in drone exports in 2012. Unthreatened, the U.S. maintained its strict export policy in keeping with the 1976 Arms Export Control Act and the International Traffic in Arms Regulations, both of which were designed to control the untethered expansion of weapons technology.
The United States' drone export policy exceeds that of international guidelines—and has contributed to a market gap that China has filled with its "no-questions-asked" drone sales. Evidence of the use of armed drones supplied by China, in Pakistan, Iraq, and Nigeria in the past year alone reveals the increased willingness of foreign nations to invest money in the purchase or production of armed drones.
Pakistani authorities long attempted to persuade the United States to export armed Predator drones to the country to combat militant groups within its borders and subsequently deter its Indian neighbor, a country with three unique models of drones — imported from Israel — designed to detect and destroy enemy radar.  Unsatisfied with the United States' acquiescent supply of non-lethal "mini drones," in November 2013, Pakistan's military unveiled two domestically produced drones. Almost two years later, Pakistan announced that three high-profile militants had been killed in-country in the first strike by an indigenous manufactured drone. Experts say Pakistan's drones appear to be based on China's popular CH-3 drone developed by China Aerospace Science and Technology, a model which Pakistan also has in its arsenal.
On Feb. 3, Nigeria announced its first successful drone strike against the militant group Boko Haram, using the Chinese CH-3 model UAV. In January 2015, a photo appeared to show a crash-landed drone of the same model. Prior to this strike, Nigeria had possession of a small arsenal of reconnaissance drones, purchased from Israel, as well as locally produced surveillance drones.
The CH-3 appears to be China's most popular model, with exports to both Pakistan and Nigeria, but an upgraded Chinese model, the CH-4, has appeared in arsenals across the Middle East. On December 6, 2015, Iraqi armed forces released footage of a CH-4 in action, striking an ISIS position in Ramadi. Saudi Arabia, the United Arab Emirates (UAE), and Egypt are reported to have purchased the CH-4 as well. Saudi Arabia and the UAE have operated unarmed versions of the CH-4 in their campaign in Yemen, and last year, Jordan was reported to be in talks to purchase armed drones from China to combat ISIS in Syria.
But the rampant proliferation of this technology isn't just among nations. Militant groups such as Hezbollah, which have no responsibility to adhere to international regulations, treaties, and Geneva Conventions, also have armed drones at their disposal. Hezbollah acquired Iranian-built Ababil drones, capable of carrying an 88-pound warhead for up to 150 miles. In September 2014, Hezbollah reportedly used drones to bomb a building occupied by the militant group al-Nusra. Hezbollah claims it manufactured its drones domestically, but U.S. and Israeli intelligence sources report that Hezbollah obtained the drones from Iran and that Iranian soldiers are stationed just across the border to help operate them. In April 2015, IHS Jane's used Google Maps to locate a Hezbollah airbase in northern Lebanon that, based on operational elements, was likely "built for Iranian-made UAVs, including the Ababdil-3."
This means that countries (that are bound by international regulations) are now fighting against militants with drones. Israel shot down a surveillance drone operated by the militant group Hamas in 2014, and the group released footage on social media revealing its possession of the Iranian produced Ababdil with four air-to-ground missiles attached. However, there is no evidence that Hamas has the capability to dispatch the missiles.
An Iraqi soldier reportedly shot down an ISIS surveillance drone in April 2016. The terror network's fleet is unsophisticated, containing cheap, commercial products like the DJI Phantom 3, produced by China's billion dollar commercial drone company. However, according to reports, this is the fifth time in the past year that coalition forces in Iraq have publicly disclosed destroying an ISIS drone. U.S. military officials said an airstrike on March 17, 2015, destroyed a small commercially available drone operated by ISIS in the area around Fallujah. ISIS released a video that showed drone surveillance footage in August 2014. And last December, a report emerged suggesting ISIS was experimenting with developing homemade drones that could be used in combat. The report from Syria showed pictures of a small commercial drone packed with explosives that had apparently been shot down. This attempt may have failed, but the easy proliferation of drones could land armed drones into the arsenals of terror networks.
The accessibility of drone technology is increasing at a swift pace. According to New America's drone database, 19 countries have armed drones. Those countries are likely beginning to debate how and under what circumstances they may operate these drones in future combat. If states decide that there is a lower threshold for violence with dronefare, the international community will see more nations — and militant groups — carrying out unilateral foreign policy objectives around the world.
A.G. Sims is an analyst with New America's International Security Program.