The Missing Half of Pakistan's Fight Against Terrorism
Tackling the nexus between organized crime and terrorism in Pakistan.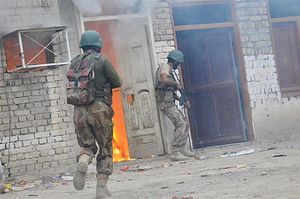 There is a complex picture of linkages between terrorism, organized crime, and corruption networks in Pakistan. The country is host to a wide range of militant groups with nationalist, criminal, and terrorist ambitions. Criminal activity provides both the permissive environment for terrorist activity and the financing for terrorism. The most recent initiative to tackle terrorism in Pakistan, the National Action Plan (NAP), adopts a holistic approach and includes specific points linking organized crime and counterterrorism. However, these efforts are undermined by Pakistan's ongoing engagement of proxies, its selective targeting of militant groups, and its failure to implement the much needed reforms outlined in the NAP.
Criminal activity includes but is not limited to the smuggling of drugs and weapons in Balochistan, a culture of drugs and guns in Karachi, illegal timber mining in Chitral, exploitation of extractive industries such as marble in Balochistan, land grabbing in southern Punjab, and widespread racketeering, kidnapping, and extortion. Money transfer systems persist throughout much of Pakistan, especially along Pakistan's long border with Afghanistan, and are abused by drug traffickers and terrorist financiers operating in the cross-border area. Pakistan is also home to the Altaf Khanani money laundering organization (Khanani MLO), a transnational organized crime group. According to the U.S. State Department, the group "is responsible for laundering billions of dollars in organized crime proceeds annually… [for] a diverse clientele, including Chinese, Colombian, and Mexican organized crime groups and individuals associated with designated terrorist organizations."
The State Department also notes that "the Khanani MLO also has been involved in the movement of funds for the Taliban, and Altaf Khanani, the group's leader, is known to have had relationships with Lashkhar-e-Tayyaba (LeT), Dawood Ibrahim, al-Qaeda, and Jaish-e-Mohammed."
In this context, the distinction between criminals and militants is blurred and the networks are mutually reinforcing and collaborative. In South Punjab, areas of criminality are home to a number of sectarian groups and their leaders. Violence in Karachi is multi-faceted: ethnopolitical, militant, sectarian, and criminal. These networks are interlinked and help each other. The Muhajir Qaumi Movement (MQM), traditionally the dominant political force in the city, has developed a criminal network to support its existence. Though the situation in Karachi is reported to have improved since the launch of military operations there, the trend for what USIP calls "freelance militancy, "whereby "guns for hire" operate on behalf of militant and sectarian groups, political parties, and criminal gangs, prevails.
In the wake of the devastating attack on a school in Peshawar, on  December 24, 2014 Prime Minister Nawaz Sharif launched the 20 point NAP on counterterrorism, a comprehensive consolidated list of steps needed to be taken by the state and law enforcement institutions to curb terrorism and extremism in the country. The NAP called for implementing existing laws and constitutional bars, including preventing terrorist funding; dismantling terrorist communication networks; prohibiting private militias; acting against sectarian organizations; countering hate speech and the dissemination of hate literature; and regulating the madrassa sector. There was an overarching commitment to "choke the finances" of terrorists and the 183 terrorist organizations in the country and a National Terrorists Financing Investigation Cell was created to curb terrorist financing.
Chief of Army Staff Raheel Sharif has also been vocal in his view that organized crime is a threat to Pakistan and that it is part of his legacy to significantly reduce organized crime and to tackle corruption as an intrinsic component of counterterrorism. On April 21, he dismissed 11 military officers, including two high-ranking generals from the paramilitary Frontier Corps in southwest Balochistan, over allegations of being engaged in smuggling and corruption rackets. This was unprecedented — though it should be noted that the individuals involved will not face criminal charges and are merely facing early retirement. Their dismissal cannot sufficiently address the issue of the military's financial corruption and criminal activity, which usually goes unnoticed.
In its implementation, however, the NAP has largely failed, often due to the lack of institutional capacity and capability. The focus on "shoot and kill" and on creating or strengthening organizations with little attention to issues such as addressing the legal system or the challenge of madrassas has undermined its impact. Pakistan has failed to address strategic deficiencies in its anti-money laundering and counterterrorist finance (AML/CFT) regime, for example. Increasing awareness of, and training for, AML/CFT issues is critical to the judicial and law enforcement sectors.
The articulated core goal of the NAP was to end distinctions between "good" jihadists – those perceived to promote national strategic objectives in India and Afghanistan – and "bad" jihadists, those that target the security forces and other Pakistanis. However, a highly selective approach has characterized the crackdown on militant groups and progress on dealing with banned outfits is minimal as nearly 60 banned outfits still operate openly. Unlicensed hawaladars also continue to operate illegally throughout Pakistan, particularly in Peshawar and Karachi. Off-record, Pakistani officials openly admit to a lack of commitment in dealing with terrorists that are anti-Indian, such as Lashkhar-e-Tayyaba (LeT), Jayesh-e Mohammad, or the Afghan Taliban and Haqqani.
To feed into the pretext of giving up on non-state actors, following the Easter Day attack in Lahore, Pakistan launched a military operation in Punjab. However, these have been primarily cosmetic and dealt with at the level of the Punjab government rather than at the federal level. Some criminal gangs were confronted in the southern districts of the province, where a large number of sectarian groups, such as Lashkar-e-Jhangvi (LeJ) and Sipah-e-Sahaba Pakistan (SSP), are based. However, as a recent ICG report pointed out beyond these criminal groups, which are just the tip of the iceberg when it comes to the militant challenge in Punjab, everything remains intact. At the same time, activities against organized crime in Karachi have been used as a pretext by rangers to arrest people affiliated with political parties – MQM, the Pakistani People's Party, or any opposition of the PML-N, Nawaz Sharif's party.
As a result, the NAP should be viewed more as a concept than a game changer. In assessing the 20 points, Pakistan has done a good job of arresting people and shooting them, but references to tackling crime, anti-corruption, and changing the education, madrassa, and judicial system have been limited. To tackle the nexus between organized crime and terrorism, Pakistani authorities should investigate and prosecute money laundering and terrorism financing, address all cases of terrorist financing, and indiscriminately target terrorist and sectarian organisations. But Pakistan's police can't make arrests and its judiciary can't prosecute. This has implications for the impact of the NAP and any effort to tackle the nexus between organized crime and counterterrorism. If Pakistan's policy continues to be one of waiting until the bad guys turn their guns on the state rather than implementing the much needed reforms outlined in the NAP, then Pakistan is headed for further instability.
Emily Winterbotham is a Research Fellow in the International Security Studies Department at RUSI focusing on extremism and radicalisation, countering violent extremism, peacebuilding and geopolitical relations in Asia, particularly in Afghanistan and Pakistan. She has over eight years desk and field experience in an international policymaking environment and is a Deployable Civilian Expert for the UK Government's Stabilisation Unit. Follow her research on her website and on Twitter @EmsWinterbotham.