War has started over the South China Sea — online.
After the judgment of the Permanent Court of Arbitration was published, negating China's "nine-dash line" claims to the South China Sea, many Chinese celebrities started to post pictures and comments on Weibo and Instagram supporting the nine-dash line and China's ultimate ownership of South China Sea. In response, young Vietnamese, including fans of the Chinese stars, began their own anti-China campaign.
The tension surged after the PCA ruled in favor of the Philippines in its case against China. Consequently, Chinese netizens began to spread a map of their territory, including the nine-dash line, on social media. Many Chinese celebrities retweeted images bearing slogans like: "China: We cannot lose a single inch [of territory]" and "China's territorial sovereignty doesn't need others to arbitrate."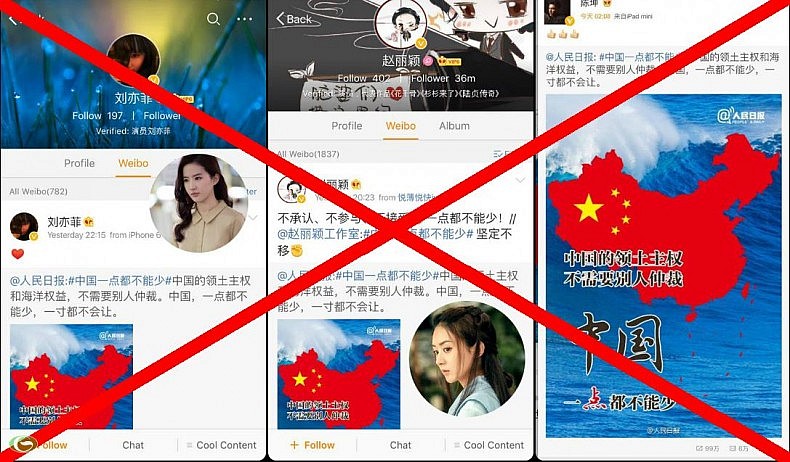 This is a smart plan on China's part: to take advantage of their celebrities' global network and their huge number of fans to propagandize the idea that South China Sea legitimately belongs to China right after the tribunal's ruling.
The current list of celebrities publicly showing support for their government's invalidated nine-dash line has topped 100, including A-list names with wide influence in China and Asia, such as Zhang Jinlai, Huang Xiaoming, Zhao Wei, and Fan Bingbing.
As a reaction, Vietnamese fans immediately began an online campaign against Chinese celebrities. A typical comment from these once-fans read:
Vietnamese fans' favorite idols simultaneously have politicized their fame to support Chinese illegal claims, using culture as a political influence. It is true that a Chinese citizen will support Chinese national interests. However, as a patriotic Vietnamese, boycotting these gege [older brothers], meimei [younger sisters], jiejie [older sisters] is necessary RIGHT NOW.

We are Vietnamese before we become their fans.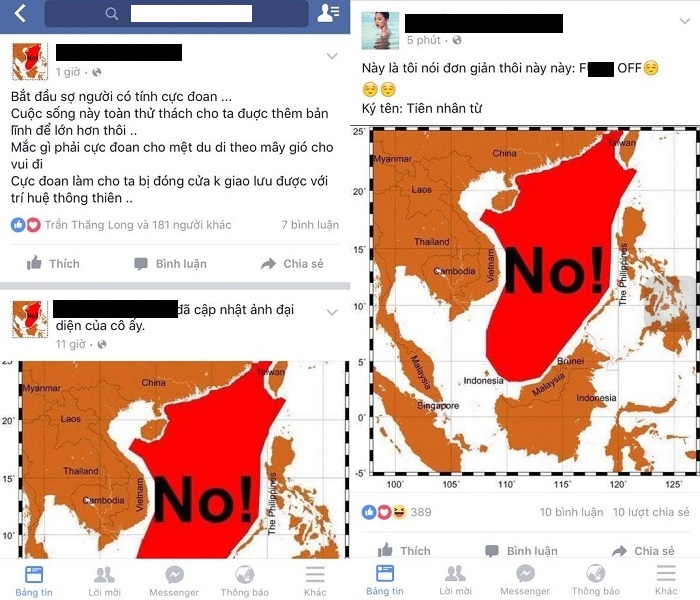 Internally, Chinese national propaganda has taken hold. There have been a large number of heated discussions on the Internet since the official statement from Chinese leaders dubbed the PCA's final judgment illegal, invalid, non-binding, unrecognized, and "nothing more than a piece of paper." Beijing dismissed the Philippines' case as a political farce disguised as international law.
In online comments, patriotic Chinese threatened to "take care of" the Philippines. As one aggressive comment on Weibo read: "Does the Philippines archipelago want to become a Chinese province?"
Already Chinese netizens are calling for a boycott of Philippine products, starting with Philippine mangoes and bananas, which bring in huge financial revenues for Manila. The anti-Philippines campaign has already started on Taobao, one of the most popular online shopping platforms in China. Some Chinese have even called for a boycott of the iPhone 7, since it is an American product.
Capitalizing on the moment, Hong Kong's Phoenix media uploaded an online game called "Adventure in South China Sea." In the game, the player takes the role of a Chinese fisherman lost in a storm in the South China Sea. After facing abuse from the U.S. Navy or capture by Vietnamese armed forces, the Chinese fisherman is eventually rescued by a strong Chinese military and brought safely to the Chinese bases built on artificial islands.
China's propaganda push is working among its population. However, this strategy can have side-effects.
First of all, in the online battlefield, citizens of China, Vietnam, and the Philippines will throw out offensive words without thinking. This will certainly intensify the sensitivity of the issue and could easily lead to physical fights in the real world. Even while driving the social media campaign, the Chinese government is certainly aware of the risk of physical attacks. As a result, the Chinese government has been also extra careful in controlling the security surrounding the Philippine Embassy, sending troops and 20 policemen to guard the embassy since July 12.
The embassies of the Philippines and Vietnam have already warned their citizens residing in China to be aware of the situation and avoid discussing the heated political topic. Military conflict would be too costly for any of the three countries to afford.
Second, while China's campaign is limited to its domestic audience, a large-scale anti-Chinese campaign could gradually spread. A Chinese boycott of Philippine products could lead to a joint boycott of Chinese products in Vietnam and the Philippines. This anti-China sentiment is not unprecedented. Last year, VOA Vietnam reported that a group calling itself the West Philippines Alliance had invited Vietnamese to join their campaign against Chinese products in order to counter Chinese aggression in the South China Sea.
There is even a possibility of an anti-China boycott spreading beyond Southeast Asia. The Chinese economy depends on exporting products to foreign countries. Imagine the huge impact of an international campaign against Chinese products.
China faces a difficult task to balance between domestic propaganda and managing the international ramifications of online and economic conflict. Otherwise, China may run the risk of becoming a second Russia.