US Gives Philippines Warship After South China Sea Ruling
Washington is finally transferring another Hamilton-class cutter to Manila.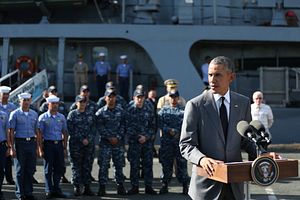 The United States is finally transferring another warship to the Philippines this week, just days after a landmark ruling on Manila's case against China on the South China Sea.
The United States has already transferred two Hamilton-class cutters to its Southeast Asian ally over the past few years, with Manila acquiring the BRP Gregorio Del Pilar in 2011 and the BRP Ramon Alcaraz in 2013. Both warships have since been armed and deployed for patrols, including in the South China Sea.
But Washington has long sought to transfer a third cutter to Manila as well, a step the White House confirmed in a statement last November during U.S. President Barack Obama's visit to the Philippines, which included a speech aboard the BRP Gregorio Del Pilar (See: "Obama Philippines Visit to Focus on Maritime Security"). As with the previous two, this transfer would occur under the Excess Defense Articles program, indicating used U.S. military items provided to allied and partner countries for modernization efforts at reduced or no cost (See: "The Truth About Philippine Military Modernization and the China Threat").
On Monday, the U.S. Coast Guard announced that the transfer ceremony would occur on Thursday at 10 am at the Coast Guard base in Alameda, California. The decommissioned cutter, formerly known as the Boutwell, will be designated as a Philippine frigate named BRP Andres Bonifacio. Boutwell was in service for 50 years before being decommissioned on March 16 in San Diego.
According to a Coast Guard statement, the transfer ceremony will feature an official party with the two signatories being Rear Adm. Joseph M. Vojvodich, the Coast Guard's assistant commandant for acquisition and chief acquisition officer, and Rear. Adm. Bayani Gaerlan, who is the commander of the Philippine fleet. The other two members of the official party are Capt. Matt Gimple, the acting commanding officer of the Coast Guard Cutter Boutwell, and Capt. Brendo J. Casaclang, the commanding officer of the new BRP Andres Bonifacio.
The transfer ceremony comes just over a week after a much-anticipated verdict in the Philippines' South China Sea case against China. On July 12, an arbitral tribunal ruled overwhelmingly in favor of Manila, determining that the extent of several major elements of Beijing's claim and its efforts to enforce it were unlawful (See: "What the South China Sea Ruling Means").
It also comes ahead of U.S. Secretary of State John Kerry's visit to the Philippines next week, where he will be the first administration official to meet with the new Philippine President Rodrigo Duterte (See: "John Kerry to Visit the Philippines to Meet Duterte").