Why Southeast Asian Countries Avoid Tilting Too Far Toward the US
Despite more U.S. engagement, Southeast Asian countries are getting better at hedging.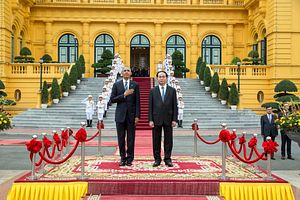 Last week the U.S. Navy sailed two aircraft carriers through the Philippine Sea in a highly visible show of strength, as analysts in Beijing, Manila, and Washington eagerly await the decision of a South China Sea tribunal in The Hague, expected on July 12. The United States and the Philippines recently agreed to the locations of five bases to host rotating American troops, according to the bilateral Enhanced Defense Cooperation Agreement. President Barack Obama used the occasion of his trip to Vietnam last month to announce the full lifting of a weapons embargo on the communist country, paving the way for greater defense cooperation between the two countries.
Referring to China's island building and provocations in the South China Sea, Assistant Secretary of State Danny Russel told the House Foreign Affairs Committee, "despite the objections of its neighbors… China… has created uncertainty, insecurity and instability in the region."
Washington thinkers are quick to perceive a strong desire in Southeast Asia to bandwagon with the United States to resist Chinese assertiveness. But as the American security presence in the region deepens with the U.S. "rebalance" to Asia, Southeast Asian states are getting better at hedging, eluding a simple coalition with Washington.
Why is that?
Despite consensus in Washington that China's increasing toughness — for example, rebuilding islands in the South China Sea and coercing smaller neighbors — is pushing the region toward the United States, Southeast Asian countries understand China has "proximity, power, and history," as Satu Limaye, director of the East-West Center in Washington, put it. That is, while these smaller nations may seek U.S. help to stand up to Beijing's bullishness, most have no choice but to accept the fact that China is not going anywhere.
Nick Bisley, professor of international relations at La Trobe University in Melbourne, explains that China's attempts to co-opt the region are backfiring by forcing Southeast Asian countries to bandwagon with the United States for security. "It is certainly true that China's behavior is leading countries with links to Washington to strengthen those ties," Bisley writes. "It is also true that countries that have not traditionally been aligned to the U.S. are developing ties in response to China's behavior."
But this viewpoint is overly simplistic, as Bisley notes. Southeast Asian nations do not want to choose China or the United States. And they will not risk overt security alliances with Washington, which in their thinking would only further provoke Beijing to carve out its interests without considering the reputation costs.
Indeed, Southeast Asian leaders are wary of a possible U.S. strategy of containment leveraged against China, which they feel would upset the status quo balance of power in the Pacific. Nevertheless, most small countries in the South China Sea desire more U.S. commitment to their security, not less — while many fear that the United States' interests in Asia may not outlive the Obama administration.
Campaign rhetoric in America has added to Southeast Asian concerns regarding Washington's staying power. Donald Trump, the presumptive Republican presidential nominee, has vocally questioned the value of U.S. taxpayer dollars underwriting the security of allies such as Japan and Korea. Mirroring this rhetoric, the Philippines' new President Rodrigo Duterte on his campaign threatened to cut diplomatic ties with the United States and Australia after the two objected to Duterte's comments about the 1989 rape of an Australian woman in Davao City, where he was mayor.
Nonetheless, most Southeast Asian states are hopeful of continued American commitment to the region. "No one in Asia is rooting for an American retreat," Singapore's Prime Minister Lee Hsien Loong told the Wall Street Journal in March. "Your role remains indispensable, whether you are prepared to step up to it or whether you decide to chuck it."
In Manila, the lure of Chinese investment has compounded indecision. The Philippines is reportedly weighing a Chinese offer to fund a railroad if the Duterte administration withdraws its case against Beijing in the Permanent Court of Arbitration on the South China Sea.
The twin realities of Chinese military might and lavish capital reserves have cowed and charmed less developed Southeast Asian countries in its orbit. Beijing has also shown a remarkable ability to thwart a consensus among the ten members of the Association of Southeast Asian States (ASEAN), preventing the group from mounting any diplomatic challenge to its position.
By leaning on the weaker ASEAN chair Laos and Cambodia in the recent Kunming ASEAN-China summit, Beijing was able to convince ASEAN to retract a joint statement which highlighted concerns over Chinese incursions in the South China Sea.
And yet, despite warranted pessimism toward ASEAN among U.S. policymakers, some experts still hold out hope that the group could rally around a common position. Ernie Bower, of Bower Group Asia, a strategic consulting firm in Washington, D.C., told an audience at the Center for Strategic & International Studies, "ASEAN is going to surprise people." By applying too much pressure, Bower argued, "China, through its actions, may strengthen ASEAN," leaving Southeast Asian countries no choice but to band together to resist Beijing's force.
The reality is, no matter the stance ASEAN takes, individual countries will not stick their necks out by overtly siding with the United States in the larger Sino-U.S. competition. Despite renewed U.S. commitment to its allies and partners in Asia, Southeast Asian countries are getting better at hedging and will continue to play the China card.
Hunter Marston works in a major Washington, D.C. think tank and writes on Southeast Asian affairs. You can follow him on Twitter at @hmarston4.