Wukan Stirs Again
China's most famous democratically elected official gives a televised confession while constituents protest his arrest.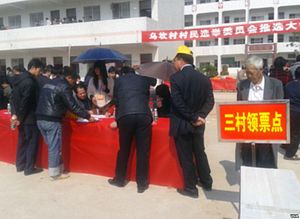 A sleepy fishing town in southern China is again attracting media attention as its democratically elected village chief, Lin Zuluan, was arrested for corruption by police officers earlier this month. Thousands of residents of Wukan took to the streets to protest the arrests, reminiscent of the demonstrations that took place in 2011 that eventually swept Lin into power.
This time, Lin was broadcasted "confessing" to taking bribes on a public construction project that also involves artificial grass deemed toxic to public health. But Lin's fellow villagers are not convinced. Chinese citizens are all too familiar with the government's heavy handed "confessions." What may have worked in past decades is becoming an all too common occurrence, often resulting in closed, and suspicious, trials.
Adding to the suspicion are claims by two leading civil rights lawyers that they have been told by judicial authorities to avoid the case. Lin's family hired Ge Yongxi as legal counsel, signing documents and paying a retainer fee. However, Ge said his firm was ordered by municipal judicial authorities to return the funds, according the South China Morning Post. "The firm was banned from accepting any client from Wukan village, which obviously interferes with our normal, legal business," Ge said. "He should not be denied the right of legal counsel, whether he has taken any bribe or not."
Wukan is a fishing village of 13,000 people located in Southern China's Guangdong province, approximately 75 miles east of Hong Kong. In 2011, it was held up as a shining light of how democracy can work in a communist China. During that time, local villagers staged protests and road blockades in an effort to bring awareness of illegal land grabs by local government officials. The seized land was then sold off, with no trace of any of the funds.
The villagers' activism led to a three month stand-off, which ended peacefully. A probe by the provincial government confirmed that local officials had indeed taken bribes from developers and also from officials from the land resource bureau of Lufeng City, where Wukan falls administratively. The investigation also found that former village head Xue Chang, among other village officials, had confiscated and sold off approximately 400 hectares of farmland without consent.
More impressive though was the fact that central government representatives agreed to dismiss the incumbent officials, redistribute land and, most spectacularly, each villager was allowed to democratically vote for new village officials. Lin Zuluan was elected as the village party chief.
In June of this year, Lin had circulated a video online detailing Wukan's resolve in reclaiming the still-outstanding land seizures. He said the people of Wukan were "prepared to pay a higher price" than that of 2011 in order to be heard, according to the South China Morning Post. In the very early hours of Saturday June 18, under the cover of darkness, Lufeng City sent in 10 police officers who forced their way into 70-year old Lin's home as he and his wife were sleeping. A three hour standoff between residents and some 400 police reinforcements ensued following Lin's arrest. Lin had planned to hold a village meeting on Sunday to discuss the new protest campaign.
Lin's wife, Yang Zhen, has rejected all allegations, telling the South China Morning Post that he had not taken a cent, and even personally subsidized the costs of running the village committee. Lin has told his wife, "Do what you think is right as long as it's legal… If someone is trying to arrest you, do not go easy on them." But he also added, "Do not go to a protest just because others told you so." Yang recorded the conversation.